Blocked drain clearance £69+VAT(£82.80)
Routine blocked drains service Mon-Fri 8am-5pm
ASL Limited provide blocked drain clearance, unclogging, cleaning and repair services throughout Surrey, Berkshire, Hampshire, West Sussex and South West London (see map below or use our postcode checker). Whether you're struggling with a blocked sink, blocked outside drains, gullies or manholes, our engineers are on-hand for fast call-outs, effective methods and complete solutions. Call 0800 181 684, let's get you booked in today.
In our long and vast experience, we find most blocked drain callouts are cleared within half an hour and that includes the FREE 'Quick Look' CCTV camera survey we do to check the blockage is gone and what condition your drain is in. 
Very prompt response to a call out to unblock a main bathroom drain. Darren was excellent - polite, efficient and thorough.

Unblock a gully, Guildford.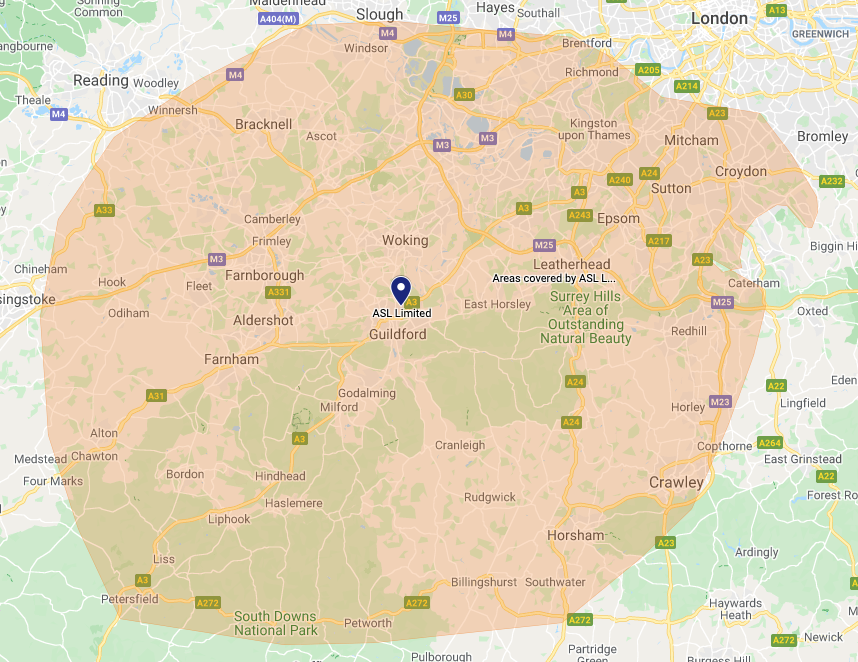 Our teams can identify when there is a more permanent problem causing the blocked drain or a private sewage system might be affected by or causing the blockage. In these cases, the issues are quickly established and we can provide you with a no-obligation quote to put them right. 
We cover all types of drain clearance from unblocking outside drains to rainwater drains block with mud and ensure to have your systems flowing again quickly.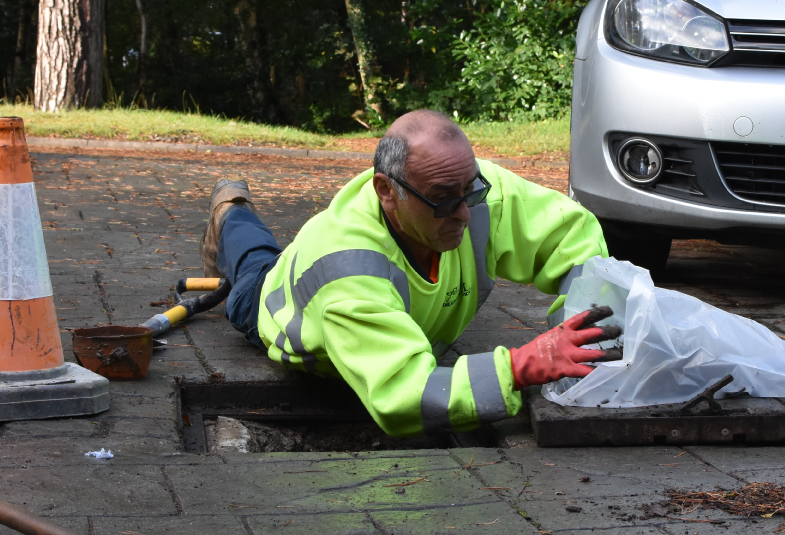 When you call ASL Limited to unclog your blocked drain, we:
Attend fast – giving you the choice of an emergency or routine booking. 
Attend fully equipped – with the rodding and jetting equipment we may need. 
Are proactive – in identifying the cause and solution. 
Communicate – giving you all the information.
Know our customers want a thorough solution.
 
What we use to unblock drains
Our blocked drain clearance services may include the following to help identify and unblock clogged drains:
Drain rodding.
Wet vac.
CCTV drain camera surveys.
High-pressure drain jetting (we have all our own equipment with multiple nozzles to suit any task).
Drain cleaning.
 Read A Recent Checkatrade Review!
Blocked Drain."Excellent service, work carried out without fuss will be recommending as 5 star"

ASL Limited has been a member of Checkatrade since December 2000
To view full company profile click here
Other services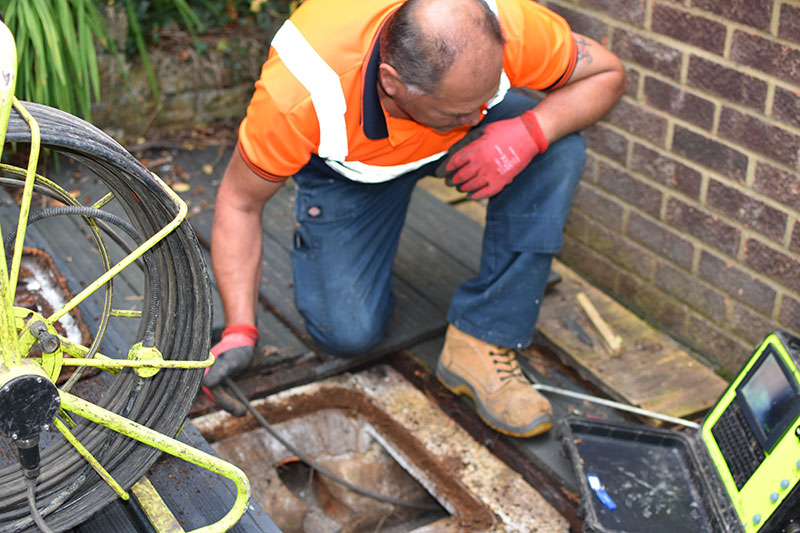 CCTV drain surveys for your blocked drain
Our CCTV drain survey technology allows us to take a quick look or an in-depth and accurate drain inspection. Using CCTV drain cameras, we can quickly identify any structural damage or defects to the pipes. If we discover a blockage or another issue, we can then provide an appropriate solution. We can also use the camera to assess what caused the blockage after your drain is cleared.
Once your engineer has carried out the drain inspection, they can provide you with a DVD copy, but you must request it before the check so we know we are recording it for general view. This service is beneficial should you need evidence for insurance purposes.
Our team will then recommend the methods required for any remedial work that may be needed.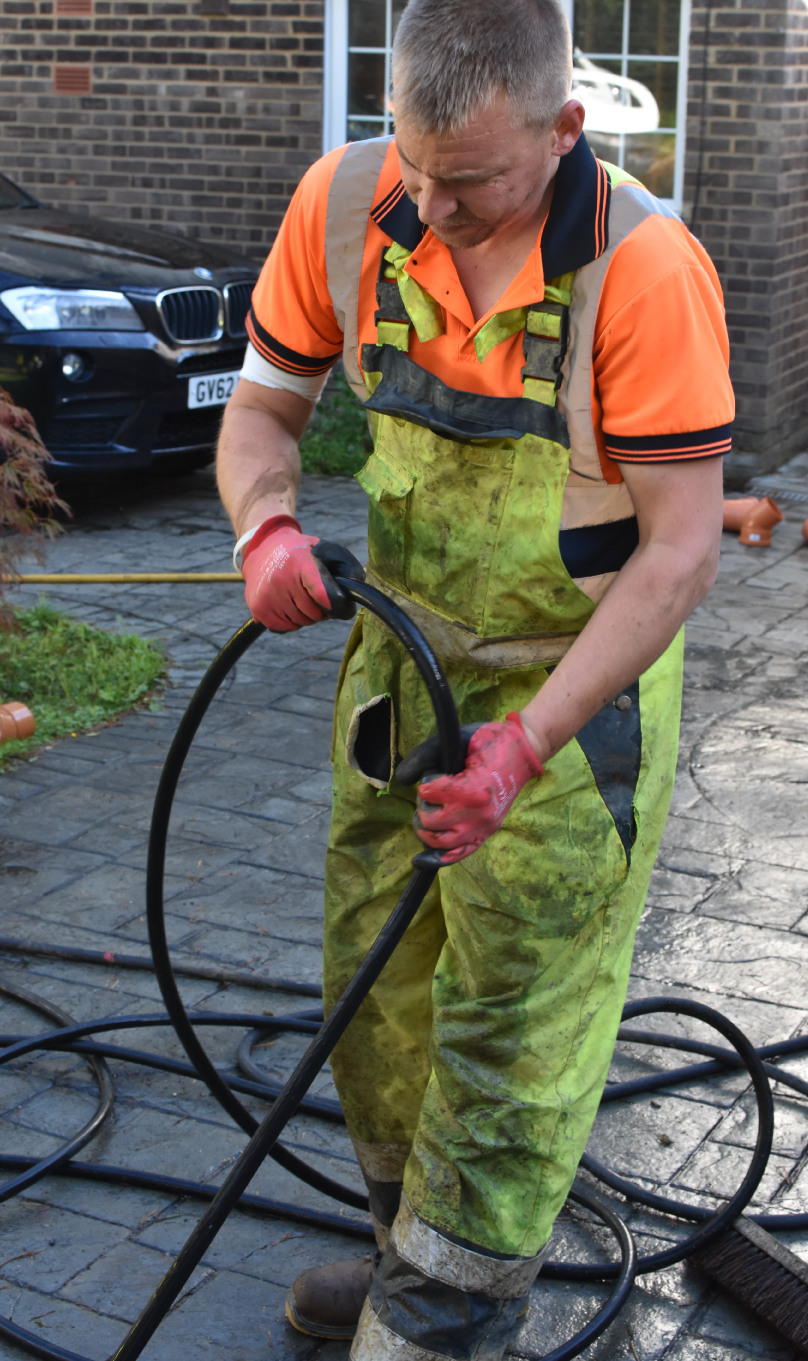 Drain jetting for thorough blocked drains clearance
Drain jetting is one of the most powerful and effective ways of clearing your blocked drains. If you would like to know more about our high-pressure drain jetting services, visit our drain jetting page or call our team today to arrange a call-out.
Clearing your blocked drains of roots
Root regression in drainage systems is common and can cause significant drain blockages.
To clear the roots from your blocked drains, we cut away roots that have penetrated the pipelines using our root cutting equipment. By cutting away and eliminating the tree roots, we help clear your blocked drains. However, if the tree roots have grown through the pipe to the extent where the pipe becomes irreparable, we may have to replace the pipe's affected section.
Clearing your blocked drain by descaling the pipes
A build-up of limescale is one of the many causes of clogged drains and can significantly affect the functionality of your drainage system. We can eliminate any stubborn blockages using high pressure jetting to return your drainage system's natural flow.
We can also provide professional maintenance for your drains.
This includes regular visits to your premises on a planned basis to maintain your drains and prevent them from getting blocked. By booking regular drain maintenance, you can avoid costly future repairs caused by blockages due to fat build-up, tree root ingression or other obstructions in your drainage system.
We undertake planned blocked drain maintenance for:
Domestic drains with insufficient fall
(prone to a blocked drain due to fat in sitting water build-up).
Houses with a known drainage problem waiting to be fixed
(a known blockage attached to a private sewage system may need regular attention until the customer is ready).
Restaurants
(prone to blocked drains from fat & grease build-up).
Fast food outlets
(prone to blocked drains from fat & grease build-up).
Schools
(prone to blocked drains from tree debris washed into gullies).
Food processing plants
(prone to blocked drains from fat & grease build-up).
Industrial estates
(prone to blocked drains from multiple occupancy build-up).
Retail parks and individual industrial/retail units
(prone to blocked drains from public misuse of toilet system, e.g. wipes).
Hotels and guest houses
(prone to blocked drains from multiple occupancies & misuse build-up).
And more
Book our blocked drain clearance service by calling our friendly office team on 0800 181 684 or filling in the form on this page.