Drainage from ASL Limited
What kind of drainage have I got?
When we talk about drains, we talk about our underground pipes that transport wastewater (foul water, sewage water or sewage) and rainwater away from houses and buildings. If your drainage is not set up correctly or tailored to your specific requirements, seemingly small issues can lead to huge problems with your property's foundations. 
No job is too big or too small, so if you're in doubt just give us a call - 0800 181 684.

What is the difference between surface water and wastewater?
Many people don't realise that there are actually two drainage systems within their properties: one for foul or wastewater and the other for surface water.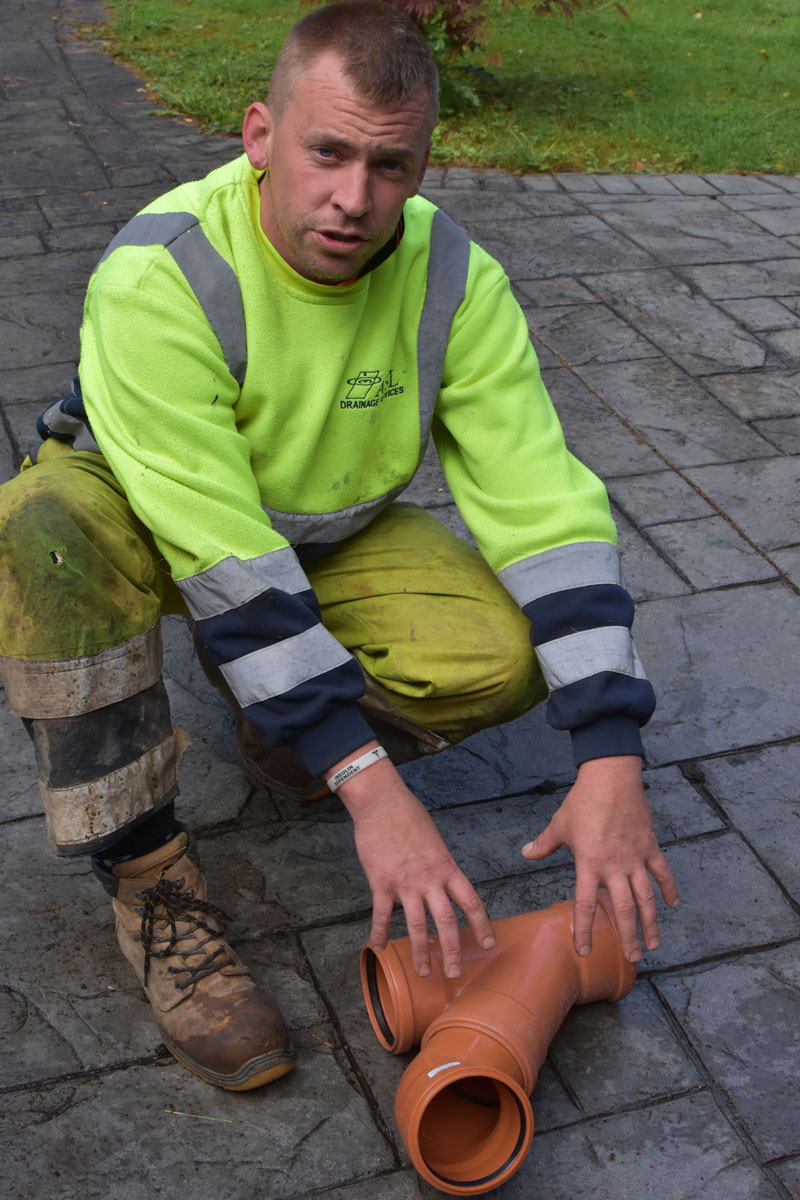 Surface Water: 
Surface water drainage includes rainwater and runoff from driveways, roofs, gutters, and pond overflows. This water can be safely returned to watercourses untreated. If not successfully drained away from your property, it can build up and undermine the foundations of your property.
Waste Water:  
In comparison, foul water is any wastewater from bathrooms, toilets, kitchens and washing machines. Untreated wastewater must never be discharged into a watercourse because there is an unacceptable risk, you may pollute nearby rivers and even drinking water, so it's crucial to avoid this.
Surface or rainwater drainage
If your house is set up correctly, you would generally expect to see guttering running along the edge of the roof to catch rainwater. This is then channelled into downpipes that feed the water into a gully connecting to the drain pipes underground. The following images might help you understand why the setup of your surface water drainage is so important.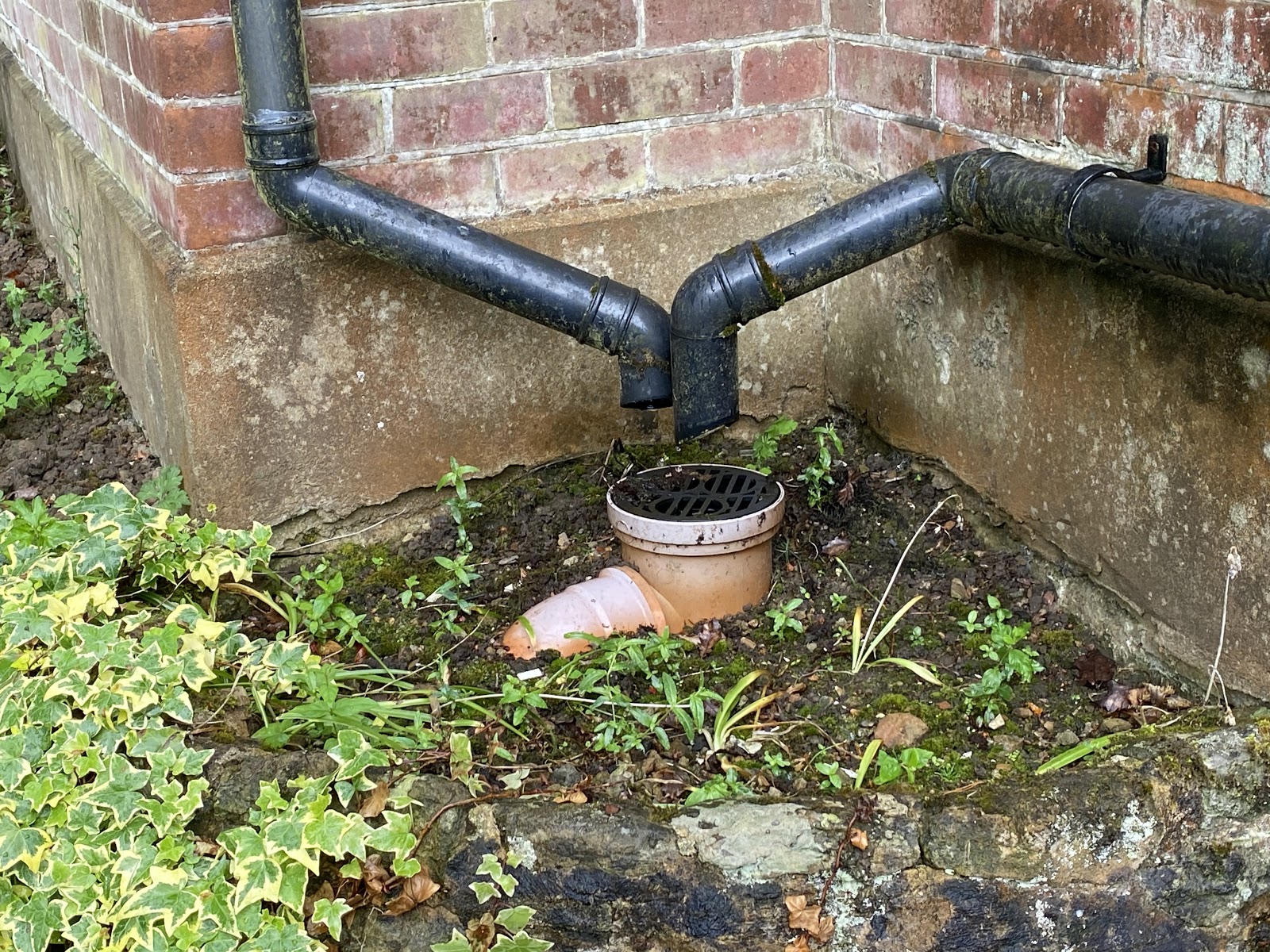 If there happens to be an incomplete setup that doesn't have a gully surround, it leads to the surface water from the two downpipes overflowing the gully. A gully surround is a concrete surround that funnels the water into the gully and prevents the surface water overflowing and spraying the building's foundations. Not only has this caused the cracking in the brickwork – as in the first picture – it has undermined the foundation of the property. Inside this has moved the door frame and window frame. This may only become apparent when the doors and windows become difficult to shut, or you notice a gap around the frames. 
It would be of benefit for you to know as early as possible if there is a problem in the making. It is easy to overlook the potential long term severity of what may appear as a messy overflow. ASL can carry out a small repair or replacement of the gullies around your property, which could save you huge problems and discomfort due to the foundations' undermining.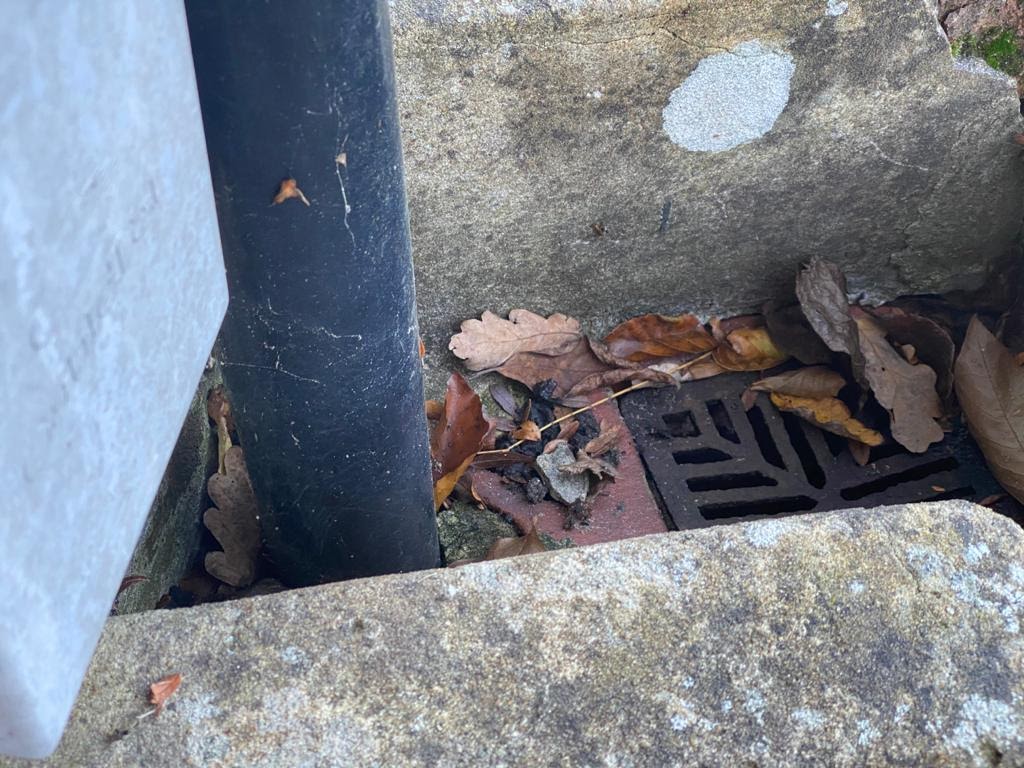 Wastewater (sewage water or sewage) drainage
Most properties have separate drains for surface water and wastewater. Understanding the drains around your house and how they lead to the public sewer or your private sewage system gives you the upper hand in dealing with potential problems. 
If the connections are not separate, it can lead to an overflow of the public sewage treatment works, or private treatment plants and septic tanks during heavy rainfall – potentially resulting in a foul overflow outside your home, affecting your environment, rivers or streams.
If you are unsure of the setup you have at your property, it would be prudent to hire an expert to help you find out. If you are experiencing a blockage or overflow you can call ASL Limited and our experts will be happy to assist and answer any questions you have.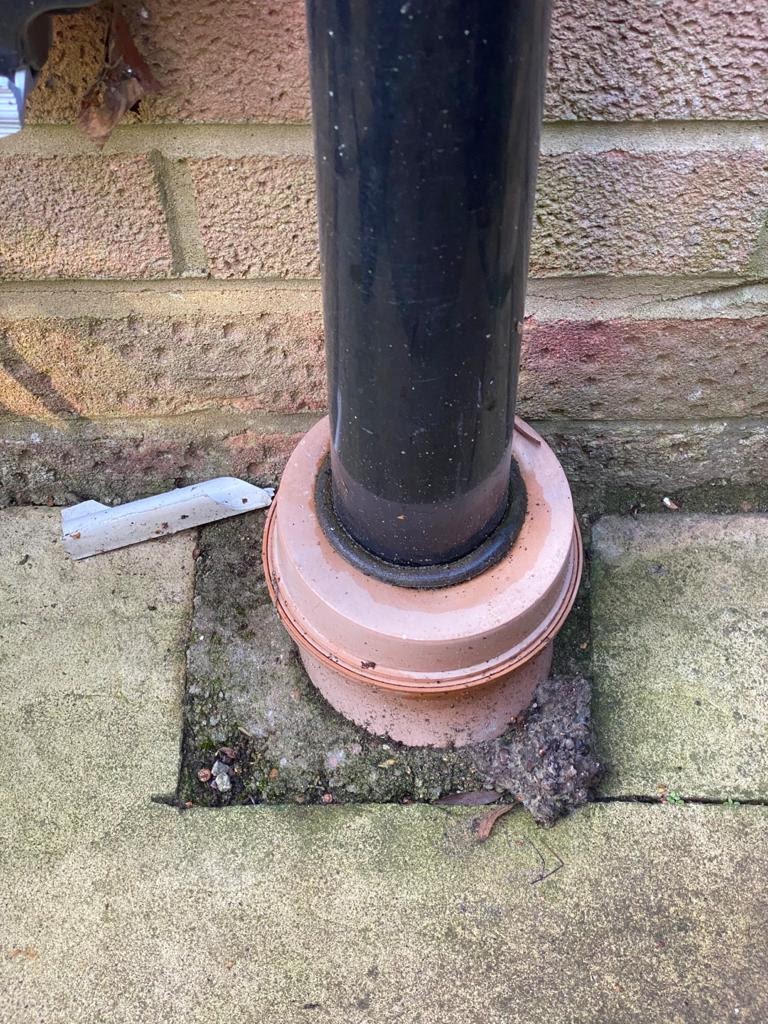 Blocked drain specialists
Drains are never a problem until they stop working or consistently and repeatedly keep blocking up. Prevention or hindsight is a wonderful thing. If you have two or three block drains per year, you probably need it checked out. When this happens, you want professional, reliable help, and you want it now. Additionally, when purchasing a house with a private system, you need to know what you are investing in. You can find out more on our house purchase surveys webpage.
Any of our blocked drains operatives know where to guide you to gain the right information to make an informed decision. Putting up with slow running drains for years and years can be very expensive and disruptive, it's not a quality-of-life you would wish for. So give us a call and speak to our friendly office staff.
A 'quick look' or a full camera survey with diagrams
Although all our blocked drains personnel carry a standard camera to identify and clear what has caused the blockage – you may need a full survey, including a video recording for evidence, when dealing with insurance companies for example. You may even need a dumpy level survey often referred to as a 'builders level' or 'quick levels' where a laser takes the levels of your ground to identify if you have a sufficient fall. You may even need to know exactly where the pipe is damaged and the depth, you, therefore, need a camera with a probe that can be detected from above the ground.
Whether you have a blocked drain or require a full CCTV drain survey, we are fully trained and have over 25 years of experience in the industry.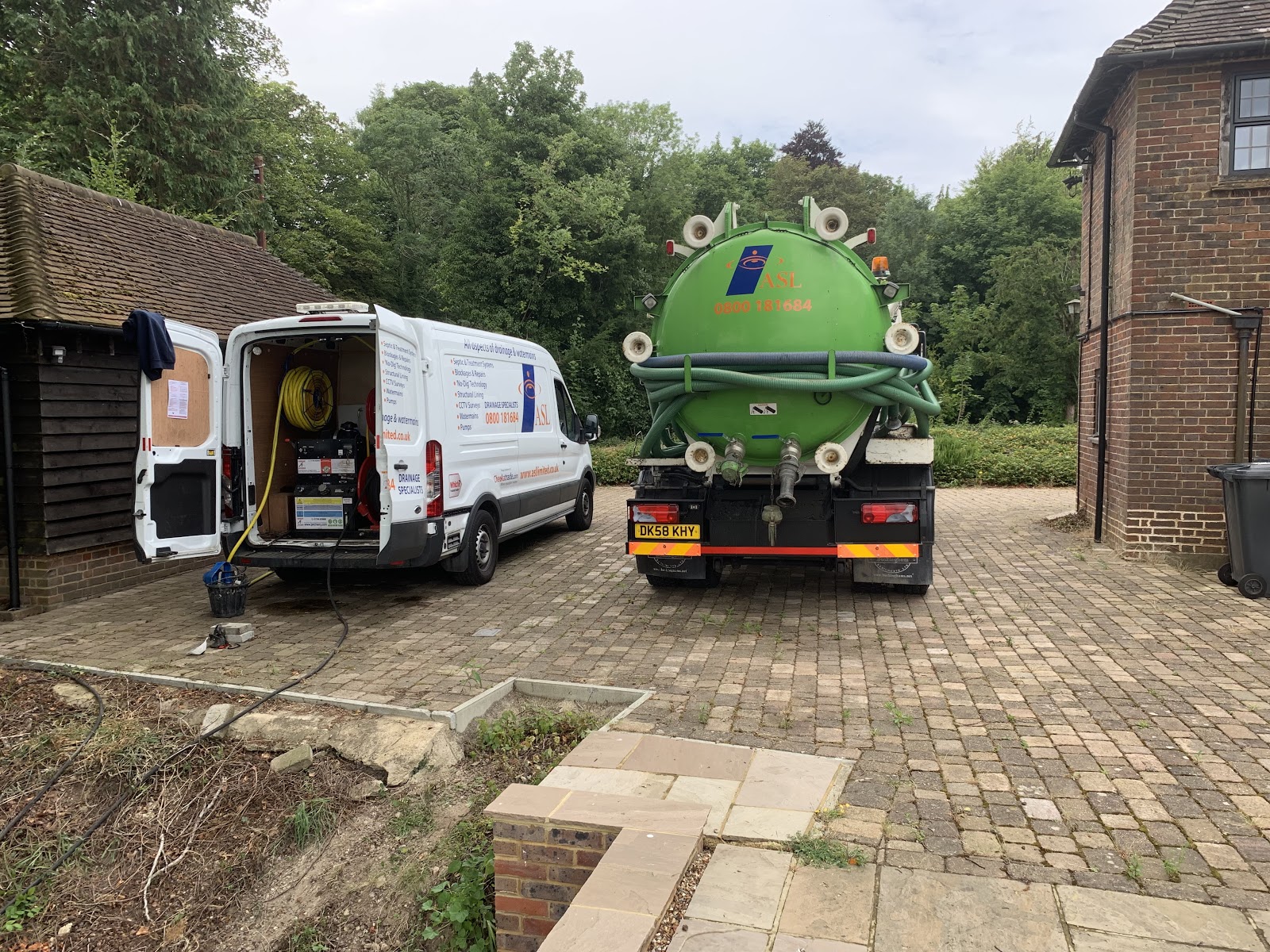 One of the benefits of ASL being a medium-sized firm is that we have different, specific types of jetting machines rather than 'one that fits all' ensuring the right pressure or flow for a particular job. If our blocked drains person comes across a damaged pipe with large root regression, he knows the man that can! – within his own company – who won't waste hours on end with the wrong pressure or flow.
Our slogan is: give our client the information so that they can make an informed decision. If you would like to learn more about our CCTV surveys, look at our 'CCTV Surveys webpage'.
Our HQ is based in Guildford, but we cover multiple counties around the South of London. Please check if we cover your area on our map to the right. We are happy to help and provide you with all the impartial advice you will need and expect.