Cesspit and septic tank emptying service to suit your location
ASL Limited have the right vehicle to empty your septic tank, cesspit or treatment plant!
We specialise in servicing and emptying septic tanks, cesspits & treatment plants, so whatever your location, whether up very narrow road's, over bridges, under bridges or difficult access angles – we have a suitable tanker to empty your private sewage system! Maybe you have suffered damaged bushes and trees in the past from large, cumbersome tankers trying to access your property to empty your septic tank or treatment plant. Maybe the tanker that has attended has not been big enough to empty your septic tank in one go.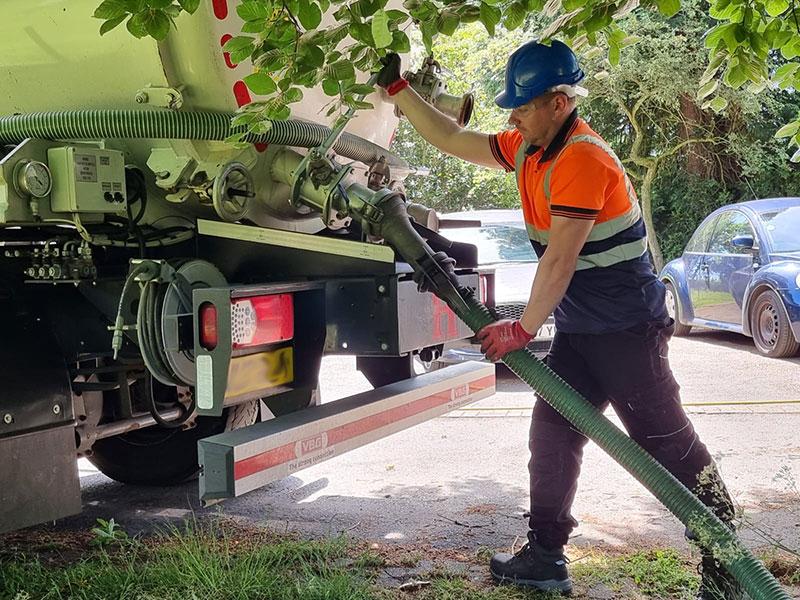 Tell us about the access to your cesspit or septic tank emptying point.
We understand that every septic tank or cesspit location is different, as is every property and access road. We don't want to damage our beautiful countryside with oversized vehicles that can't manoeuvre tight bends. If our tankers are too big for your roads, it hinders our ability to provide the service we pride ourselves on. 
So we ask you to tell us what your circumstances are so we can determine what sized tanker would best suit your location. Tell us about your road and what access you have.
Our environment compliant vehicles enable us to do a thorough job with fewer visits without damaging the surroundings, enabling us to charge the correct price for the job.
Our small, medium and large, tankers carry wash down facilities to leave your private sewage system clean and ready to go again.
Did you know that domestic waste sewage removal is VAT-exempt! So the price we quote is the price you pay! Call our friendly office to get your quote today.
Call 0800 181 684 to book the right sewage tank emptying service for you and your property.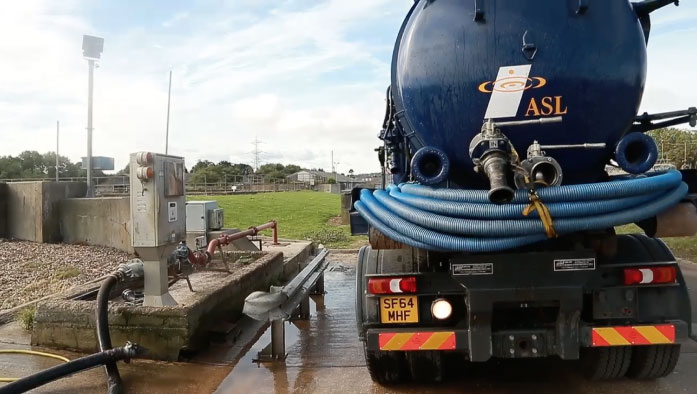 If your septic tank needs emptying – it's worth doing properly.
We specialise in installing, servicing, maintaining and emptying septic tanks, cesspits and treatment plants – doing a thorough and effective job of emptying your sewage tank is what our engineers are trained to do. We educate our teams and customers to understand that thorough septic tank emptying – removing the solids at the bottom – can lengthen the lifetime of your septic tank or treatment plant and aid its effective running. Over time, if the solids are not removed, they decrease the space available for the separation process to occur and, in turn, enable unwanted fats and solids to pass through the system to the drainage fields. This is a direct cause of pollution which can end up in the land rivers and streams. 
Our engineers have the equipment required to remove all the sewage from your tank and to jet wash out those toughened solids at the bottom, maximising the life expectancy of your private sewage system. You can find out more about the need to empty your sewage tank fully in our blog entitled 'Septic Tank Emptying. Our aim is to leave you with a completely empty septic tank to maximise it's productivity going forward.
Knowing the difference
Our tanker drivers have enough experience to know the difference between working or not working; they would notice a small repair that would save disruption and money in the long term. 
Resetting your septic tank's functionality
So we've emptied and cleaned your treatment plant. Our tanker drivers are trained and experienced in emptying treatment plants using a recycling tanker. They can advise that you run the taps to refill the holding tank to help the treatment plant recover enough to produce clean water faster. They are informed and trained. "It's not just emptying the tank" – they know the purpose.
When we leave your treatment plant - we leave it in an optimal functioning state. To understand fully how private sewage systems work, you can have a read of our blogs entitled 'What is a Cesspit?', 'What is a Septic Tank?' and 'What is a treatment plant?'.  
Our bit for our customers and the environment
With all our HGV's being Euro 6 compliant by Summer 2022, we feel we are making every effort towards reducing our effect on the environment and our community. 
Our 26 ton Mercedes Lorry (including jetwash) is Euro 6 compliant
Our NEW 18 ton MAN Lorry is Euro 6 compliant (Spring 2022)
Our NEW 7 and a half-ton MAN Lorry will be Euro 6 compliant (Summer 2022).
Euro 6 Compliance and Emission Standards
We have had rules and regulations for car exhaust emissions since the 1970s. But growing concerns over health and environmental risks have seen the laws become much tougher. Euro 6 emission rules are now in full force.
Whatever our personal views on pollution and climate change, the impact of the stricter measures is unavoidable. With the London ULEZ scheme and Birmingham Clear Air Zone (aka the CAZ) now in effect, as a UK driver entering major cities at any point, having a handle on Euro 6 compliance is essential.
"To achieve this, we're focusing on battery power and hydrogen fuel cells," explained a spokesman for Daimler Truck.
"(We want) a combination which enables us to offer customers the best vehicle options, dependent on application." "Battery power is suited to lower cargo weights and shorter distances; fuel-cell power will be preferred for heavier loads and long distances."
The zero-emission roadmap for MAN Truck & Bus also includes introducing hydrogen-powered vehicles alongside fully electric models. The manufacturer already offers a series of production of the MAN Lion's City E and eTGE and the eTGM electric distribution truck. A new all-electric truck is expected to be launched in 2023. Apart from the rapid development of battery technology, MAN says hydrogen is a good complementary option as an alternative fuel for long-distance transport. You can read more about Euro 6 Compliance on the RAC website here: https://www.rac.co.uk/drive/advice/emissions/euro-6-diesel/