Soakaway design, installation, maintenance and repair
There are different kinds of soakaway used for different purposes. Let's break this down into two identifying uses:
To disperse surface water or rainwater.
To disperse wastewater from a private sewage system.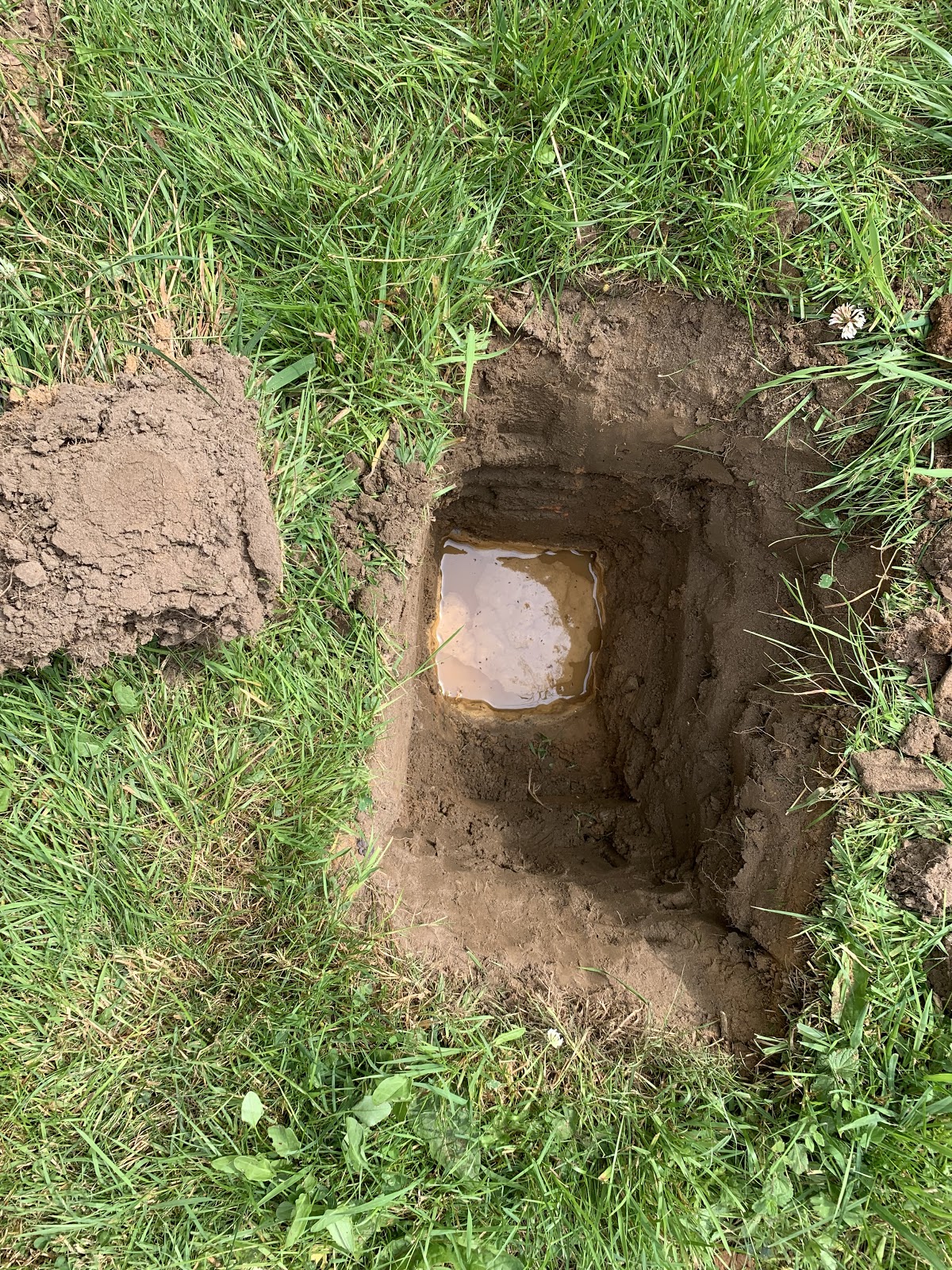 Soakaways designed to disperse rainwater or surface water in your garden.
Because rainwater is naturally occurring without being contaminated with sewage, it can be dispersed back into the ground without treatment. If left to pool or puddle, it can go stagnant and clog up the soil beneath it.
We get a lot of rain in this country, so it sometimes needs help to drain away effectively. This is where a surface water soakaway comes in.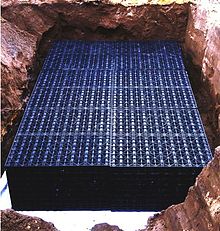 Essentially we are talking about a pit dug in the ground and backfilled with materials that aid the drainage.
These can be:
Aquasell crates
Milton concrete rings
A french drain
Herringbone
Rubble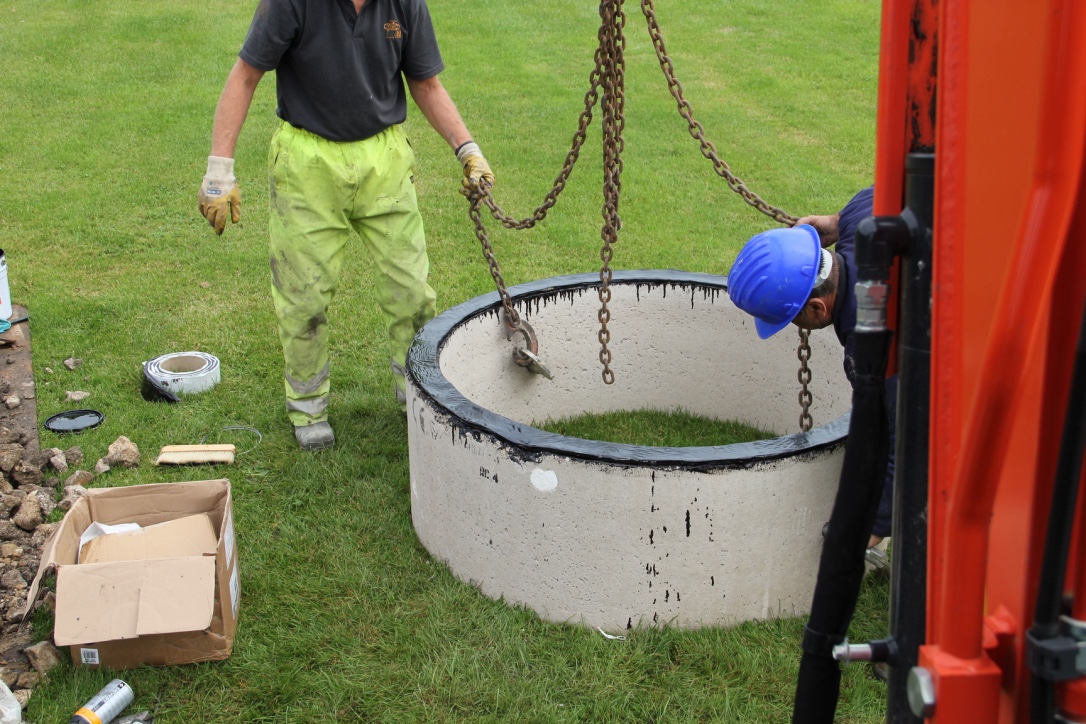 As with a drainage field (see below), surface water soakaways are installed underground and to the untrained eye won't be visible from the surface level. So you can have your lawn on top if you choose. Unfortunately, surface water drainage is one of those things that we are not aware of until it goes wrong. 
You can get a full understanding of surface water drainage and how it might affect your property in our blog articles entitled 'Does my house have surface water drainage?' & 'What is a rainwater soakaway'
Soakaway designed to disperse wastewater from a private sewage system.
A Soakaway can also be in the form of wastewater drainage. If you are a property owner and have to dispose of sewage effluent from your home or business, but you cannot connect to the main sewer system, you may have a private sewage system installed instead. Legally speaking if you are within a reasonable distance, i.e. 30 yards/metres and can connect to the main public sewer, you cannot allow a private system.
If you have either a septic tank or domestic treatment plant, they will need to discharge to a drainage field, also referred to as a drainage field or a soakaway. Being the property owner would make you the 'operator' of the septic tank or small sewage treatment plant, you will need to follow the general binding rules.
The sewage must:
be domestic in nature, for example from a toilet, bathroom, shower or kitchen of a house, flat or business (such as a pub, hotel or office) – contact the Environment Agency if you're not sure if the sewage is domestic in nature
not cause pollution – find out how to check for pollution
Ask about our free consultancy visit
We know how to design, repair and build drainage fields for our customers, depending on the ground type.
A sample of what we can do for you and the methods we follow are listed below.
New soakaway/drainage field installation
Problem diagnosis
Enabling you to make an informed decision about the type of system you choose
Percolation tests
Free estimates
Inform to comply with regulations
House purchase survey
What is a septic tank or treatment plant drainage field/soakaway used for?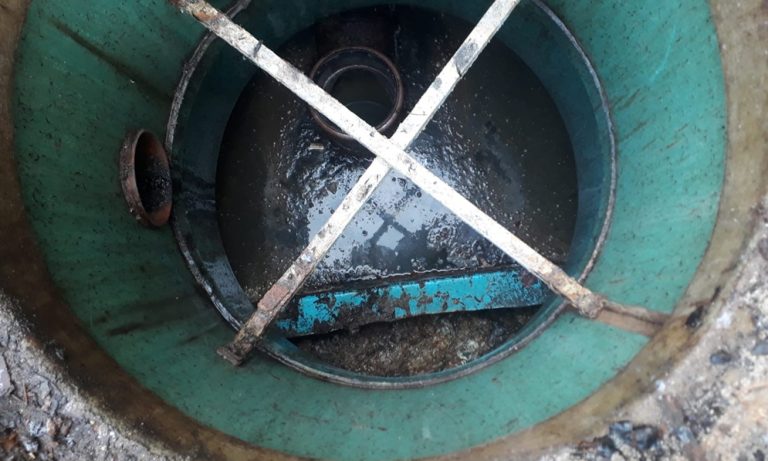 A drainage field is used to dispense liquid waste from a septic tank or treatment plant. Effectively becoming the second part of a 'drainage system' from a two or four bedroomed house.
The excavation of trenches constructs them. These trenches are then filled with clean flintstone and covered with a plastic membrane. The fluid is dispersed by way of pipes with slots or holes,
These are constructed entirely below ground, installed using a site level, compensating for slopes or inclines.
The performance of any drainage field is affected by the size of the property being served, the soil's porosity into which the drainage field is to be installed and the type of tank, i.e. whether it is a septic tank or treatment plant.
The old type septic tank that is being phased out, slowly, needs light aerated soil for secondary treatment.
How does a drainage field work?
An outlet pipe will run from the tank, taking separated, or treated foul water through to an area called drainage fields or drainage fields, where it can soak into the ground. This system only takes away the liquid part of the waste, after being separated from the suspended solids and sludge, which is left in the tank and can then be pumped out at a later date, periodically.
Septic tanks usually have a minimum of two chambers (or a single chamber divided by a separation wall with dip pipes). The effluent enters the initial tank, where the first separation of larger solids and fats occurs. Because the first chamber receives waste straight from the drains, the contents can get stirred up as new effluent enters, especially if it is a large volume all at one time, such as emptying a bath. This is why the first chamber is limited to the initial separation of larger solids and fats.
The effluent then passes, via dip pipes, to the second chamber (or additional chambers), a calmer environment, where smaller particles of solids in suspension have the opportunity to settle to the base of the tank. While this process takes place, there is a minimal bacteriological breakdown of the effluent. Remaining wastewater is then passed through the outlet pipe, and travels along to the drainage field where it is absorbed into the ground.
It has now become law that septic tanks discharging into streams, ditches or watercourses need to be upgraded to a treatment-plant. These discharges to wet ground, ditch or stream, from an old septic tank, needed to have been registered with the environment agency by 2020 (and need upgrading to treatment plants). 
To get a full understanding of how private systems work, you can look at our web page on septic tanks and treatment plants. We also have blog articles entitled 'What is a septic tank?' and 'What is a treatment plant?' that will give you more information.
If you would like more information or have septic tank problems contact ASL Limited and we can help you.
What We Do
We are experts in our industry. We install treatment plants and empty, clean, service and repair them annually to keep the system dependable.
Drainage fields can vary in shape and size, so we will do everything we can to make sure you are happy with the result.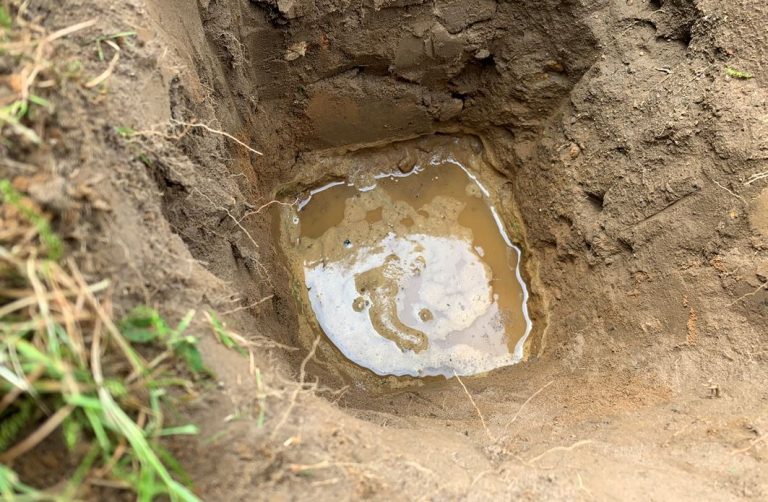 We can firm up the charge for constructing new drainage fields once we have carried out tests to ascertain the soil's suitability and absorbency in the proposed area. If the soil is very absorbent, the drainage field volume will be less than if the soil has an average absorbency.
If the soil's absorbency is non-existent, or very limited, we may discover that soil is not suitable and that the proposed drainage field will not work.
Obviously, the soakaway system's volume will have a direct bearing on its construction cost, but for the service, the system will provide, it is more than cost-effective.
Get Rid of Wastewater With up-to-date methods.
Working together with your waste management system does avoid problems. Misusing your sewage system will decrease the drainage field's effectiveness and may cause pollution when the wastewater doesn't evenly disperse. Usually, a trench or pit filled with clean flintstone and plastic membrane gives an even distribution.
Your new drainage fields will be constructed completely underground, so you will not have to worry about the size becoming obtrusive or spoiling your view.
Before we start work, tests will be completed on the area to ensure suitability and absorbency. If a drainage field is not the most suitable option for your property, we'll advise you on the other options available to safely release your waste.
We will provide you with the best system suitable for your requirements.
Our services include the design, installation, maintenance and repairs of your private system.
We can cater for any size buildings from one-bed properties to large commercial factories.
Our tank specialists are on hand for any impartial advice and support for your system.
If you would like advice on installing a drainage field or having problems with a blocked drainage system, please don't hesitate to get in touch. Our staff also know how to repair a drainage field, and we can fix the problem for you.
If you have any questions about either surface water drainage or wastewater treatment you can always give us a ring in the office, and we will do what we can.