Professional moling services in Guildford, Surrey.
ASL Limited specialise in moling. Our own moling equipment allows us to install a new water main on your property or divert an existing run without excavating your lawn, driveway or garden. This installation method is a serious time saver but let's look at what it is and how it works before we go any further. 
Professional moling contractors
What is moling?
The benefits of moling
How does moling work?
Soil types ideal for moling
Areas Covered
Contact ASL Limited
Trenchless Pipe Replacement
If you need to dig cables underground from one location to another, call us on 0800 181 684 and find out if ASL Limited's moling service is just what you need. 
What is moling?
Moling is a technique used to lay pipes without having to build trenches. It is one of the simplest forms of trenchless technologies, and we have been employing it for many years. It's an extremely effective pipe installation method that avoids us having to dig up your garden.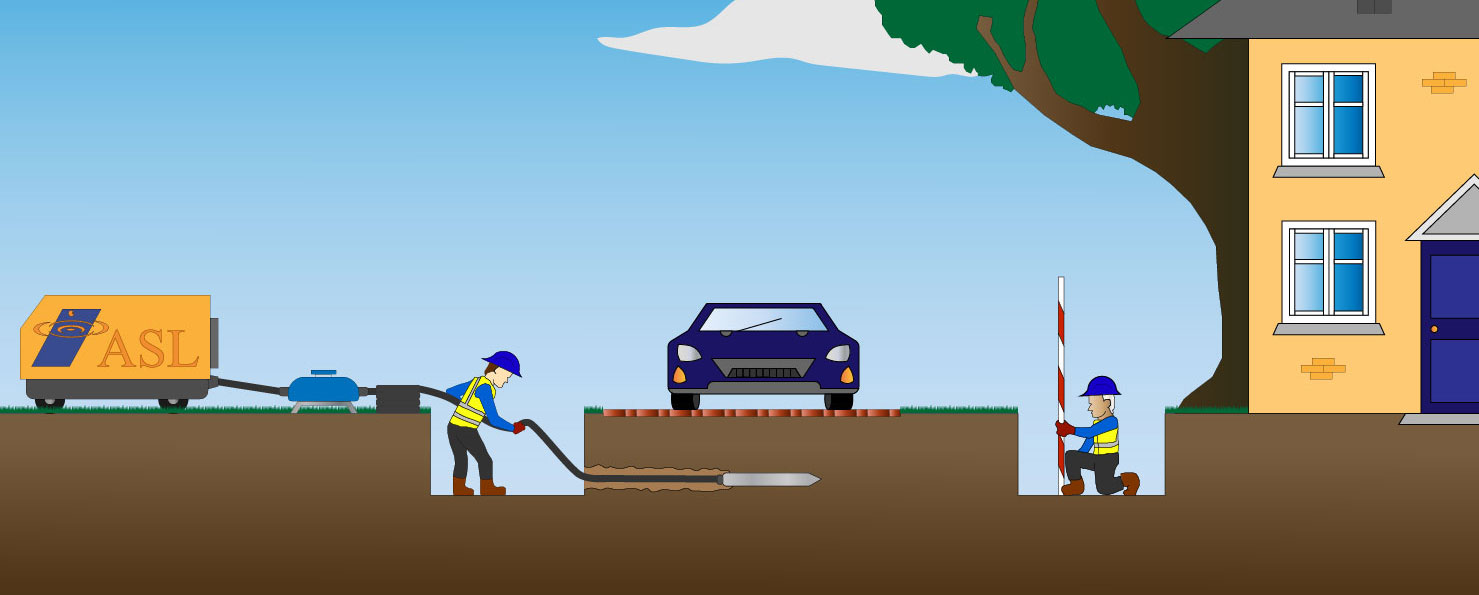 Moling is one of the least invasive pipe installation techniques employed in the construction industry to date. It can bore under lawns, obstacles, driveways and ditches to install water mains, pipes, cables and ducts.
The benefits of moling:
Environmentally friendly
Requires minimal excavations and causes minimal disruption
A reduced necessity for road closures and disruption to members of the public
Faster installation times
No disruption to infrastructure, services or the surface.
Moling has significantly reduced the time it used to take us for water pipe replacement, saving us time and human resources. This allows us to provide a service to our customers that is a far more cost-effective and efficient method of installing new pipes than excavation.
How does moling work?
During the moling process, a pneumatically-driven machine known as a mole forces its way through the soil along a previously mapped path of the pipe. To begin the process, a hole is dug about 1 square and 2 metres deep. A hole this size can be easily dug without the use of a machine. A destination hole is dug where the mole will emerge.
The mole itself was named because it replicates an actual mole's activities by burrowing through the soil. Pulsed compressed air causes the mole's head to hammer against the soil to dig the tunnel repeatedly. Once the mole has passed along its designated route, the pipe can be successfully pulled through the destination hole.
Soil types ideal for moling
To ensure successful completion of the moling installation, an appropriate soil type is essential. At ASL Limited, we have been using moling installation for many years, and we know that ground conditions can have a significant effect on the moling procedure's success. Therefore, moling should only be carried out on the following soil types:
Clay
Sand
Fine Gravel
Silt
Coarse Gravel
If moling is carried out in unsuitable soil types, the procedure will be unsuccessful and may cause damage to the equipment and the landscape. Therefore, it is essential you hire a professional to carry out any moling work on your grounds.
Directional 'horizontal' drilling or boring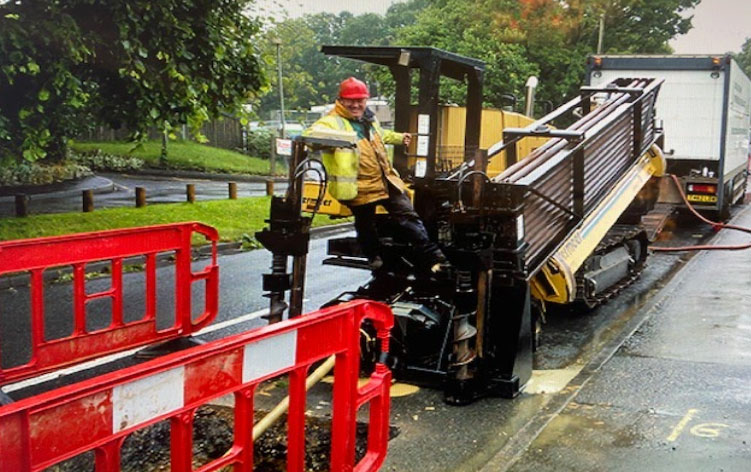 If you require a larger diameter pipework installation or need to cover a greater distance, then we can provide a quote for directional drilling or boring. This will require a site visit and pricing on a case - by - case basis. Give us a call on 0800 181 684 to find out more. 
Areas We Cover.
Here at ASL Limited, we are passionate about keeping our moling services accessible to our customers, which is why we offer moling services throughout the South East, including areas such as Newbury, Berkshire, Hampshire, Surrey and so much more! For a full list of the areas we cover, check out our areas covered page.