New Water Mains Installation, Repair and Service in Guildford and around Surrey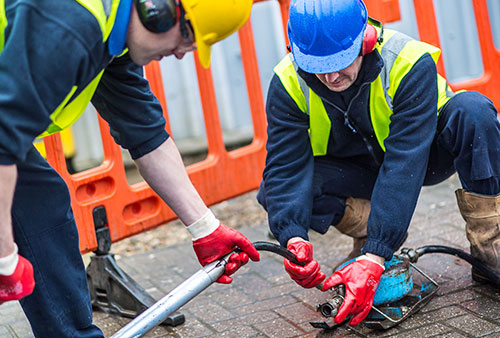 Comprehensive, detailed and effective new water main installations
ASL Limited specialise in new water main installations. We have our own moling equipment which allows us to install a new water main or divert an existing run without the need for an extensive excavation.
A mole is a clever bit of machinery which does as it says and moles into the ground via a launch pit to a receiving pit which can be up to 25m apart. This method of installation saves time and is especially useful when installing a main beneath a property or your newly laid driveway.
Read A Recent Checkatrade Review!
New water main."They installed a new water main in only one day, tidy, clean and very reasonable price."

ASL Limited has been a member of Checkatrade since December 2000
To view full company profile click here
Watermains Repair Service
Does your water meter continue to spin, despite there being no water running and there are no signs of a watermain leak?
Well, ASL Ltd can help you. We carry out a comprehensive watermains repair service and can usually locate leaks by observing the tell tale signs such as boggy ground or depressions. We would then excavate in this area to expose the watermain and carry out a repair.
In cases where the normal signs are not visible, we use a specialised corallater to repair your watermain, which works on the process of sonar signals, which is passed through the main and calculates the distance where the signal is interrupted i.e. at the leak to the stop valve or water meter. We can then trace the water main to this point and make the repair.
This method of leak detection not only saves time but also avoids any unnecessary disruptions and costs. It prevents the need for endless exploratory digs on the main to establish the location of the cracked / leaking section of main.
If you would like help with your water mains, ASL Limited are here for you.
Whether you need a new water main installation, excavation or moling work, ASL Limited are here to offer you the most cost-effective solution for your project. Whatever your requirements, no matter how big or small, contact ASL Limited today! Our friendly staff are always available to answer any questions you may have.