Sewage treatment plants: emptying, maintenance & installation
Here at ASL, we have over 40 years of experience dealing with commercial and residential water treatment plant, from safe and professional emptying, repairs & maintenance to full new installations & upgrades. If your wastewater treatment plant has been having problems of any kind, our ASL team can help by troubleshooting the problem. If you are new to treatment plants & would like to start at the basics you can read more about how treatment plants work in our blog entitled 'What is a treatment plant'.
You may be aware of the law that came into force on the 1st January 2020 about the standards that need to be upheld if you have a private sewage system or treatment plant. If you are not aware of it, you can read more about it in the general binding rules.
Upgrading your sewage treatment plant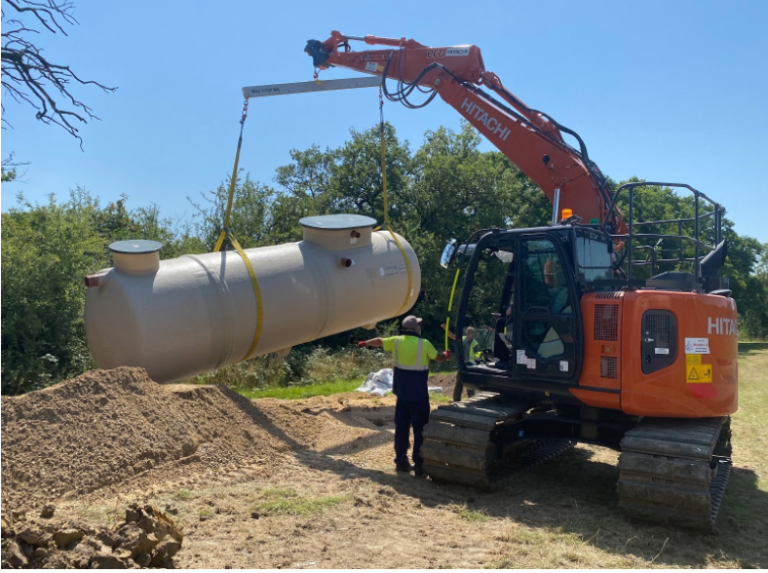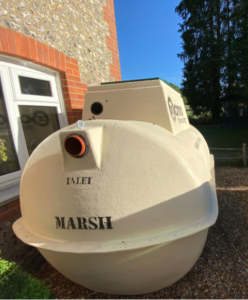 If you want to upgrade to a treatment plant, there are specified standards that your system needs to meet so you may now need to understand the binding rules that apply to you. 
If this is all new to you, I would suggest inviting a FREE estimate and professional advice. Call our friendly office at ASL and ask for what our Gerry calls a 'FREE assessment' to discuss the ins and outs. 
It's easy to get advice from a competent service engineer (like our Gerry) if you need help understanding. septic tank can go into a drainage field with the right type of soil, but cannot go directly to watercourses without further treatment. This is considered polluting and now not allowed under the General Binding Rules. Please don't worry though because ASL Limited can help you put it right.
Why upgrade to a treatment plant?
A sewage treatment plant (also known as a package treatment plant) treats sewage to a higher standard than a septic tank.
I meet and talk to many people with large country houses with lovely gardens and the most common reason over the last year has been these new binding rules (1st of January 2020). 
This, in my opinion, has nudged homeowners to get rid of, utilise or upgrade their old problematic septic tank.
"I often hear comments like: "we will have to do it when we sell our house anyway". 

"at least we have clean water" or "I would rather have clean water discharge in the garden for the environment and my own family".  

I recall one customer who had inherited a problematic septic tank with a little syphon type pump rather than a straightforward modern pump. I often had to assist him to keep the system going (and developed a great friendship) for approximately 7 years regularly recommending the upgrade, finally he phoned me up and said 'could you please come and upgrade my system Gerry!'  I asked the reason why? and his defeated reason was: "I'm selling the house". I had been telling him over the last 7 years but we were now putting the new treatment plant in for the new people moving in. He never had the benefit of the new modern system over the last 7 years!"

Gerry Rowe – Owner of ASL Limited
If you are buying a house with a private system ASL can carry out a 'house purchase survey' on the system, so you know what you are buying along with the house. If this highlights problems with the system, it is easier to negotiate the house price before the sale (possibly saving £10,000 to £15,000 as well as a lot of disruption) rather than afterwards, through solicitors. Call our friendly office to find out more.
The drainage pipes from the house. 
Before connecting the drains from around the house to the new treatment plant, we need to confirm if surface water is entering the foul drainage system directly or indirectly and eliminate this. See our FAQ: 'What is the difference between surface water and foul water?' for a full understanding of surface water drainage. 
The rate at which the sewage and sewage water flows to the treatment plant needs to be slowed to less than that commonly laid by builders which is slightly faster than required for a private system.
Why does the rate of fall of the pipes from the house to the treatment plant matter?
Treatment plants commonly work by three significant processes, initial separation of solids from liquids, then bacteriological action, and finally settlement before it leaves the treatment plant. The separated water is allowed to flow by gravity to and into a drainage field, stream river or watercourse. If the fall of pipes is not sufficient, a pump could be required.
The first chamber in the treatment plant is essentially a holding tank for separation purposes. The effluent enters the holding tank, where the initial separation of larger solids falling to the bottom takes place. The larger solids and the majority of unwelcome fats, very quickly float to the surface. 
Because the first chamber receives waste straight from the drains (not pumped), the contents can get a little stirred up as new effluent enters, especially if it is a large volume all at once. This is why the first chamber is limited to the initial separation of larger solids and unwelcome oils and fats. The first chamber is designed to trap most, if not all, fats that float or sink to the bottom. This is why we insist that no other material other than human waste is allowed to enter the tank. Greasy material from large busy kitchens should be trapped in a specifically calculated and suitably sized grease trap for later disposal by other means.
After larger and smaller particles of solids in suspension have had the opportunity to settle to the base or the top of the first chamber, effluent then passes to the treatment section. The treatment compartment consists of a huge, submerged or suspended, wheel made of plastic media, a friendly environment for bacteria to eat the contents. This is evident in the wheel itself, with the first part of the wheel being much more heavily coated with bacteria than the second half of the wheel. This indicates that the treatment plant is actually working and coping. If it is working intermittently and you sometimes experience a foul smell, you may have an issue. For example: If the incoming sewage is being pumped from the house; the fall in pipes to the treatment plant is too fast, or rainwater is getting into the system; this would cause a disturbance in the first chamber resulting in the treatment area and the final settlement chamber containing untreated sewage. 
You can find out more about using a pump before a treatment plant by calling our Gerry in the office.
What size and type?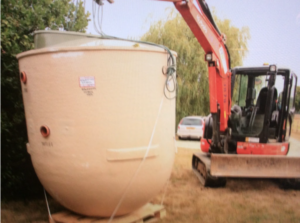 It is advantageous to make sure you use the correct treatment system for your property. Use a sewage treatment plant one size up from the size you need to treat your home's sewage, especially if you are discharging to a watercourse such as a river or a stream. If you are using a pump before the treatment plant, it is most important to go 40% larger and set it to pump small regular amounts rather than produce a surge once a day. 
I strongly believe the above is just as important if we are discharging to a drainage field.
There are several ways of treating sewage. You can treat the sewage and sewage water together or separate the sewage and only treat wastewater. You can use the 'submerged media' method (bacteria thrives underwater) or media suspended above the water level (bacteria thrives above the water level fed as the wastewater flows in). 
"I can always explain to the client which method I recommend, after a test hole and a site level survey."

Gerry Rowe – Owner of ASL Limited
I am also able to recommend if the treatment plant requires an integral pump to go to discharge. Pumping from the house to the treatment plant has consequences, so it pays to have a survey if you are buying or selling a house. You can arrange a house purchase/sale survey by calling the ASL office. Our Gerry can also help you or your buyers understand the maintenance packages we offer completely tailored to your property. The size of your property and the number of people who live or work in it directly affect the system's size, emptying and maintenance package you will require. ASL Limited can provide fair estimates on these packages.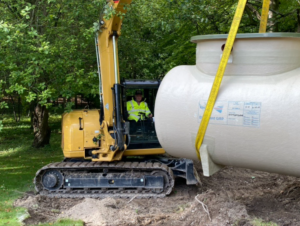 The treatment plant top left is suspended media. The treatment plant bottom left – is submerged. These plants are of the aerated exposed, or submerged media type.
Plants can be made available or modified for much larger applications. If your property caters for public use or your household is exceptionally large, it is beneficial to have a suitable system that would cope with parties or large gatherings. 
ASL Ltd has special expertise and experience in dealing with waste treatment, where there is no connection to the main sewers.
For FREE expert advice or an estimate get in touch.