Groundworks
Throughout our many years in drainage, we have naturally become very experienced in groundworks due to the varying nature of ground types in which we install treatment plants, septic tanks, holding tanks for surface water recycling, and of course installing new drains.
This solid foundation has helped us expand into other areas such as resurfacing, underpinning, footings, trenches and ditches. When our drainage work has been completed there is also the matter of reinstatement. Also, we lay asphalt, patios, slabs and paving. We can provide competitive quotes for all of your groundwork requirements.
Give our friendly office team a call, you will not be disappointed.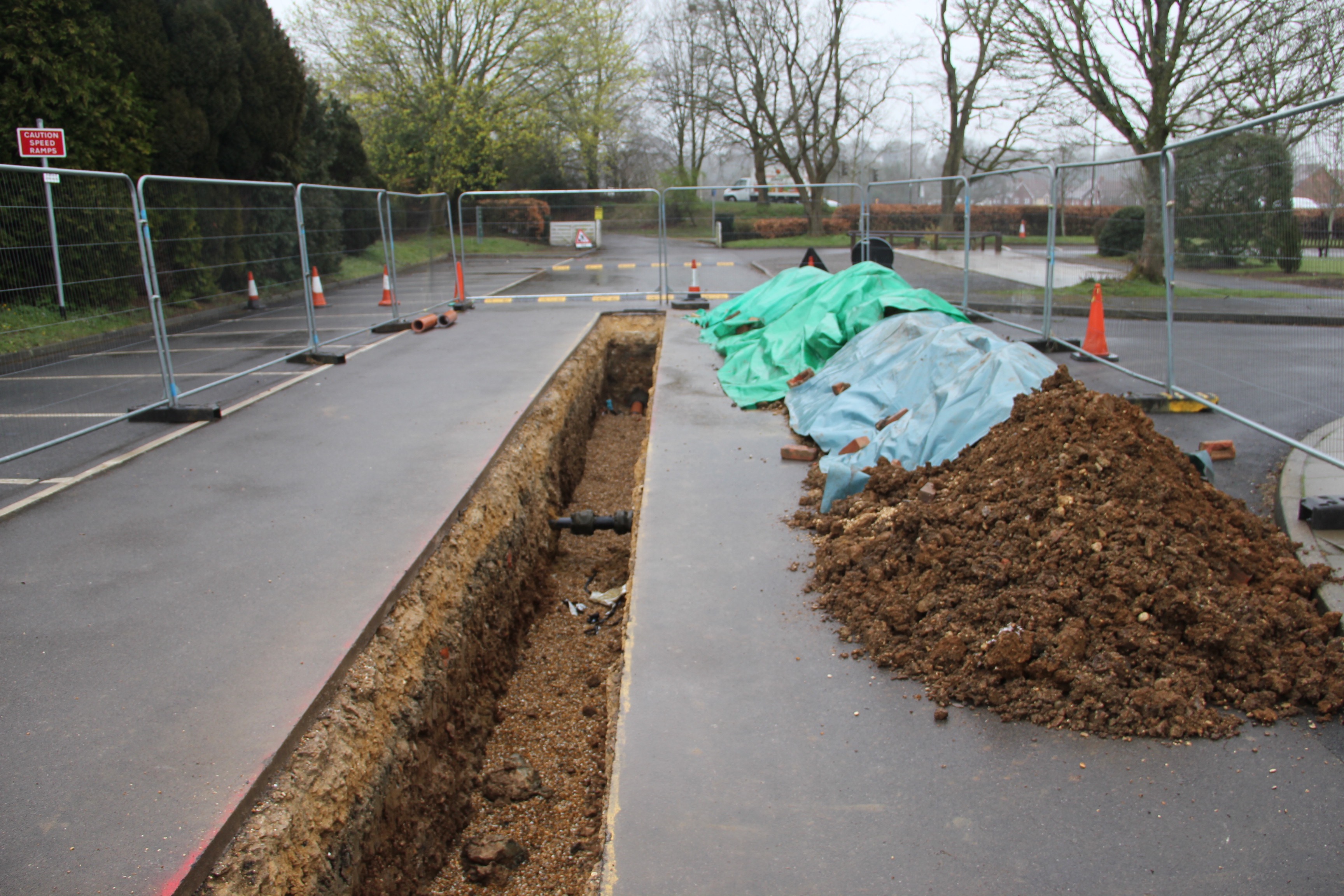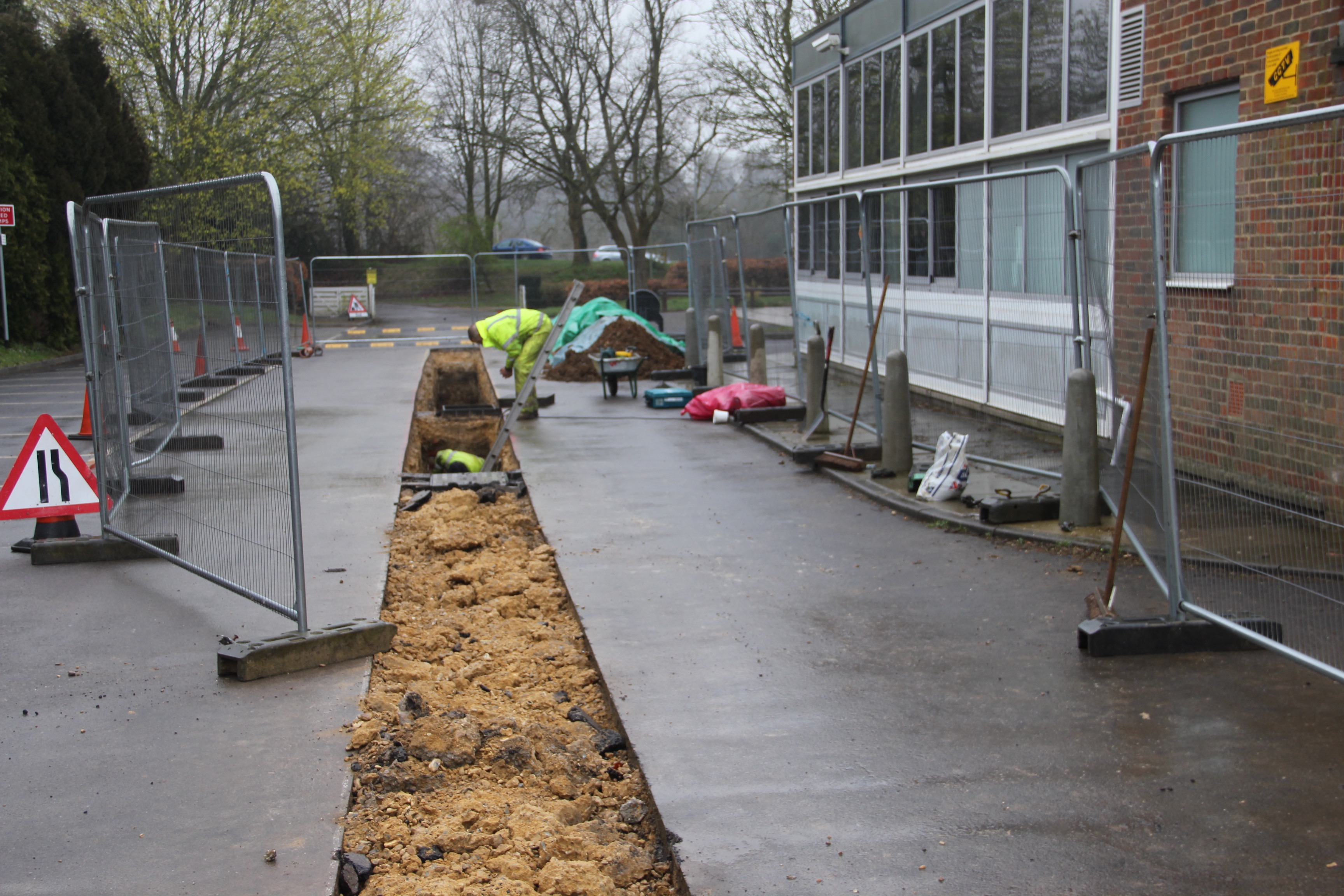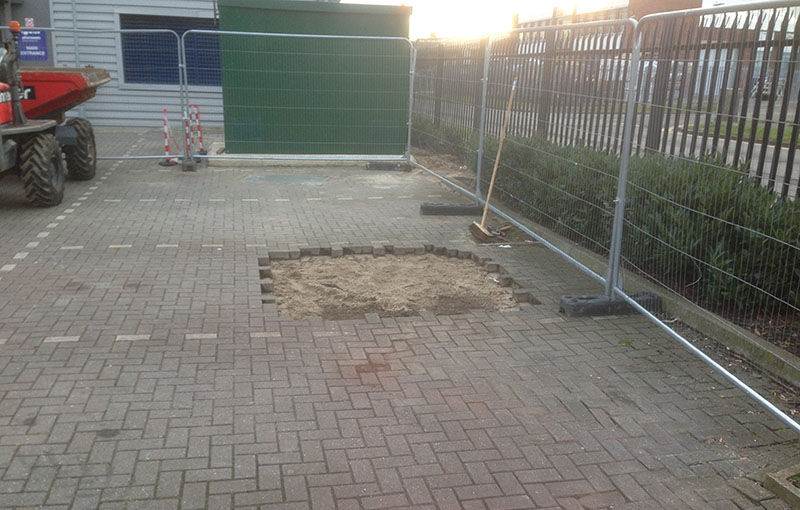 Garden Drainage groundworks
Drainage solutions for most water logging problems.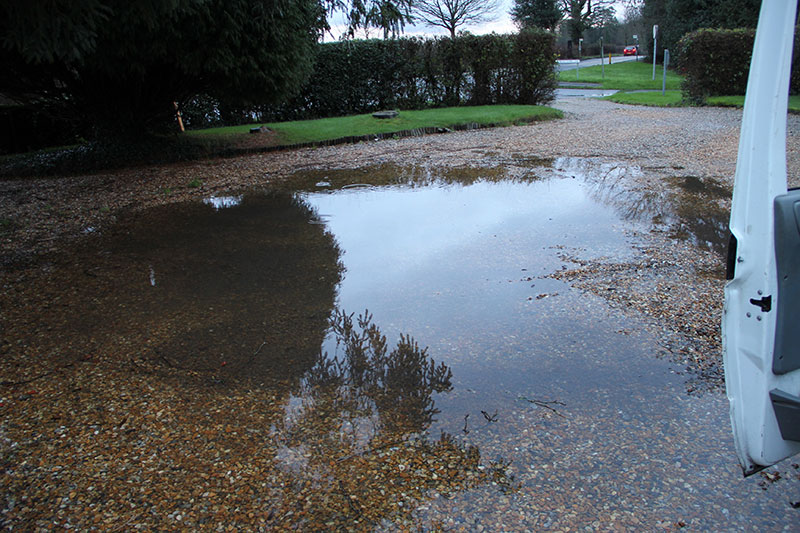 At this property, we dewatered the flooded ground using our tanker and then excavated 2m deep and found chalk. This enabled us to create drainage using plastic box crates to fill the cavity. We were then able to refill the whole with a porous mix of the displaced clay up to surface level. We then reinstated the gravel layer returning the driveway to its original visual state with the underground drainage solution solving the standing water (ponding) problem.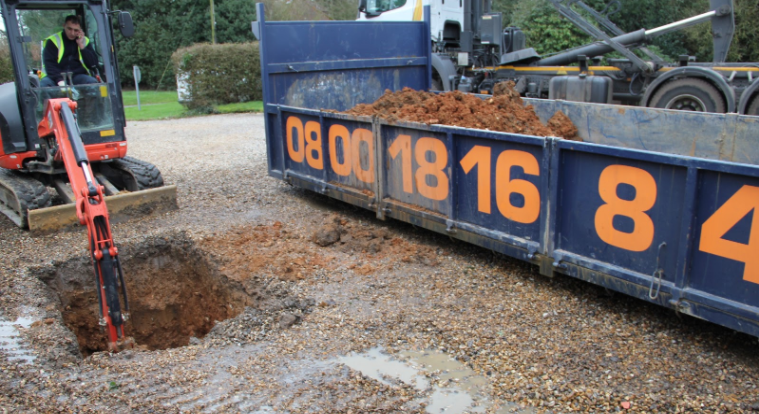 Surface water soakaway using crates
A soakaway using plastic box crates is just another effective version of a soakaway or land drain using flintstone and gravel, all must be covered by a membrane. A soakaway involves digging a hole in which I (personally) place 6 inches of stone as a base. The rest of the hole is then filled with hollow plastic box crates, covered with a membrane which prevents sediment from filling the hole or cavity that we have created with the crates. Soakaway crates are completely below ground in most cases with the original surface being laid back on top mixed with purposefully selected material that does allow the surface water to drain through to the crates below.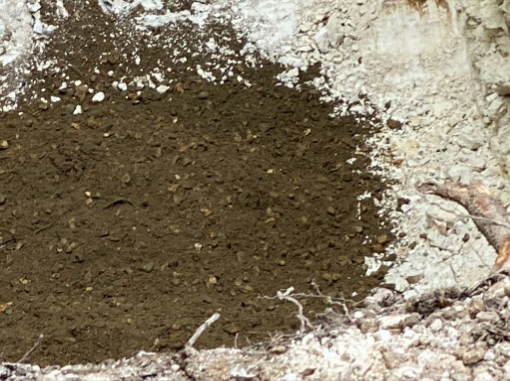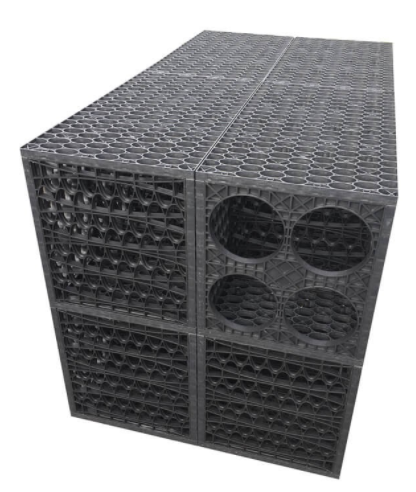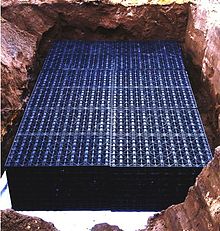 About our drainage service
Waterlogged gardens that need draining? At ASL, we offer garden drainage solutions in most of the South East area. If you have a garden with lots of surface water or planting beds which won't drain, we can help. Whether you need a new land drain, a drainage field or a new soakaway, our experienced drainage consultants can help design the perfect system to suit your needs.
The left image below shows a ball of clay holding water. This would show us that your ground is not suitable for a treatment plant drainage field unless we can dig below it or channel away to a watercourse. This is why we carry out investigatory surveys to make a plan that will best suit your ground and circumstances.
Make up of your ground can be explained after a test hole and a survey, which is required in any case.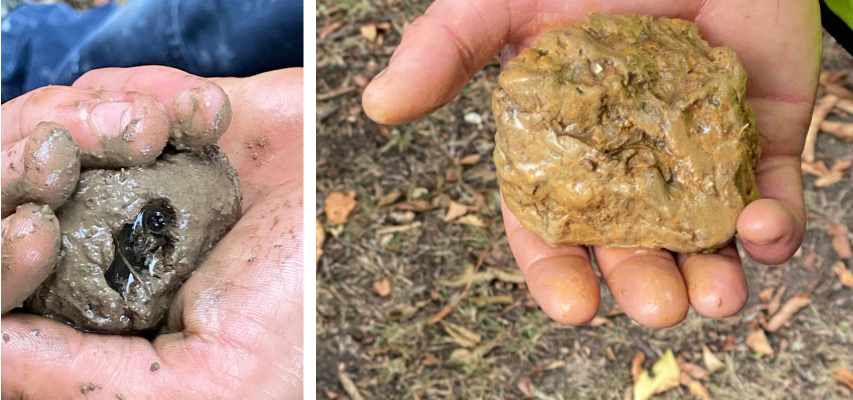 Garden drainage guide
There are multiple types of drainage which could be applied to your garden, subject to test holes, site levels, and depending on the area flooding and the restrictions causing it. 
Please ring our friendly office on 0800 181 684 and ask for Gerry, Ken or Phil.
You could send us an email describing the situation including photos to info@asllimited.co.uk
The following are a few examples of garden drainage solutions:
When water is ponding or pooling on the surface of your small or large garden, the quickest solution can be drainage holes or drainage grids, however, you could be wasting your time. Drainage holes can be drilled or cut to allow water through but if the makeup of the ground below is solid clay the drainage holes will not work. 
Drainage grids can be combined with land drains to move water into storm drains or to other areas. 
Raising the ground can work for large and small areas. Areas that are wet because they are seemingly low lying can be raised with a mix that drains at the right speed to keep your lawn healthy.
As you may ascertain from the above we need a plan for any groundwork and to make a plan we need to do a laser levels survey and sketch it out. 
Most surfaces can be raised after stripping and putting aside the topsoil using other permeable base materials such as chalk, gravel, sharp-sand, flint-stone (small, medium, and large), which will allow water through at a certain speed determined by and depending on how we layout the different stone or soil; replacing the existing topsoil when complete.
This has led us to become adept at moving hundreds of tons of soil in a matter of hours with an eight-ton excavator machine plus a large dumper.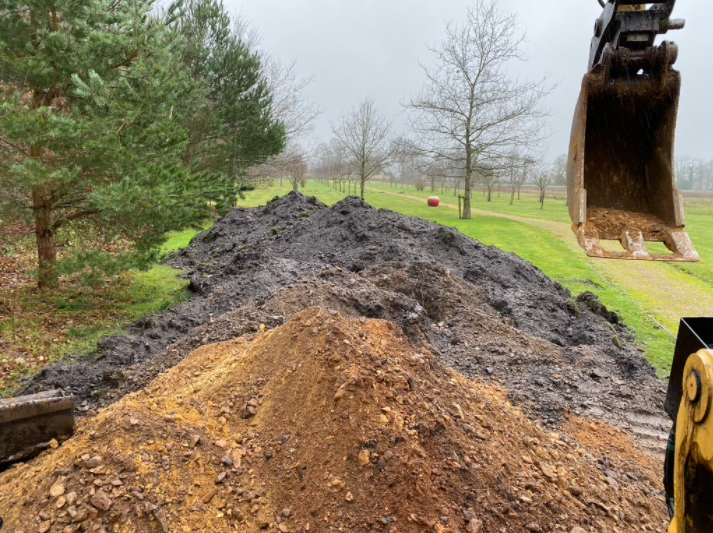 Some top soils need nutrients or granular like sharp sand or lime added, this can be carried out on site in your garden, but if it's not large enough we can do this at our recycling yard and bring it back ready to lay.
Everyone's problem is very different – in one area it will be clay – in another area, it will be too much chalk, ballast or sand.
ASL supplies and installs small and large treatment plants with drainage fields, and the odd septic tank plus land drain; we remove between 10 and 20 m³ of ballast, sand or flintstone to install these. With patience and good timing, it could be organised that this surplus material could be brought straight to your garden and be kept in one pile – or in most cases, stored until your job starts.
Having mixed the ground material with the right quantity of drainage materials – we leave the surface area levelled and ready to seed or plant out.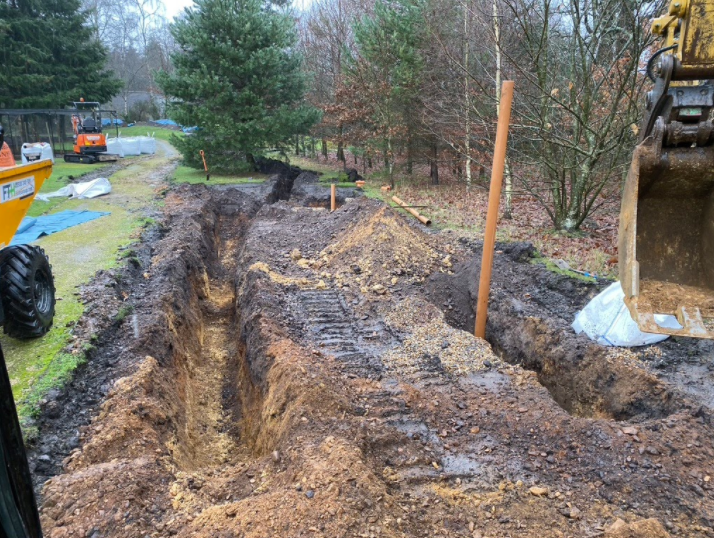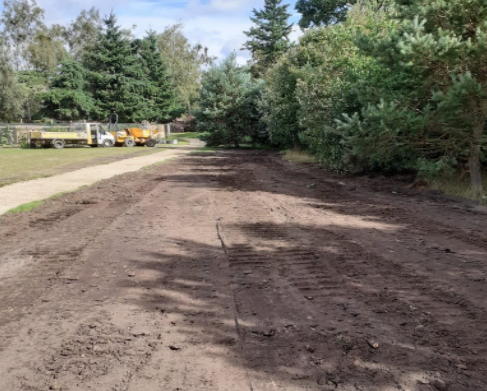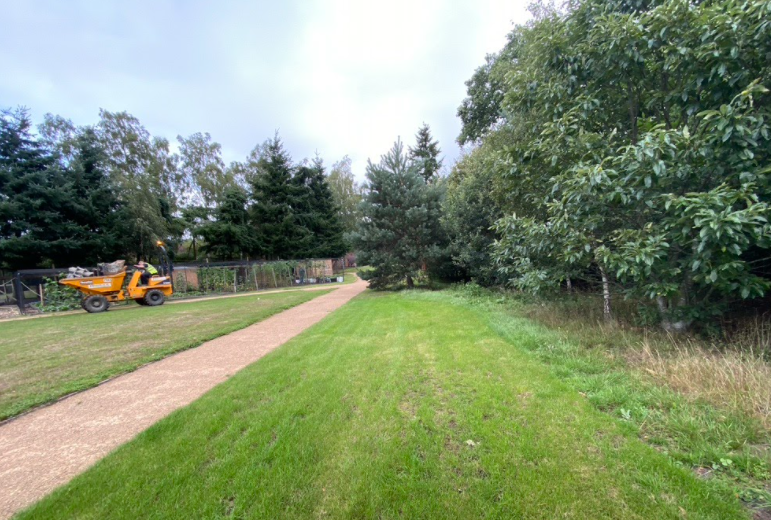 A trench drain (sometimes called an open or a closed ditch).
This drain works by creating a channel which directs the water to another area. Drains can be complex, directing the surface water or groundwater to ditches or soakaways. To install these types of drains, a trench is normally dug (with a depth predetermined by a survey) which will catch the water and guide it to a ditch, stream, river, soakaway, land drain or drainage field, as it is sometimes called.
This trench can be filled with gravel and lined or covered with permeable fabric when completely backfilled using purposefully selected material, ensuring that water can get through.
Solid clay is not porous, fine sand is slower than 6mm pea shingle, whereas 20mm and 50mm flintstone is very fast, enabling or allowing the water to flow freely, especially when there's a catch pit before it.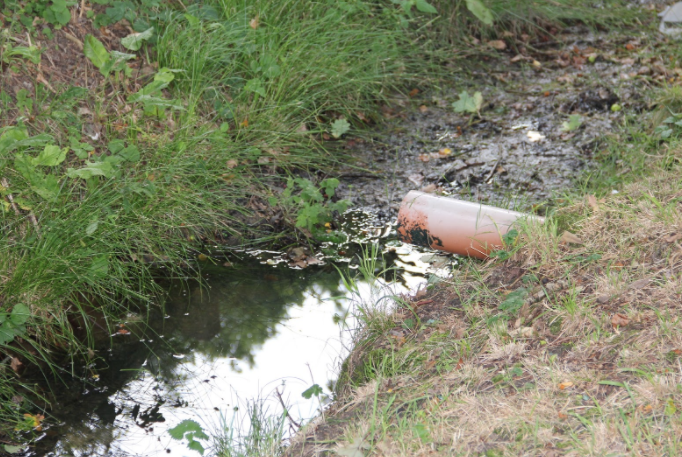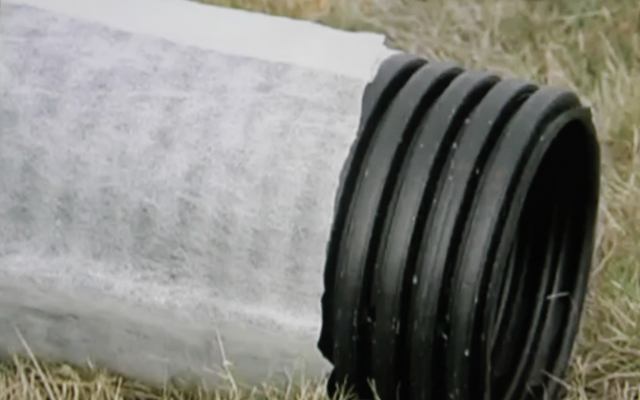 The benefit of ASL carrying out your groundworks
ASL – as a medium-sized company – has the benefit of our hook loader lorry. We can switch between either having our tanker on the back or our skip. The benefit being that we can arrive with everything we need for the job, including the digger, ballast and mix materials we might need in the skip, place that down onsite and then take the lorry out of the way until we need it again. This has proven to make us extremely efficient on any groundwork job. It also means that we can collect our equipment at your convenience without having to wait for a third party skip company to remove the waste materials from your property.