Fast, affordable, and professional drain repair
Here at ASL Limited, we carry out expert drain repair services across selected areas in the South of England. We provide a range of services for our customers, helping repair any form of drainpipe damage.
Having cracked, leaking or broken drain pipes can create an unhealthy and unsafe environment. So, if your drainage system has sustained any form of damage, contact our office, and we'll put you in touch with an ASL engineer.
Assessing the damage with a CCTV drain survey

Using our CCTV drain inspection cameras, our engineers can identify any problems within your drains and provide a detailed report with a fixed quote for any repairs required. We can also provide a DVD recording of the drainage problems (you must request this beforehand) to support any insurance claims.
Our cameras go into the drainage system and show us the damage, giving us a better understanding of the problem. We then analyse the results and provide an expert solution.
Drain jetting to clear blockages
For carrying out certain drain repairs (structural lining, for example), we may have to clean the drains beforehand. One of the most effective drain cleaning methods we use is drain jetting, which involves methodically cleaning the drains to prepare repairs.
Drain repair without excavation
In most cases, we can carry out drain repair without digging. In such cases, we install a structural liner to repair any damage.
Whether we carry out large-scale commercial drain repairs or smaller domestic repairs, our team always makes sure the work is carried out thoroughly.
What causes damage to drains?
If you want to avoid drain repairs in the future, it is important you know what's causing the damage. Your property's drains can suffer from all kinds of problems, caused by a wide range of factors, including:
Tree root ingress
Minor and serious blockages
Vermin infestation
Pipe fractures and cracks
Displaced or poorly installed joints
Extreme weather conditions (flash floods causing voiding etc.)
If any of these problems are left untreated, they could cause serious damage to your property. So, it is important to contact ASL Limited to get the issues fixed as soon as possible.
When should you call our specialists?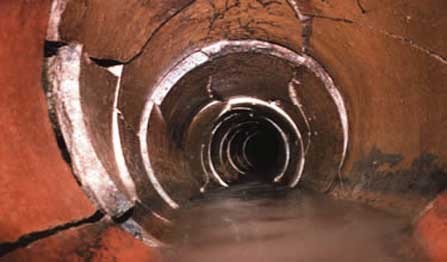 Sometimes, identifying a broken drain pipe is easy, especially if the consequences include burst pipes and flooding. However, partially clogged drains can go unnoticed for very long periods of time, only causing the problem to worsen.
We strongly believe that it is important to get them fixed rather than allow your drainage issues to become worse. Some of the common drain problems you should be looking out for include:
Overflowing toilets
Flooding
Stains near pipes
Foul odours
Slow-draining sinks
If you notice any of the above-mentioned signs, we highly recommend calling us for our specialist drainage repair services. We can diagnose any drain problem and carry out efficient and expert drain repairs.
Why choose ASL Limited?
Our expert team can deliver a comprehensive range of services within our catchment area (please see map). Our experts will work with you to resolve any drainage repair problems.
All of our staff are fully trained.
We hold Street Works Licences which allows us to undertake excavations within roads, verges and highways.
Locations across the South East, with our head office in Guildford
CCTV surveys to find your faults before we repair
We will provide you with the best and most cost-effective method of repair.
We have an emergency repairs department to ensure that your drains are fixed and functional as soon as possible.