Pumping station and pump main (pipe)
Pumping station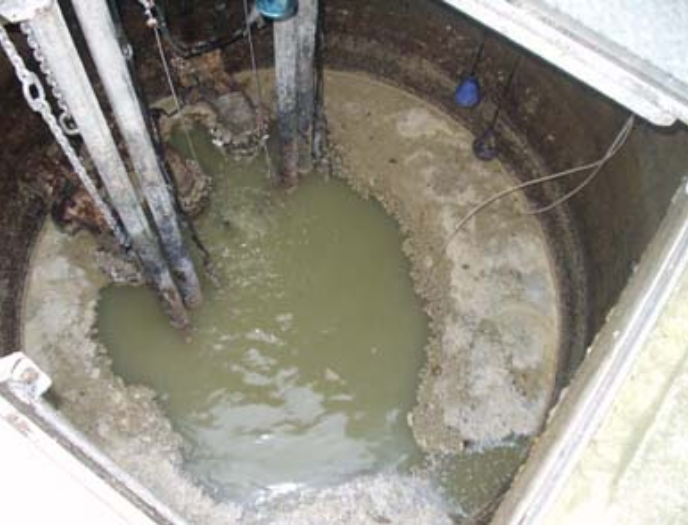 A pumping station is an intermediate collecting chamber for wastewater or surface water that needs to be pumped to another location.
The most common reason our customers use a pumping station is to connect to the main drain if it is higher than the drains around your house.
Another reason for needing a pumping station is to pump sewage away from septic tanks or treatment plants. It is important to understand the do's and don'ts of pumping away from or into a treatment plant or septic tank. If you are using a pumping station before a septic tank or treatment plant it is important that you understand about settlement. You can find out more about settlement and how treatment plants and septic tanks work on our 'Treatment Plants' or 'Septic Tanks' webpage.
Prior to having a pumping station installed it is essential to have a survey. We also need to ascertain what is required in your individual circumstance under relevant laws. Without a full insight to your individual circumstances you may not be able to get an accurate estimate.
Pumping main
A pumping main is a pipe that the sewage travels through when it is being pushed by the pump up to and into the inspection chamber to freefall into the main public sewer. A pumping main can cover great distance without disturbing the surface it is under by using no dig methods. Listed below are the different methods available in order for you to make an informed decision with guidance from us.
ASL Limited can use dig or no dig methods such as:
Directional boring for installing pumping mains without disturbing the surface (trenchless technology).
Chain trenching service for cutting a narrow trench leaving the soil as a powder consistency making backfilling easy and fast.
Excavator trenching in places where the ground is not suitable, or the distance is too short for the chain trencher.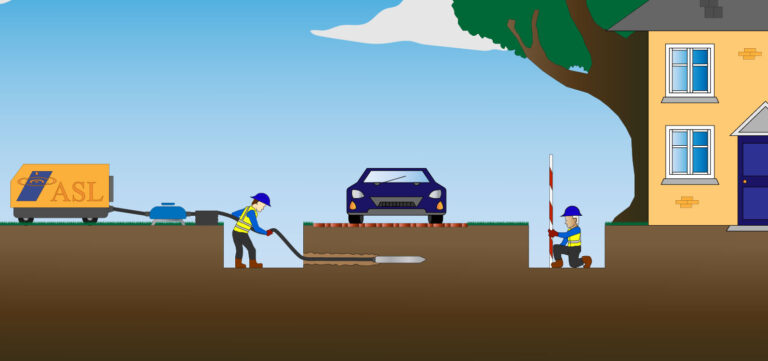 Other services we offer:
Pumping station troubleshooting.
Supply and installation of grease and fat traps.
Our own emergency emptying tanker (same day service).
Supply, installation and maintenance of treatment plants and septic tanks.
Supply and installation of small pumps to land drain.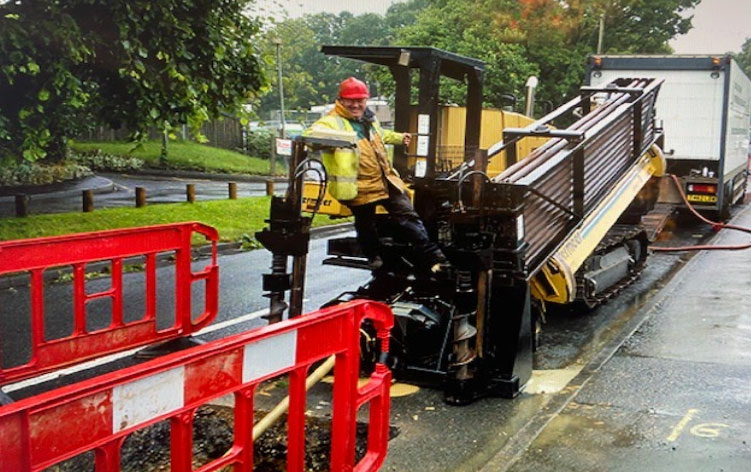 Pumping station installation and directional boring for pumping main
"We use a trencher when we need to run a pumping main pipe through a field. We turn up on the day at a given time, check for gas pipes, electric cables etc. and are off. Our machine will cut through to the depth we want in no time, then we use a light machine – two or three-ton in weight – to gently pull the powdered soil to backfill, then we pick up our trencher and take it away, no fuss or bother. I would recommend this to anyone."

Gerry Rowe – Owner, Senior Advisor & Supervisor at ASL Limited.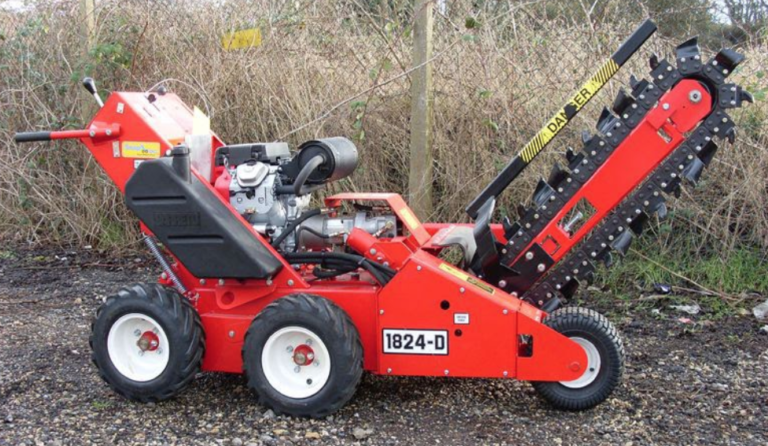 This is a photo of a trencher – used for installing pumping main pipes.
ASL Pumping Station Servicing
Our pumping station service team will provide you with a rapid and professional response. We will take your calls between 6am-9pm 7 days a week. Our team can carry out pump station maintenance, servicing and general repairs for a wide range of pumping stations no matter how large or small. 
In the event of a breakdown when your pump alarm is flashing or sounding call ASL Limited for a rapid response. Our emergency services are available within 24 hours, 7 days a week and we can start mobilising a team from the moment you call.
Services ASL Offer
Free estimates
Main sewer connections
Liaising with authorities
Traffic management
We can apply for the road opening licence and main sewer connections on your behalf
Our fully trained and qualified engineers also hold street works licences
We are fully insured with a £10,000,000 public / product liability
Pump and Pumping Station maintenance
Servicing, replacements and repairs are essential to ensure your pumping station operates efficiently helping to prevent breakdown. When your pumping station breaks down it is likely that your drains may fill up and back up to the house. This can cause the kitchen gully outside to overflow. You may hear a gurgling noise when you pull the kitchen sink plug or flush your toilet which indicates either you have a blocked drain or your pump is not functioning. These two problems require different experts to attend – a blocked drains operative OR a pump engineer.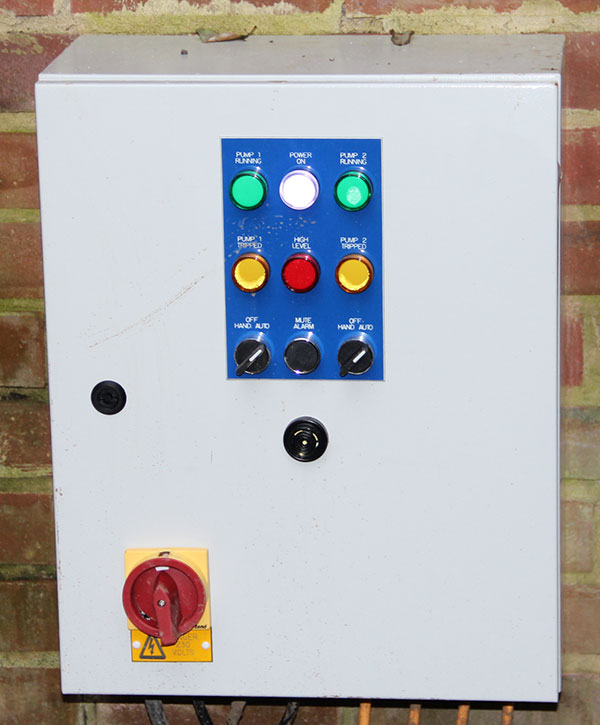 If your pumping station has an alarm system this can help you determine which problem needs solving and who to call. If you don't have an alarm system on your pumping station ASL Limited can fit an alarm system for you and when we attend a call for a blocked drain but are made aware that you have a pumping station we can check this for you. The benefits of having a dedicated professional company who will stay on top of your pumping station maintenance can save you the time, worry and resulting inconvenience of calling the wrong expert with the wrong tools. 
ASL uses a fully stocked 3 1/2 ton sign written van with uniformed engineers for identification purposes. They carry all filters, blowers, bearings and lubricants required to service a wide range of pump stations and treatment plants, allowing us to complete our service.
We carry out a service as follows:  
Check operation of impeller, flow rate & integrity of seals
Check oil and top it up if necessary
Clean the pump and flush it through with clean water
Check the operation of float switches
Clean float switches of any sludge or debris
Check the operation of the alarm
Check the operation of the control panel & test the electrical components
Check the non-return valve
Supply sundries if required
Using our own tanker we carry out services for removal of liquid waste disposal and use high-pressure water jetting to provide a complete servicing and cleaning solution. Pump engineers have a support team i.e. 'the office' and a 'spares' delivery van on speed dial. Operators and engineers are fully trained, not only qualified, and have confined spaces certification. 
We have a combined experience of more than 25 years in sewage pumping:
Sewage and water pumps
Control panels and floats
Service contracts
Installation, maintenance and repairs
Expert engineers
Emergency callouts
ASL Ltd's engineers have the knowledge and experience to give you the best possible service and product for your requirements. We also stock pumps from many leading manufacturers including Showfou, HCP, Lowara, ABS, KSB, Flygt and TT.
We are able to undertake any size of project dealing with wastewater or sewage effluent from simple domestic applications such as: private sewage system pumps for septic tanks and treatment plants – to large-scale applications in the commercial, industrial and domestic or local and central government sectors. For all aspects of drainage please see our website pages for blocked drains, septic tanks or treatment plants. 
ASL has a purposeful powerful tanker that is able to suck the grit from the bottom of the pumping stations that would otherwise build up and interfere with the performance of the pumps. We also use our powerful jetter to release the fats that stick to the walls and interfere with the floats and switch mechanisms of the pump – which also gets sucked up along with the grit.
Supply and installation of Grease traps 
A selection of grease traps
ASL has a powerful industrial tanker and provides a same day service, for removing grit, sludge, fat and sewerage.
To enquire about having a grease trap fitted to catch fats before they get to the pump call our friendly office team. To gain a full understanding, please see our webpage for grease traps. 
If you require installation or maintenance of your pumping station give us a call for a FREE, no-obligation quote.