The average cost of clearing a blocked drain
If you have a blocked drain there are many problems it could cause and the longer it's left the more apparent those problems will be. So when you can't clear it yourself and it's time to call the professionals how much should you expect to pay?
In this article on Checkatrade they provide a table of average costs for various drainage services for you to reference so we thought we would help with that comparison by providing our prices next to those averages. 
| | | |
| --- | --- | --- |
| Job | Average | ASL |
| Call out | £60 | £69 (Blocked Drain) |
| Emergency call out | £180 | £69 (Blocked Drain) / £160/hr (Out Of Hours) |
| Drain rodding | £80 | £69 |
| Drain jetting | £175 | £120 - £160 / hour (cleaning) |
| Drain rodding & jetting | £275 | £69 (Blocked Drain) / £120-£160/hr (cleaning) |
| Drain CCTV survey | £250 | £120-£160 / hour |
| Drain re-lining per metre (subject to minimum order qty or set up charges) | £65 | From £85 / m (100mm) |

There are of course caveats to the above and times where those prices will differ but roughly speaking these prices will apply. It's always best to check with the ASL Limited office on 0800 181 684 to get an accurate price for your specific circumstances.
Checkatrade also states that you can expect to pay £140 for drain rodding, and £235 for drain jetting (including call out charges). When we attend a blocked drain call-out we include rodding and light jetting as part of our call-out fee of £69+VAT (£82.80) Mon-Fri 8am-5pm.
There is no point only partly clearing the blockage – that would result in you having to call someone out again so wouldn't be cost-effective. We are very proud of our reviews on Checkatrade and they speak for themselves so please do go take a look if you are in any doubt.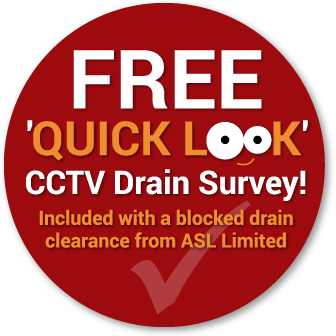 In addition to this, we also include a FREE 'Quick Look' CCTV Survey so that you and we alike know what was causing the problem in the first place and if there is any damage to the drain pipe. Now you simply won't get that dedication from every blocked drain company!
In our vast experience, we do get most drains cleared in half an hour and that's why we are confident in the price of our blocked drain service. Yes on occasion there are more stubborn blockages that may need more attention and it is likely in these cases that there is a more substantial reason for the blockage. This could be collapsed pipes or root ingress. You can, however, rest assured that whatever the problem we do have all the knowledge, expertise and equipment to solve the problem. We will always give you a quote for any repair work and won't action anything in addition to the initial agreed charge without your consent first.
If you have a blocked drain or any drainage problem you need assistance with just give us a call on 0800 181 684.