Can drains unblock themselves?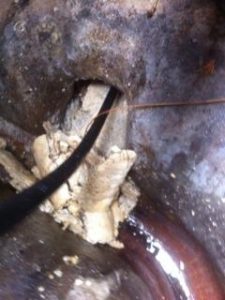 In some cases, drains can unblock themselves depending on the nature of the blockage. For example, if your drain has become blocked due to tree root ingress, it will not be able to unblock itself (and require an engineer to conduct a CCTV drain survey to assess the problem and identify a solution).
However, if your drain is blocked by flushing too much toilet paper down the toilet, your drain may unblock itself because toilet paper is designed to disintegrate the longer it stays in the water. Please note that we would still advise you contact ASL for any blockage that does not disappear.
What causes blocked drains?
Blocked drains can be caused by numerous issues, such as damaged pipes, collapsed drains, a build-up of debris, or a combination of wipes, sanitary products, food waste, and fats that congeal and build-up inside the pipes to form, often, immovable blockages.  
The most common causes of blocked drains are:  
Coffee granules  
Hair  
Foreign objects  
Heavy rain or storms  
Broken pipes  
Incorrect pipe installation
Fats, oils, and grease
Excess tissue and sanitary products (wet wipes people think are flushable)
Below are a few of the main solutions for unblocking drains:
Clear your drains with a plunger
This traditional method of unblocking a drain has been tried and tested for decades and is a popular method for many people as it tends to be successful. A plunger can be used to clear any blocked drain, whether a bathroom sink or a clogged toilet. The pressure caused by the suction of a plunger is fantastic at loosening blockages that otherwise could cause havoc in your plumbing system.  
Although using a plunger is helpful for most blockages caused by bathroom waste, it is not particularly effective on fats, grease scale or tree roots.  

High-pressure water jetting
High-pressure water jetting is the most effective way to clear stubborn blockages. It can help remove any heavy-scale build-ups such as root ingress or fatbergs, as well as cleaning the pipes in the process.
Prevention is better than cure
One of the best things you can do for your drains is to prevent the likelihood of blockages occurring. When it comes to blocked drains, prevention is always better than cure. Some of the best ways you can prevent blocked drains and therefore negate the need for professional unblocking services is to:  
Add gratings to your shower drains to catch any hair or debris that would usually block your drains.  
Avoid putting food waste down your drains.  
Do not wash fats, oils, and grease down the drain – put it in the rubbish bin instead – as this can cause significant drain blockages.  
Clean your drains regularly by pouring a kettle of hot water down them at the end of every day. This will help prevent blockages from forming by maintaining good water flow and flushing potential blockages out.
Ensuring you're only flushing domestic waste down your toilets, such as toilet paper. As other sanitary products will likely cause blockages (including wet wipes).
Clearing your drains by descaling pipes
One of the causes of blocked drains that will simply not fix itself is limescale. A build-up of limescale, fat or anything that sticks to the side of the pipe can be detrimental to the health of your drainage system and can cause severe problems to the structure and flow of the pipes. Removing the limescale is the only viable option to help prevent blockages and keep your drains running smoothly.  
ASL provide an interior descaling of drainage systems that can help improve the flow efficiency of your drains. Pipe descaling works by removing all limescale and protrusions on the inside of your drains, negating the need for extensive work to be done, and helping your drains work well.
Please note: in the instance that your blocked drain is caused by a collapsed drain or severe root ingress, you may require professional excavation to effectively clear the blockage.
CCTV surveys to check the cause of the blockage
We can use the camera to identify the cause of the blockage and then advise on any repairs that need to be done, as well as providing a solution (whether this is through pressure jetting or in severe cases, pipe replacement).
If your drains are blocked, contact ASL for fast, effective and affordable drain unblocking services.