Domestic Drainage Services from experienced specialists.
The definition of experience:
practical contact with and observation of facts or events.

an event or occurrence which leaves an impression on someone.

encounter or undergo (an event or occurrence).
The definition of an experienced drainage specialist: 
"A person with training & knowledge of, or who has participated in practical assistance of installations, repairs and maintenance of drains, pumps, pumping mains, septic tanks, treatment plants and connections to the public sewer. Having learned from years of experience; made wise, competent in assisting, etc."
ASL Limited blocked drains engineers:
As a result of years in assisting with drainage work, gaining experience, knowledge, and skills, our staff can serve as our block drains engineers – equipped with an up-to-date, fuel-efficient vehicle, high-pressure jetting machine and a basic drain camera.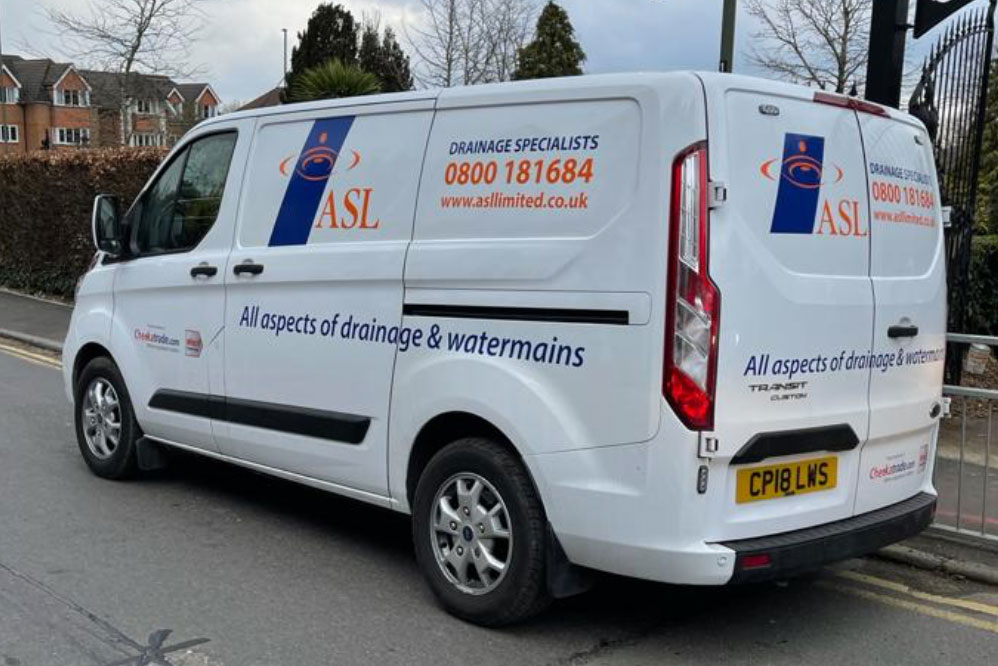 Our block drains team: 
Each individual is competent and very confident, working with and around your home's drainage. Most blocked drains are often unblocked within 30 minutes; however, they come across homes with private systems or pumping stations. Training and experience are invaluable in finding the solution, especially after listening to their colleagues' directions in our other departments.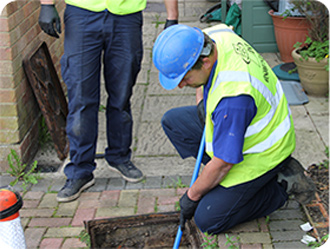 Once found, they will relay the information to one of our fully qualified electrical engineers – if necessary or the private systems department; small tanker emptying service; cleaning department; or excavation teams. Our blocked drains engineer has them on speed dial, knows and is familiar with them on first name terms.
ASL Limited provide maintenance or speedy repair services no matter how small or big the problem. As a medium-sized company, we offer competitive prices on domestic blocked drains and compete in larger commercial tasks. 
Drainage problems can be inconvenient, not exactly pleasant to deal with. Never the right time; Overflowing sinks, backed-up toilets, sewage smells, and a real risk of flooding your patio, garden or car park. A blocked drain in your drainage system almost always seems impossible to the inexperienced eye.
We offer a full range of domestic and commercial drainage services, from clearing blockages and repairing broken pipes to carrying out maintenance on your business property to keep your drains in the best working order.
Whatever your drainage needs, you'll always find our well-trained office team – who have been serving customers for years – will put you in touch with the right engineers, using the latest technology, as efficiently as possible. (Our office is a dream service you will appreciate.) Call our office on 0800 181 684 for service or a free quotation, or fill out our online enquiry form. 
To learn more, see our range of domestic drainage services via the menu links above. 
What are the signs that my drain is blocked?
Sometimes it takes a while for the signs of a blocked drain to become apparent, and I believe this will help you:
A nasty smell inside the house or outside.

A slow-draining sink, shower or bathtub, gurgling noises – in severe cases, overflowing.

Toilet drainage problems – again gurgling noises after you flushed or water level rising or overflowing after flushing.

Gurgling noises may indicate something not being quite right with the drains, possibly the drains partially blocked.
You can find out more using our website's site search feature or browsing the ASL Limited blog articles all about drainage.
Why choose ASL Limited.
We don't train people to be nice; we only employ nice people

We value our people on a regular wage rather than on commission

Long-standing company of 40+ years

Our people stay with us for decades, passing our values and skills to the younger generation.

No job is too big or too small.

The required team or individual will be contacted on your behalf

We deal with all aspects of drainage as well as blocked drains

We are fully qualified to work on the public road to connect your house to the main drain or sewer.

We have a specific department that deals with pumping station problems, treatment plant electrical or engineering problems.

Complete installation services for private systems, including tank emptying services, domestic or commercial.
A quick drain and manhole inspection
As explained above, your blocked drains engineer will have a basic camera which is often used free of charge, covered by the standard charge for the blocked drain clearance, this is only a 10-minute quick look whilst they are undergoing their blocked drain service.
A complete drain inspection survey
We also have a department specialising in CCTV Surveys. A minimum of two hours or all day using the latest CCTV technology to inspect drains and manholes, producing clear, high-quality images recording as they go. We use these to inspect your drainage systems and to plan improvements or repairs that may be necessary. This service is very cost-effective in reducing future block drains on minor drains issues becoming major.
May I remind you
Be careful what you put down the drain via the toilet or the kitchen sink to avoid blockages:
Food waste

Fat, oil, or grease 

Cleaning wipes

Razor blades

Plastic bags

Nappies

Sanitary towels, including tampons

Cotton buds

Condoms

Wet cement slurry or plasters 

Baby wipes

Medicines, needles, and syringes (Try your local pharmacy or health authority for safe disposal)
Our blog article entitled 'Drain blockage prevention and how to clear plugholes' will help you prevent blockages in your home.