Drainage against pollution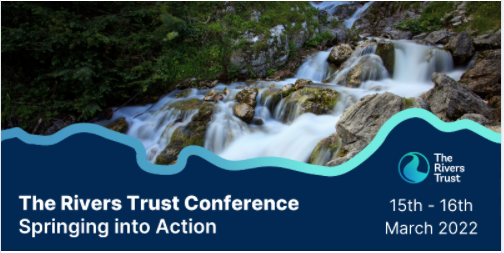 Having listened to the Rivers Trust Annual conference this month, I am finding myself more motivated than ever to share an understanding of surface water drainage. 
There were so many great discussions around how to improve the quality and function of our rivers so if you have time to listen you can view the full two days on Youtube here through this link.
What does this have to do with drainage?
From a drainage perspective, the bit we can do is help our customers to understand the relevance of surface water drainage and make sure they are not contributing to the specific problem of surface water runoff flooding public treatment plants and polluting our rivers, streams and watercourses. There is something you can do. 
Raising awareness
If you are the owner (operator) of a private sewage system then you will be (hopefully) well aware of the responsibility you hold to prevent polluting the environment. If your system's drainage is not functioning correctly it is your responsibility to put it right and of course, it benefits you financially to keep the system running effectively to avoid drainage field repair costs. 
However, those of us connected to the public sewer are – in most cases – blissfully unaware of the effects of rainwater runoff and how severely damaging it can be to our environment when it is not diverted to the appropriate drainage. As they say 'out of sight out of mind'! We all look out the window in wonder when the rain is so heavy that it is gushing down the road like a mini river, but that's usually where our wonder ends.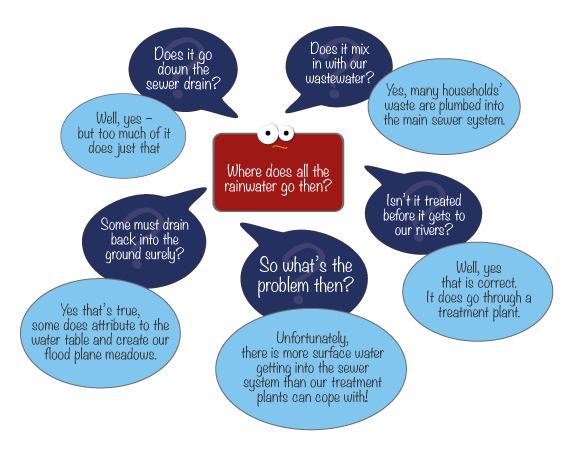 So what's the problem? 
There is only so much volume that our sewage works can cope with and when they are overwhelmed they then flood and unfortunately contaminated water does get into our rivers. 
Why are there not separate drains for sewage water and rainwater then? Well, there are. There are stormwater or surface water drains that will take surface water runoff from roads directly to our rivers and watercourses, but this doesn't collect all the surface water that is displaced by the ever-growing concrete jungles we are creating.

Ok so hang on a minute, if there are storm drains how is rainwater getting into the sewers? Aha… that is a very important question indeed. 
Misconnections are made when our household wastewater and surface water drains are combined. Often, misconnections are made purely by accident, with the installers failing to correctly identify the difference between storm or surface drains and foul drains.
Misconnected drains were made illegal by the Environmental Act 1990. Unfortunately, even though the law was changed to prevent this, house owners and builders alike who are unaware of the reasons and consequences are still plumbing their rainwater runoff into the sewers. 
In some areas a combined sewer is the only option and permission would need to be granted from the local water authority.  
The majority of homeowners are totally unaware of where their rainwater goes or could be going so they have no idea if they are illegally allowing surface water runoff to go to the sewer or not.  
What can we do about it?
It would be great if councils could inject the money into incentives for people to check their drainage, but it's not likely to happen any time soon. 
Local water authorities, like Thames Water, may carry out residential surveys to try and identify misconnections, but the responsibility to rectify a misconnection lies with the current property owner, no matter when the drain misconnection occurred. 
This means that it is your legal obligation as the homeowner to have the drain rectified. 
But that's going to cost me money!
Well yes, in the short term it would, but in the long term, it could pay you back in dividends! If the water authorities have to find the funding from somewhere to put this right – where do you think they will get that from? Yes, from us the consumer. 
So If we educate members of the public on the effects of surface water runoff and where it can end up along with the destruction it can cause we might find that people would rather take a more positive approach to do their bit to help the situation. 
Do I have to?
No. No-one is telling us that we have to check our drainage set-up, but maybe we shouldn't be blaming and complaining about river and ocean pollution unless we are prepared to do something about it ourselves. And this IS something we can each do to make sure we are not directly contributing to the problem.
There are also the legal ramifications of having a misconnection. If you do have a misconnection and the authorities do become aware of it the implications of not correcting it could result in a fine, imprisonment of up to 12 months, or both – if sentenced at a Magistrates Court. For more serious cases, the Crown Court can issue an unlimited fine, imprisonment of up to 5 years, or both.
You had me at 'there is something you can do'.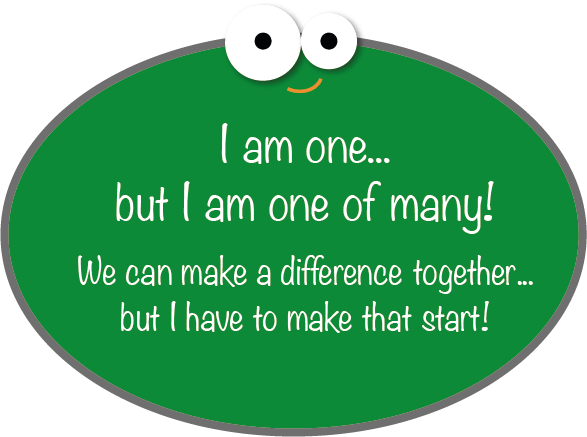 There are a number of ways you can divert and 'plumb' the surface water from your property to not only avoid the main sewer but also be put to good use benefitting you as a household.
If you are concerned you might have a misconnection, get in touch with us and we can carry out a drainage survey on your property to establish exactly what set-up you have. You never know – that could put your mind at ease and be the end of it. 
If you are experiencing flooding or pooling rainwater on your property we can help you with soakaways and pumping stations to clear or divert the water from your driveway or garden. Call the office on 0800 181 684 to book a site visit and get you the best solution for your property.