Drainage works planning & timescales for main sewer connections & septic tank installations
When you need drainage works for main sewer connections or septic tank installations, ASL Limited can help you plan the timescales required for the full job to be completed. In some cases, depending on where you are located, road closure permits or public road dig permits may need to be applied for and the lead time for some of these can be as much as 12 weeks.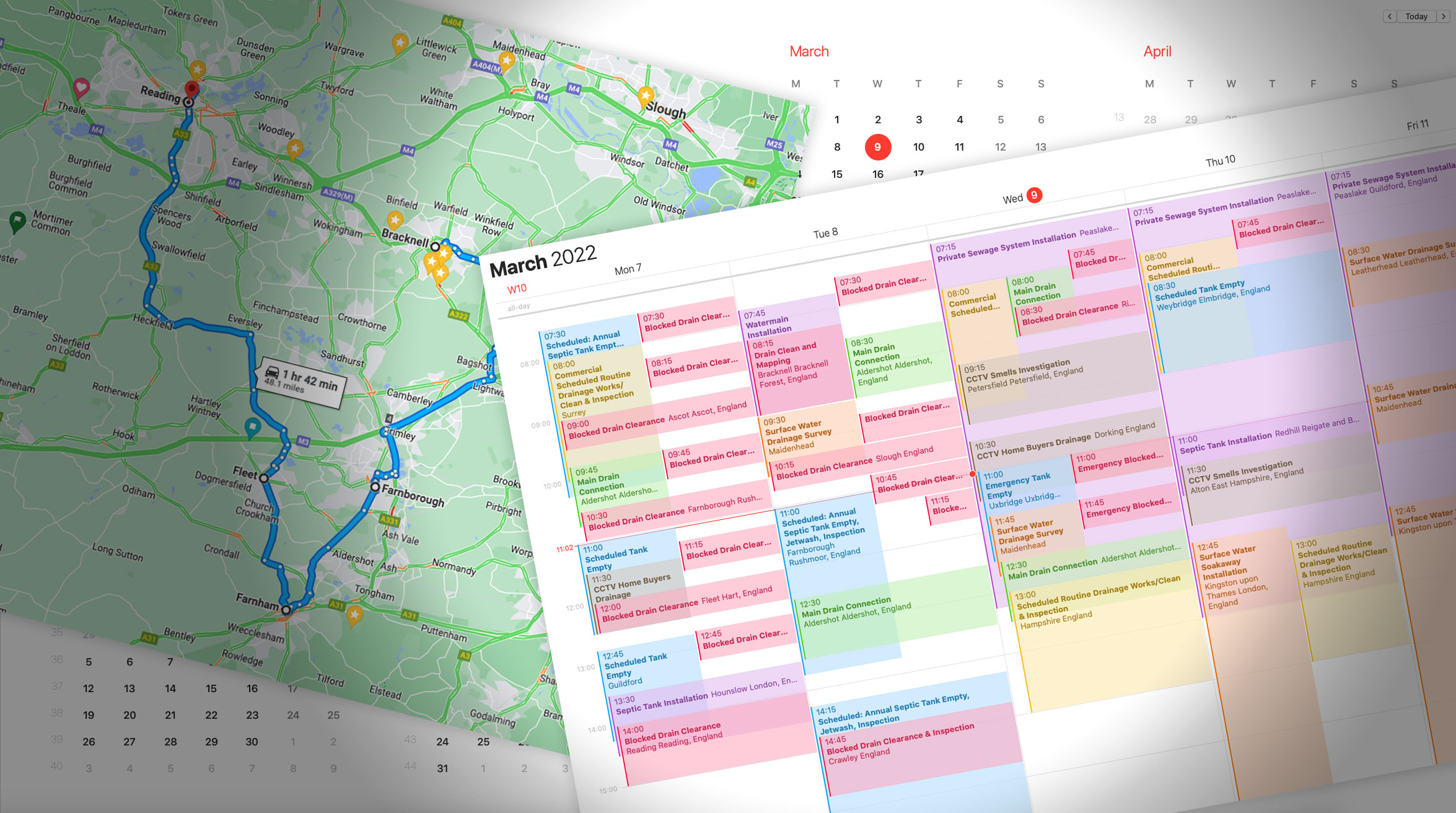 Don't leave your drainage plan till the last minute! It makes sense to get booked in ahead of the time you will need the work done. 
Main sewer connections
If you need the main sewer connection then you need to apply for a 'consent to connect' (also known as an S106 application) If you would rather not do this we can apply on your behalf for a fee. Once you have the 'consent to connect' we can then apply for any street work permits that may be required.
Once the work has commenced the water authority in that area may need to inspect the work before the excavation is filled in and completed. Once they are satisfied with the connection, the excavation can be backfilled and reinstated.
There are two kinds of connection to the public sewer - direct and indirect. 
A direct connection is when you are connecting to an existing shared drain. This could be the public foul sewer in the road or a shared drain with your neighbour, if the drain is already shared at the point you are connecting it is a direct connection.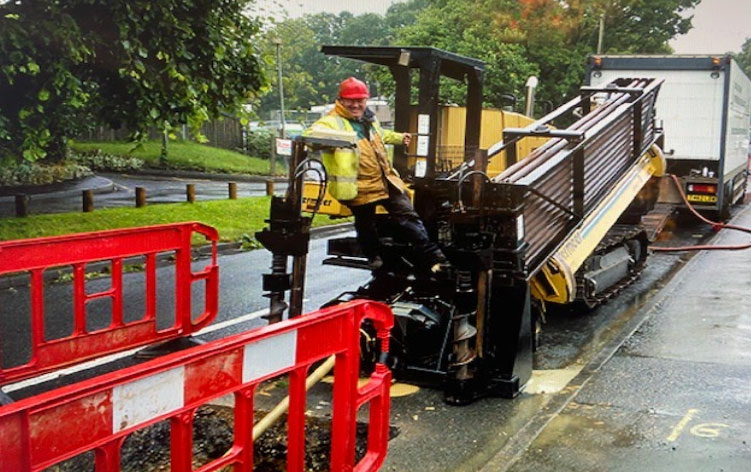 An indirect connection is a connection prior to where the drain becomes shared. An example would be if you were to install a new bathroom and connect to your existing drainage before it joins the shared drain, or if your neighbour is the head of the run and you connect into their drain (as it is not currently shared prior to you joining).
It may help to understand that whether the drain is shared or not is what determines who is responsible for it, ie, whether it is public or private. If a drain is shared the ownership of responsibility changes to the water authority, therefore they want a look at the connection to make sure it meets their standards/requirements. 
So if you connect to a shared drain, you would be connecting to 'their' drain directly, but if it is not shared then it's an indirect connection via your own drain, therefore the connection is your responsibility and they may not need to check it. There are certain situations where this may vary but in general, this applies.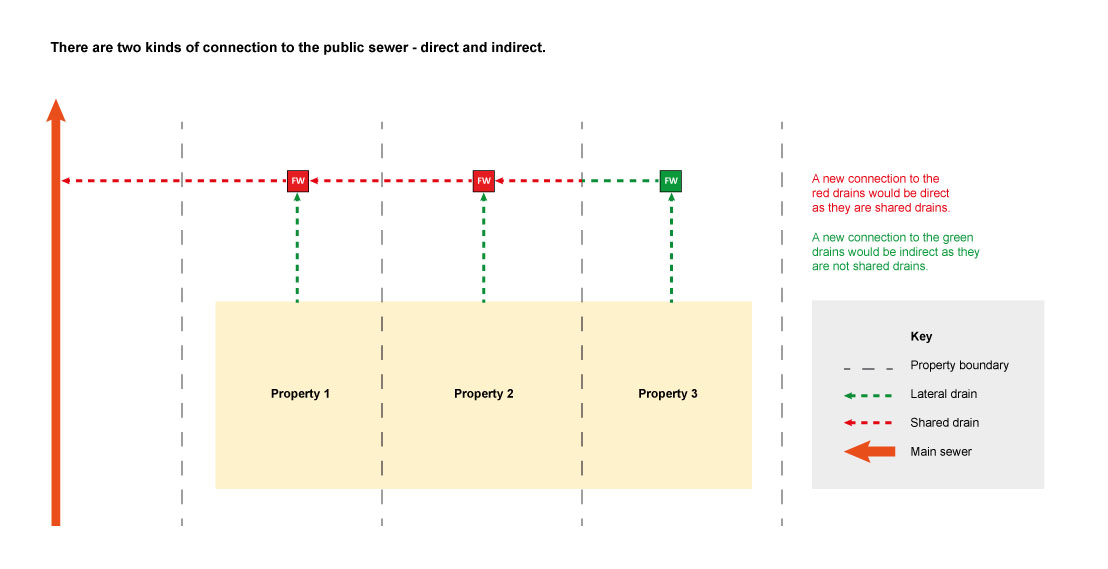 Generally, a direct connection application will require an inspection from the authority that provided the consent to connect to sign off the works, whereas an indirect connection will not usually need to be inspected and signed off (some water authorities differ in their requirements).
Here are some rough timescales for applications in the examples above.
S106 consent to connect – this may differ between water authorities, however, turnaround times are usually around 21 days to issue a consent to connect.
Once consent has been granted, we can then apply for road space (if required). Timescales for road space vary from council to council, however generally speaking –

Private roads just need the permission of the road owner. Private or unadopted roads may be governed or maintained by a developer or residents association.
Work in the public road with temporary traffic lights or similar (not a road closure) – usually, around 3 weeks notice required to the council.
Public road closure - usually around 9-12 weeks notice required to the council.
Please Note: Road works can be disruptive depending on where you live, so it is always worth considering the community impact of when you carry out street works. For example, if you live near to a school it is best to request that this work commences during school holidays. This avoids complaints from the school derailing plans and the inconvenience of the council taking back the consent they have previously granted.
Tank installation
Any tank will have a lead time for the delivery so depending on the size of the tank it could take anything from 5 days to 70 working days. 

A small septic tank, treatment plant or pump station could take 5 days to arrive.
A large cesspit or large treatment plant could take 70 working days.

In extreme cases – if your private sewage system doesn't meet the general binding rules (ground is unsuitable or development is too big for the daily discharge allowance, for example) then you will need an Environment Agency permit. There are two stages to this process:

The application: Getting through the first stage of application processing could take 12 weeks.
Then once the application is acknowledged it can take a further 6 months for the authorities to consider it before being given a result.
Special order equipment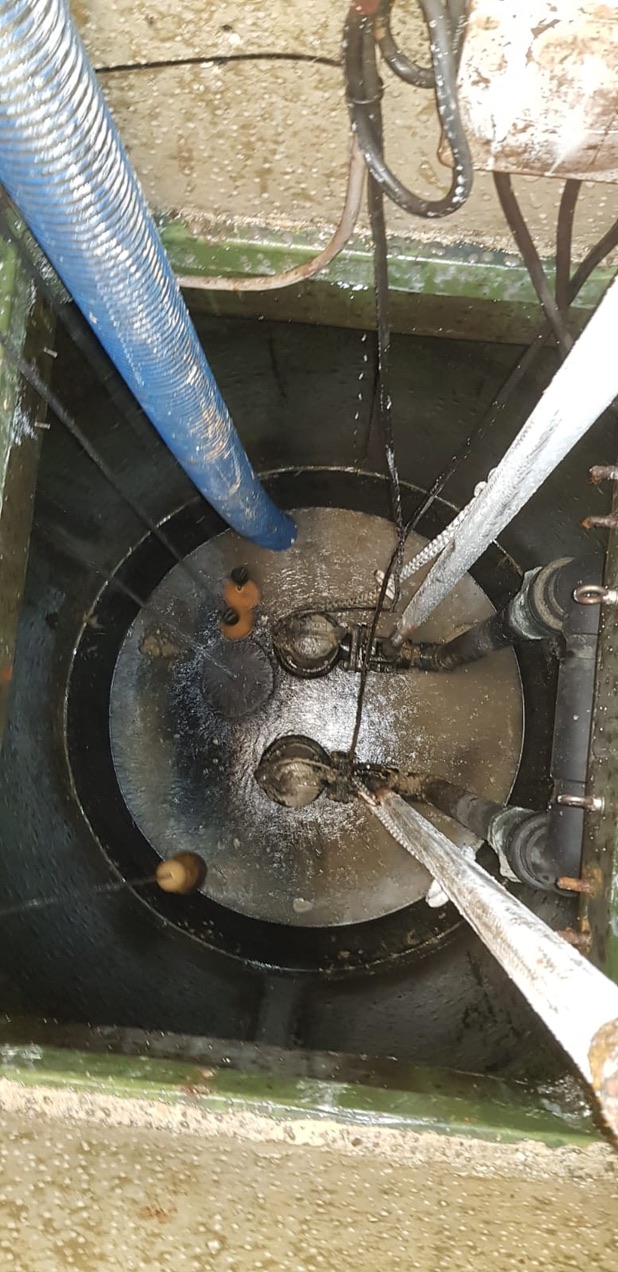 Specialist 'made-to-measure' items will have varying lead times too. We don't want to be digging holes that are then left unattended for large amounts of time while we await the availability of such equipment, material or items.
For example, a non-standard size inspection cover may need to be fabricated or a larger diameter concrete section and cover slabs may need to be made to order, which can come with a 10-28 day lead time.
Equally, different pumps come with different lead times. Some can be ordered for the next day (if ordered before 3 pm) whilst others have a 30 day lead time. 
ASL Limited Team Availability 
We always endeavour to schedule work at a convenient time to suit you and your project. As the larger jobs generally come with longer lead times due to waiting for materials, permits or consents, we can generally schedule works around expected receipt of the necessary paperwork or materials. Smaller jobs don't usually require as much forward planning and can therefore be scheduled in a much more timely manner.
Of course, the sooner orders are placed and applications are made, the sooner your project can progress. To make things easier for you, we also offer the option of applying for various permits and consents on your behalf for a fee, if required. Our office team are on the ball and willing to help so you will be in safe hands and kept up to date with any changes to timescales as and when they happen.
The action you can take
So you can see from the timescales above – the sooner you call us the sooner we can get you booked in and take steps toward delivering the job for you. If you are in any doubt then please do call the office and we can help you get your head around what needs to be done and when.
Our friendly team are ready to take your call on 0800 181 684.