Garden drainage solutions for your waterlogged property
If your property's ground is made of largely non-porous material (such as clay) or is located on a high water table, there is a higher chance of encountering waterlogging issues.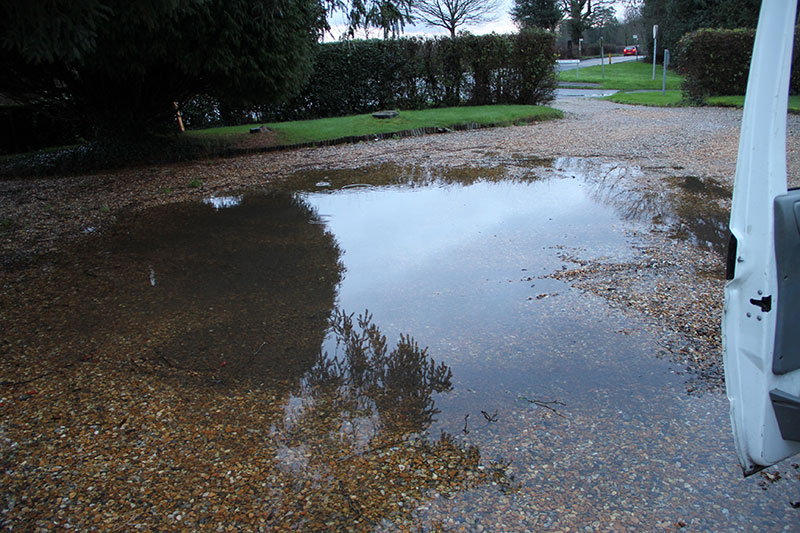 How to tell if your garden is waterlogged
The most common signs of a waterlogged garden are large puddles and sunken grass areas around the affected area. The ground may also ooze or squelch when walked on. If this is left for a long time, there may be moss or other plants growing around it. However, these are not the only ways to tell, and the presence of large puddles in your garden does not necessarily mean that your garden isn't draining water correctly.
Garden drainage test
To confirm if your garden's drainage is poor, there is a test you can carry out. Dig a hole approximately 60cm (2 feet) deep in your garden's soil and fill it with water. Leave this water alone for four hours. If it is still there after this time has passed, this is a sign that your garden needs a land drainage solution.
Common Causes of Poor Drainage
Some of the most common causes of poor water drainage in gardens include:
Your garden having an uneven surface or being located at the bottom of a hill.
Having a driveway, patio or other hard surfaces that interfere with drainage.
The level of the natural groundwater (water table) beneath your property is too high.
A neighbouring drainage system diverting water onto your property.
Guttering being blocked or not connected to a drainage system.
Water running underground changing direction due to heavy rainfall.
Subsoil and topsoil being mixed during building, forming compacted soil.
A home extension's foundations being deep enough to divert water.
Your property is on top of water-retentive clay soil.
A cracked or perforated pipe leaking into your garden.
It is important to find out which of these is causing your garden's poor drainage. You will not correctly place a garden land drainage solution, and if you do not, the problem will worsen.
Contact us if your garden is waterlogged, and we will be able to help you identify the cause before quickly and efficiently providing the right solution.
Garden Drainage Solutions
At ASL, we can professionally suggest several different garden land drainage solutions, depending on the cause of your garden's water problem. These include:
Checking for leaks in underground pipes
Channel drainage installation
Installing a drainage system (land drains, French drain systems etc.)
Installing a soakaway
Repairing or replacing a damaged pipe
Re-installing hard surfaces
We understand that this is the least favourable option, but if your hard surface, such as a patio, has been poorly laid, this is the only available method. Re-installing will ensure your surface does not interfere with drainage by allowing water to flow and pool in the wrong direction, away from where it would normally drain.
For more information, visit our groundworks page.
Checking for Leaks in underground pipes
Ensuring that your underground drainage is not leaking and is in good working order to prevent your garden from becoming waterlogged. It could also be that your water mains are leaking. If this is the case, we can provide a solution.
Installing a Downpipe-to-Drain Connector
Connecting any downpipes from your house, greenhouse or garden building to channel drainage systems can help prevent the water from your gutters from flowing directly into your garden and staying there.
Channel drainage is a great way of diverting surface water into your drainage system. For more information on these systems, visit our channel drainage page.
Installing a Drainage System
This is a particularly effective garden drainage solution for clay soil, as this will either store or direct the water away from the land where it would not be able to drain. This may involve digging a trench, ditch or installing perforated pipes to drive water away from the problem areas.
We are often called out to assist in groundworks and landscaping for garden drainage solutions for clay soil and non-porous ground types, so if you need a drainage system installed on your property, call us today.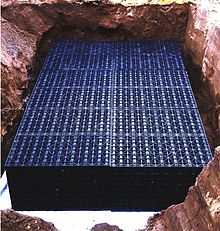 Installing a Soakaway
Installing a drainage field or soakaway is an effective garden drainage solution for soils that are not clay-based. These will allow water to drain away into the ground without having to flow anywhere else.
If you would like a soakaway installed on your property, contact ASL Limited for more information.
Repairing or Replacing a damaged drain pipe
If our team discovers that your garden is waterlogged because you have a damaged pipe, they will be able to either re-line or re-round (pitch fibre) the pipe to cover any cracks that were causing leaks or replace the pipe with a newer one if the section is discovered to be too old or too damaged to repair. 
For waterlogged gardens, contact ASL Limited.
If you have been having problems with drains in your home or garden, no matter the cause, call ASL Limited today, and we will be happy to help.