Grease traps – catch the fat.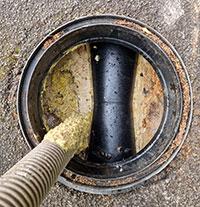 We talk a lot about fat, grease & oil and how they can damage your septic tank, treatment plant or pumping station on the ASL Limited blog. So we thought we would talk about the solutions – the steps you could take to prevent the build-up of fats, grease & oils in your drainage and private sewage systems. 
Whether you are a domestic customer who feels they want to do their bit for the planet, whilst looking after their pennies or a commercial customer needing this issue solved on a larger scale because of the inconvenience as well as the cost implications, there is a grease trap for you. 
As the operator of a commercial kitchen, you may need to be aware of Acts of Parliament, regulations and legislation* – around duty of care and legal obligation – related to the management and disposal of fats, oil and grease produced as a course of regular business.
Domestic fat & grease traps
On a small scale – such as a domestic home that runs a treatment plant or a small sandwich shop – an 'under sink' grease trap with a 16 Litre or 20 Litre capacity would probably suffice.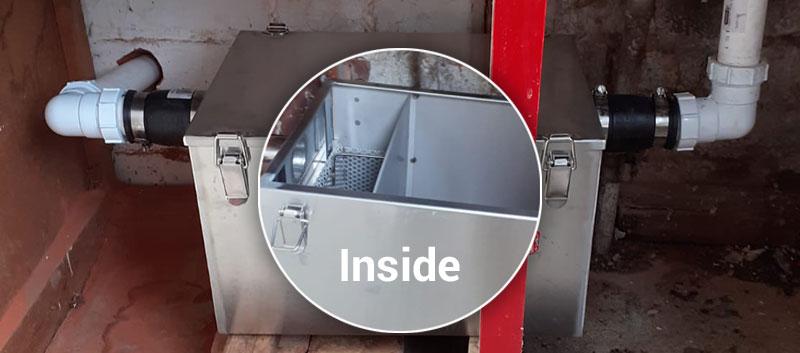 You would need to empty it regularly to help it run efficiently. This would enable you to see how much fat, food particles & grease build up in it. All of which would be intercepted before it gets into your sewage system. Simple as that. 
We would need to quote for installing a grease trap because it will depend on the access to the pipework and space under the sink and your personal requirements.
If you think this could be the solution you are looking for, give our office a call on 0800 181 684 to book an appointment.
Commercial fat & grease traps
For more substantial kitchens on a commercial scale – such as restaurants or blocks of flats with pumping stations that have a much higher usage – an underground grease trap with a 500 gallon or 1000 gallon capacity would be more appropriate.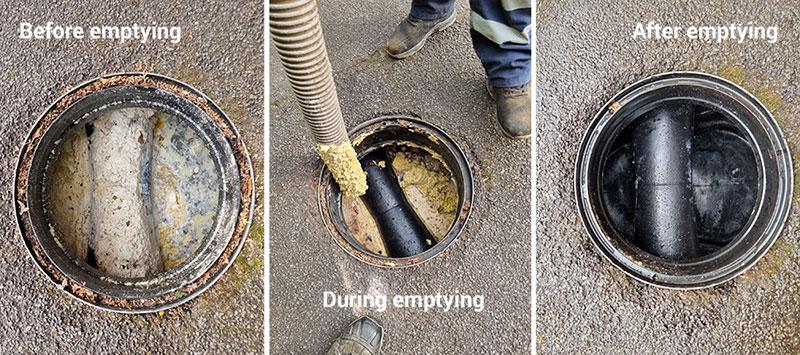 The British Building Regulations (document H, section 2.21) states that commercial food premises serving hot food, that are connected to the mains drainage system should be fitted with a grease trap/separator.
The following establishments fall into this category:
Restaurants and commercial kitchens
Fast food restaurants, takeaways & bakeries
Hotels and guest houses
Pubs, bars and cafes
Hospitals and healthcare facilities
Food processing and manufacturing operations
We would need to look at the setup to give you a quote for this kind of commercial or domestic grease trap fitting, but it could save you an awful lot of money and inconvenience in the long term. 
If you repeatedly have your private sewage system cleared of fat, grease & oil, give us a call on 0800 181 684, and we will fit the solution that best suits your set-up and keeps it running smoothly.
*Building Regulations 2000 pt H - Drainage & Waste Disposal (2002 edition) clearly set out rules for the management of grease