How and Why Water Treatment Plants Need Maintaining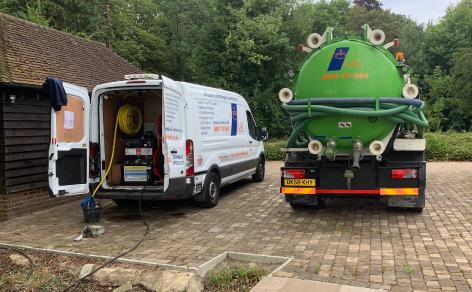 The main reason why water treatment plants need to be maintained is to alleviate the risk of pollution.
Water treatment plants typically need to be given the right environment to work the way they should.
Once this environment has been established, the bacteria which lives inside your water treatment system should start to multiply.
Here at ASL, we have over 40 years of experience dealing with commercial and residential water treatment plants, from repairs to maintenance to safe and professional emptying. If your wastewater treatment plant has been having problems of any kind, we can send an ASL engineer to put the system back on track in no time.
Get in touch with our engineers today
Maintaining your water treatment plant
To maintain the functionality and running of your wastewater treatment plant, it should be serviced and emptied in accordance with the manufacturer's guidelines. This includes a full cleanout of your effluent treatment plant's holding tank.
If the bacteria found inside become overwhelmed due to a surge of backed-up waste, for instance, if the drain has been blocked, it is highly recommended that your water treatment system (both its tank and the treatment area) is completely emptied and restarted.
Below, we have listed some of the issues to look out for, that we will also inspect when we carry out water treatment plant maintenance on your property:
The risk of blockages or leaks in your drains before the tank
Roof water entering your sewage system 
Surface water entering your sewage system
The system's ventilation
Prevention methods, for foul air coming from the system, entering buildings
If we suspect any of these issues are present, we can recommend a camera survey to assess any issues and provide a solution.
If you know that your effluent treatment plant needs maintenance, contact us today, and we can send an ASL engineer to assess the system and carry out the water treatment plant maintenance required. One of the main benefits of having our own tanker is that the service engineer and the tanker are in constant communication and often arrive simultaneously, providing a trusted and dependable service.
Surface water in your water treatment plant
If rainwater or other types of surface water can enter your house wastewater treatment system, whether, via indirect means into the drains or direct connections from downpipes and guttering, this can also impact the separation of the waste inside. Water entering in a surge will stir up your system's first tank, allowing the contents to bypass separation barriers and disturbing settlement in the chamber.
If you believe that this may be a problem in your commercial or residential water treatment plant, we can send an engineer who will conduct a camera survey.
Fats and grease in your water treatment plant
In some cases, fat and grease, which ends up in your system may get trapped in the holding tank; if excessive amounts of fat are poured down there, it can cause problems. We recommend avoiding pouring these substances into your drains, as they do not decompose inside systems such as septic tanks or domestic sewage treatment plants. Avoiding pouring harmful substances into your system should reduce the risk to it.
Advice on waste disposal units
If you use a waste disposal unit in your home, we recommend caution when using it alongside a water treatment plant. As these units grind up the matter very finely before it is discharged into the system, the matter then takes a long time to settle at the bottom.
This not only makes separation difficult but may encourage the material to float into the next chamber, where it may enter your drainage field, land drainage for secondary treatment, rendering them less effective until they stop to working altogether.
If you need services for your water treatment system
To learn more about your water treatment systems or if you are suffering from a particular problem within your system, contact our office at ASL Limited today. We can send an experienced engineer to your property to inspect and provide a solution to your water treatment system.