How to clear a blocked drain
As experts in the drainage industry, we know how to identify a blocked drainage system and professionally clear the blockage.
Below, we have provided a quick guide on some methods you can try to clear blocked drains around your domestic or commercial property.
How to clear a blocked kitchen sink drain
Blockages relating to the kitchen sink
Most blockages for kitchen sinks are related to food and can be fixed using the following methods:
Using chemicals to wash the blockage down the sink. Buy chemicals designed to unblock kitchen sinks – always follow the manufacture's guidance (stay away from home remedies as this may make the blockage worse).
A wet vac to suck the blockage out
Generic sink plungers
Drain snakes to break up the blockage
Please note: if you have used bicarbonates, caustic soda or baking soda to try and unblock the drain, please inform your drainage engineer before they begin working.
Blockages relating to the kitchen gully
If your kitchen gully is blocked (by grease, fats, oils etc.), you can use drain rods with a drain plunger. However, if the blockage is further down the line and not in the gully itself, you will likely require our drain jetting service.
How to clear a blocked bathroom sink drain
The most common blockages for blocked bathroom sink drains will be clogs made of toothpaste, soap particles and hair. A blocked bathroom sink can sometimes be cleared using chemical products, but a drain snake is also a strong alternative. To find out if this method has worked, flush the drain through with hot water afterwards. A wet vac can also be used to unblock bathroom sink drains.
If you are purchasing chemicals to unblock the bathroom sink, you must follow the manufacturers' guidelines.
How to clear a blocked shower drain
Using a chemical drain cleaner to clear a blocked shower drain may also be effective, but if this does not work, it may also be possible to use a drain snake or wet vac to clear a shower drain blocked with hair, soaps etc.
If the blockage persists, get in touch with us if your method of cleaning it out doesn't work. We can send our expert team out to take care of it as and when you need them.
Our advice
We believe that being proactive in protecting your drains is just as important as, if not more than, clearing a blocked drain when the problem has occurred. As such, we would advise that you take measures to prevent your drains from becoming blocked in the first place. This will involve not pouring scraps of food, cooking fat or oil into your drains, buying a drain guard for your shower (emptying the contents into a bin) and reminding any workmen on your property not to wash cement, building debris and decorating materials into the pipes.
We suggest that if it is possible to clear your blocked drain using a plunger, this is the method that you should use. If this does not work, the blockage may be located further down the line. Look for the inspection chamber furthest away from your house and work backwards until you're able to identify where the blockage is taking place.
If the inspection chamber furthest away from your property is blocked, an interceptor may be blocked (in this case, you can use a rod, plunger or drain jetting). Alternatively, it could be the main sewer. In this case, it may be worth contacting your local water supplier.
Be careful when working around inspection chambers because you will be dealing with sewage, which comes with its own health and safety risks. We would strongly advise that you contact ASL instead of trying to fix any problems relating to inspection chambers, as you may not know how high the sewage levels are or how deep the chambers are.
When to get in touch with the professionals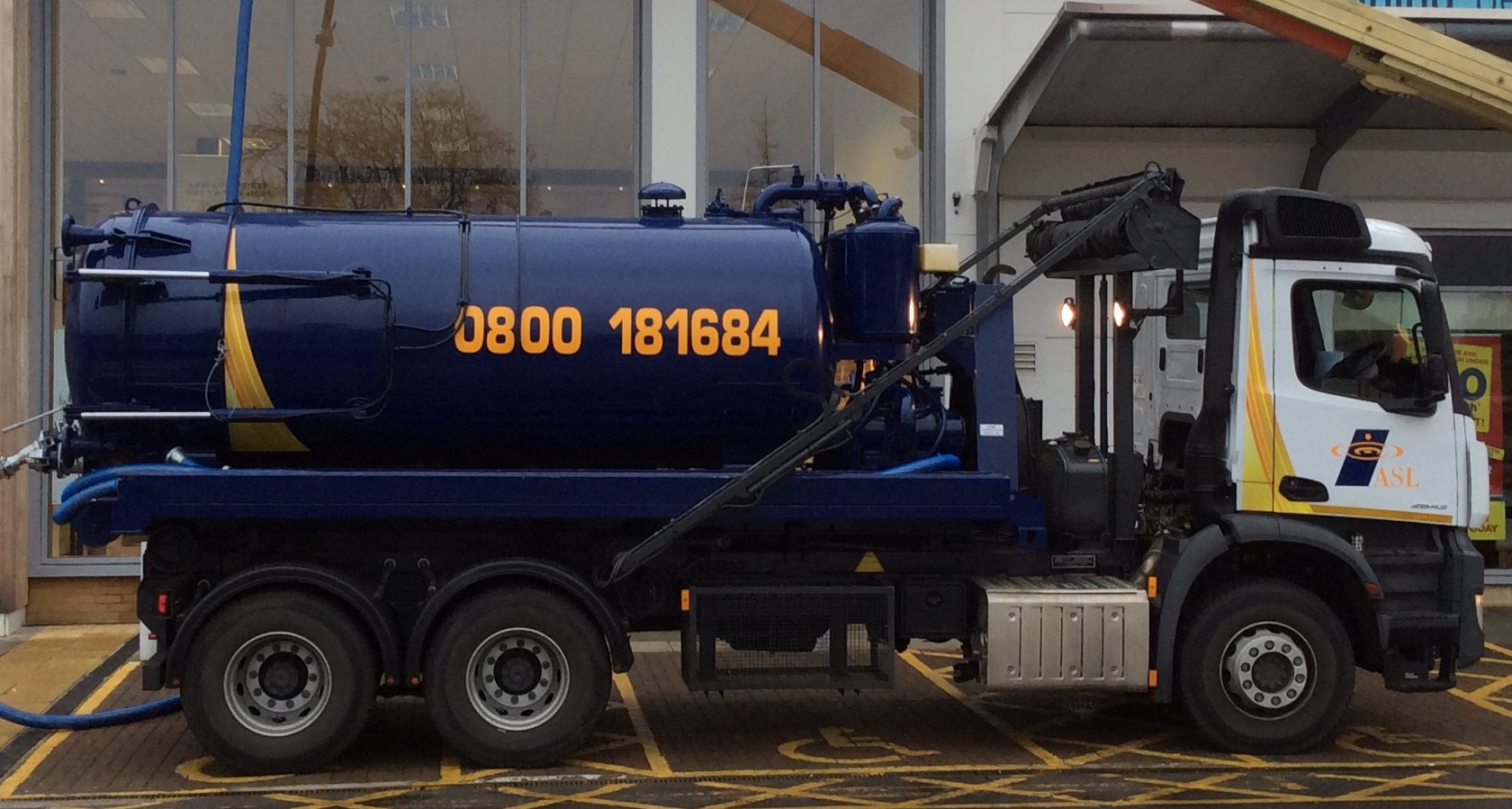 If you have tried the above methods and still have no luck unblocking your drains, we'd advise getting in touch with our engineers as the blockage may be more severe. For example, if your drains are blocked by cement.
How to clear a drain blocked with cement
If your drains are blocked with cement, we may break up the cement using jetting or crown cutters, but this depends on the severity of the blockage (there is also a risk of damaging the pipework). If the cement is too solidified, we may have to replace that section of the pipe.
Our methods of clearing blocked drains
Here at ASL Limited, we have several different methods suitable for clearing drains blocked with fat, hair, or anything that is preventing your pipes from working as they should. Which method we end up using on your drains will depend on the type of drain that is blocked, the size and type of blockage and how severe the problem is.
Below, we have listed the methods you can expect us to use when you hire us to handle your blocked drains.
Drain jetting
The most thorough way of cleaning out any drain is to give it a high-pressure jet clean. To do this, a powerful jet of water enters your drains and breaks up the debris as it travels. The water from this equipment can also remove some smaller tree roots that are blocking up pipes. However, if larger tree roots have entered the pipe, we may have to dig it up and replace the affected pipes.
Wet vac
We can use a high-powered vacuum cleaner to such out the debris and blocked. Wet vacs are ideal for cleaning out stubborn blockages of hair, soaps and foods in most sinks and shower drains.
Descaling pipes
If it is discovered that your drain is blocked because of a buildup of limescale, we can use drain jetting to descale the affected pipes. We can also use descaling attachments to rid your pipes of any built-up rust or limescale.
Drain rods
You may be able to try this method first if you have the necessary equipment. However, if drain rodding does not work and the blockage is further down the line, you may require jetting.
Chemical cleaners
This is a common method used to clear urinals, blocked sinks, or shower drains on your property, as chemical cleaners may dissolve the problem without any need for further work.
Replacing pipes
If only a small section of pipework needs replacing, you may be able to do this by yourself. However, if the problem is more severe, you should consider contacting ASL.
Contact ASL
If you have a blocked drain and you do not know how to clear it, or even if you have tried and have not been able to move the blockage to get your pipes free-flowing again, contact us today.
Alternatively, you can also get in touch via our contact form, and one of our staff members will get back to you as soon as possible.