How to fix a broken drain pipe underground
As experts in this industry, there are several stages that we can recommend when you are planning on fixing a broken pipe in your garden or anywhere on your property that your drainage system runs.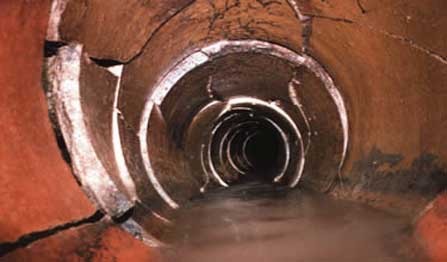 Step 1: Locating your damaged pipe.
To know what to do to fix a broken drain pipe that's underground, you must locate it. We would recommend a CCTV drain survey as this will identify where the pipe is and highlight any problems with it.
Step 2: Digging up your pipe.
Once you have located the section of the broken pipework, dig down and find the section you will be working on. After this, dig underneath the pipe for about six inches to give yourself enough room to work. Ensure that you've scanned the area to identify any gas pipes or electrical circuits (you don't want to cut through these). If the pipe is too deep, we would not recommend you carry on with the excavation. Instead, you should contact ASL, and we will send our team to safely dig a trench to begin working on the affected pipe.
Step 3: Cutting through your pipe.
Once you have located the broken section of pipe and cleared the area around it to give yourself room, you will need to cut the pipe section away from the rest. To do this, measure about two inches on either side of the broken part of the pipe and mark it out. This will help you to be accurate in where you are cutting.
You may need industrial, or at least very powerful, tools to complete this step. If you need advice on which tools are most suitable for a job, like cutting through a drainpipe, call us, and we will be able to help. You must always wear PPE in this instance and follow the manufactures' guidelines when using power tools.
Step 4: Measuring and cutting a new pipe section.
Before adding a new section of the pipe, be sure to measure the damaged section of the pipe you are replacing. This will help you to determine the length of the new piece that will replace it. If it is not the correct length or the correct diameter, there is a chance that the pipe could leak when the section is replaced.
Use flexible couplings to cover the existing pipe ends, fit the new pipe section into its place and then slide the couplings over to cover the new section. If this is done correctly, it will seal the pipe, meaning it will not leak or be left exposed. Ensure you have the correct fittings, size of the replacement pipe and associated measurements to ensure it fits correctly.
Step 5: Refill the hole.
When the pipe has been repaired and sealed, flush the toilet a few times to ensure it is no longer leaking. Then, surround the pipe in shingle and then backfill the hole. After this is completed, you will have finished repairing your pipe.
What we do
We can carry out most repairs on underground pipes without even having to dig the pipe up, and it all begins with a CCTV survey of your drains to locate the damaged section of your system. Once we have found out what is causing the damage, we can insert a liner to seal cracks or re-round and line pitch fibre pipework, whichever needs doing.
Head over to our drain lining page for more information on this service.
If you have a broken underground pipe or found signs of a broken underground pipe, get in touch with ASL today. We are passionate about what we do, and we want our customers to get the best possible service, so we will do everything we can to make sure your pipe is repaired, and your drains are flowing correctly again in no time at all.