Our Methods of Giving Your Sewer a Pump Out
At ASL, we take pride in all of our customer services, as we want to help with all the most frustrating and challenging aspects of taking care of drains, especially private systems such as septic tanks or treatment plants.
This includes ensuring our customers' sewers, drains, septic tanks, cesspools, and treatment plants are pumped out when needed, and we are happy to explain our processes to you – our customers.
You may know that your system requires pumping out, either because:
it has blocked and is backing up to and around the house, and people have tried to unblock it and are unable to;
it's been a long time since it was last maintained;
or because fat and grease is clogging the pipes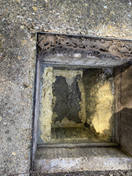 With years of experience behind us, we have seen and handled many types of drains and their problems, so we know we will have the fast and efficient solution you need to keep your system flowing as it should.
How often should a sewer be pumped?
Both sewers and drains around the house and private pumping stations will require pumping at different intervals, surface water concrete ringed, or hard bricks for the soakaway pit. Hence, the advice you need to follow depends on the system you have for your property. 
We have listed solutions for each of these below.
Septic tanks and treatment plants
Septic tanks need to be emptied regularly; once a year is advised for septic tanks to remain in good working order.
However, as experts in the drainage industry, we may recommend that they are emptied every two years or more, after we have emptied the tank and inspected, to give the advice to keep them in optimum condition. If the tank is too small for the number occupants or the house's size, then we may opt or advise to empty it every six months or even every three-month intervals, as a temporary until it's upgraded.
ASL offers professional septic tank cleaning and maintenance contracts, installations and replacements of old systems and upgrading to a treatment plant.
So, if you know that your septic system or treatment plant needs pumping out ready to start the cycle again, contact us, and we can arrange for your tank to be pumped out by a fully trained and dedicated tanker driver.
Drains, private sewers and pumping solutions
In most cases, a property's drain system will be connected to the main public sewer line and will not require regular pumping. If you do not have a public drain sewer connection, because, for instance, your property is lower than the public drains, and you install a pumping station and a pumping main leading up to the main public sewer, then your pumping station will also require pumping out to remove a buildup of grit to protect the pumps, every three years.
When it comes to your drains and private sewers, the pump-out system we use will depend on your individual circumstances. The sewer pump out services we have available are listed and explained below.
Sewer pump-outs via pumping stations
As a mains connection is the most recommended method of drainage, we will first determine whether your system can be connected, based on whether or not it is a viable solution, I.e., the gradient of your property. If it is, we will be happy to carry out excavation and make the public mains connection for you. If it is not possible, we will propose the automatic sewer pump-out system; it will most likely be installing a pumping station.
A sewage pumping station is a large tank which collects the sewage from your property, where it will sit until it reaches a certain level in the chamber.
After this, the pump will pressurise the sewage so that it will be able to travel uphill to the main sewer line. To find out more about what a pumping station may be able to do for your property, please call or email us today and our fully qualified team will be able to tell you more.
Sewer pump-outs (surface water gullies)
This sewer pump-out is known as gully sucking. It involves using a specialised truck, commonly called a gully emptier, to remove all mud from blocked drains caused by poorly maintained gullies alongside the curb on a drive or private Road. This may be a drain of any size, from a car park to a small or large chamber trapping or catching grit, sand, and Stones, our tankers are fully equipped to handle them all. 
Sewer pump-outs for septic tanks via tankers
To give a septic or sewer tank a pump-out, we will bring in one of our state-of-the-art tankers to get the job done. This will involve running a large hose from the vehicle into the tank and pump the waste out. After this has been completed, we will be alert, give the chamber a quick inspection, before taking the waste to be disposed of, at the public sewage works.
Our company ASL hold the appropriate certification and licenses to carry waste.
Sewer pump-outs for treatment plants.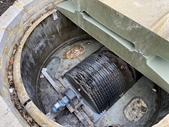 Like pumping out a septic tank, the sewer tank pump out we will give to your domestic sewage treatment plant will be done via the same tanker and driver. 
Our driver has a basic knowledge of treatment plants and has his comrades and in-house expert on speed dial.
Emptying the first chamber only of your system, unless the treatment plant has been overwhelmed, and is not functioning properly, (has stopped treating). If our engineer finds the treatment plan has been overwhelmed and has stopped working, he will empty all compartments and wash down to give the treatment plant a fresh start.
In any event, he will report any defects within the system.
To find out more about this sewer pump-out service, contact us today. Our staff will be happy to answer any questions you have about this work.
Call us today for premium sewer pump-out services.
If you know that your sewage system needs pumping, either because a pipe has become blocked or because your private system is overfull, get in touch with ASL Limited today. We love what we do, and we want our customers to have the best drainage and sewage treatment systems available, so we will do everything we can to keep your drains in the best working order possible.
We can get your sewer tank pumped out whenever you need it, so please don't hesitate to call or email us at any time to get your drains flowing as they should be.