Professional Sewer Unblocking Service
Steps before attempting to unblock a sewer pipe
The first piece of advice we would give is to think of your own health and safety. This means ensuring that you have all the protective clothing and gear needed when unblocking a sewer drain outside. This includes wearing overalls, gloves, protective goggles, something to cover your head and wellington boots. 
You will also need a set of good tools to unblock a sewer pipe, including a plumbing snake, screwdrivers and a heavy hammer.
What not to use to unblock a sewer drain outside
When learning how to unblock a sewer pipe, or carrying out the drain unblocking process, we would not recommend using sewer unblocking chemicals. While they can be used in smaller drains, such as the one for the kitchen sink (although they may not work and can be dangerous), there is too much water in larger, outside drains for them to be of any use.
Unblocking a Sewer Pipe: Manhole Inspection Chambers
There is a three-step process to follow when unblocking a sewer drain outside. As professional sewer unblockers, we know these steps as part of our routine and can share them with our customers:
Check which way your drains are flowing.
Find out which inspection chamber is clear (i.e., no sewage coming downstream from the previous chamber).
Attempt to remove the blockage with a drain rod.
To use your drain rod, feed it gently through your pipes and feel around for the blockage. Once you hit a solid mass, you will have found it. Try to break the mass apart with the rod, using boiling water to flush it through.
This method should be tried for at least 20 minutes, but if you cannot reach the blockage with your drain rod, or the blockage is too difficult to break apart, you should get in touch with a professional drainage company. If you call us, we will be able to use a selection of different methods to unblock your sewer line, from drain rods, to wet vacs, to high-pressure drain jetting. Our team members are all thoroughly trained and qualified, too, so you know your drains will be in the hands of experts.
Advice on Unblocking a Sewer Pipe: Foul Water Drains
These are the drains which carry wastewater from toilets, sinks, showers, baths, dishwashers and washing machines away from your property. The sewage they carry flows to a wastewater treatment plant or public facility via public foul water sewers. Unless you have an agreed joint sewer, these drains must be kept separate from surface water sewers to prevent the pipes from becoming overloaded by the amount of water that would take.
Advice on Unblocking a Sewer Pipe: Combined Drains
If your home is older, for instance, it was built during the Victorian or Edwardian period, there is a chance that you will have combined drainage. This type of drainage system contains pipes that carry surface water and foul water into the sewer works. These drains may require great care if they have never been replaced, as they will have sustained years of damage and could be severely blocked in several different areas.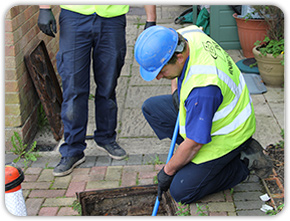 In these cases, we highly recommend calling in a professional drainage service to take care of the problem for you. Our expert engineers know how to thoroughly clean and clear a variety of drain types and will be able to flush your older system through without any delays or further trouble with your pipes.
We can even replace your old, defunct drains for you if it is found that you require a new system. Contact us today if you suspect that your pipes have not been replaced in many years (if ever) and we will be happy to inspect them and check for any issues that may need fixing.
What Happens if You Have a Private System?
If you have a private sewage system, such as a septic tank or sewage treatment plant, we would first advise you to ensure the model is as up-to-date as it can be. As of January 2020, the binding rules set by the Environment Agency and the government state that septic tanks cannot discharge into local watercourses, to prevent the spread of pollution. It must also be noted that older systems often have trouble coping with modern living, such as an increased amount of water from washing machines. It may therefore need replacing to continue to work as your household needs it to.
As the work can be dangerous, it is important that septic tanks and other private systems are only ever pumped out by professionals who have the proper training. Because of this, if you need to unblock a sewer pipe for a private sewage system, call us today, and we can arrange for our team of dedicated drainage engineers to come and clear the problem for you. They have years of experience in unblocking internal and external drains and will be able to get your system flowing again in no time.
If you are having trouble with a clog in your drains and are unsure how to unblock a sewer line, contact us as soon as possible.