Rainwater is getting into your private sewage system!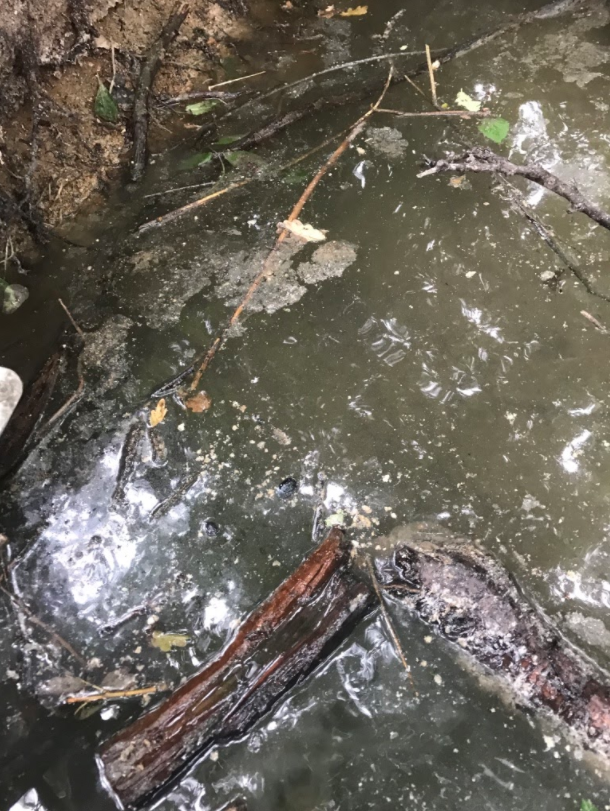 "Will someone please help me?"
We often get calls for help because sewage is flooding out onto someone's drainage field. 
In many cases, we explain to customers that there may be rainwater getting into their sewage system. We cannot stress enough the importance of preventing this. So much so here the subject now has its very own blog article, which we hope you will not only read but take action on before it really causes you problems. We would also like to stress that what might seem like an 'unnecessary cost' at this time will potentially save you thousands of pounds in the future. 
When provided with this information, before contamination occurs, we often find that our customers:
 a) Do not see it as very important.
 b) Do not provide action in response to an urgent situation.
 c) Do not feel compelled to carry out immediate action or attention or that it is imperative. 
How can you tell if surface water is getting into your private sewage system?
To confirm or eliminate the infiltration of surface water, roof water, we advise our customers to have a survey carried out by one of our experienced drainage technicians to look for rainwater and surface water infiltration into the foul sewage system. 
The survey in the first instance is often refused, despite providing photos to help persuade. In many cases, our clients have builders who often state they can carry out the necessary work to prevent the infiltration without having the correct knowledge or understanding of the impact. 
If one of our installers insists on surveying an old or new foul water installation, a customer can see them as 'too pushy'. But, if the installer does not insist on a survey and the installation is carried out, resulting in surface/rainwater being found entering the foul system at a later date, the installer is then accused of not being insistent about it enough or not giving the impression that the matter is urgent.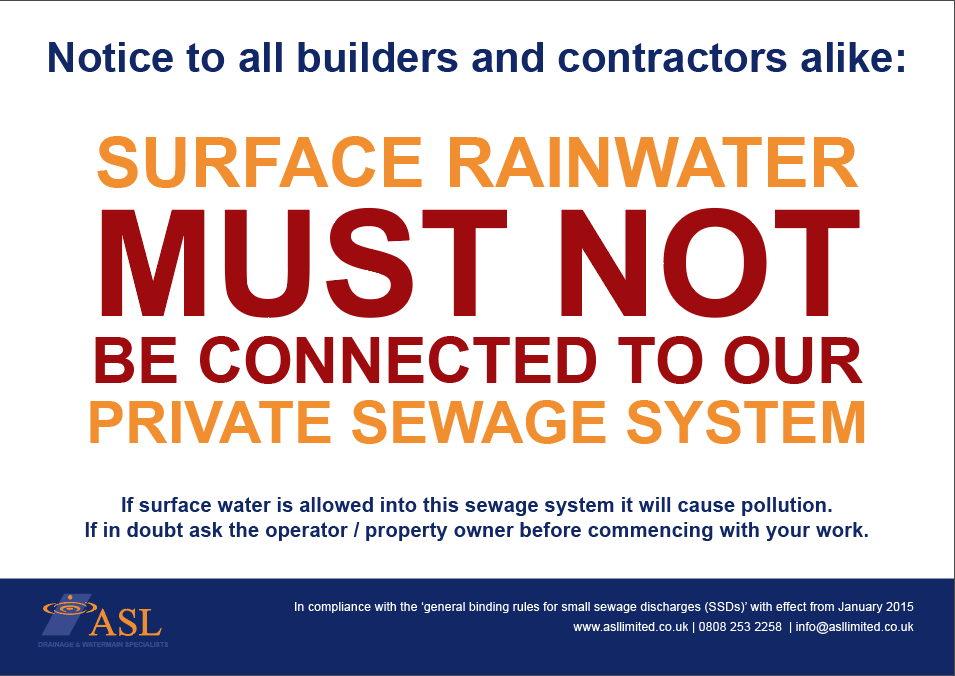 Who is responsible?
The septic tank or treatment plant operator is responsible for making sure no pollution occurs and that the system meets the binding rules. As the owner of the property, it is most likely that you are the operator. Therefore, it stands to reason that you should take precautions to make sure any workman or contractors you have on-site are aware of the private sewage system. Not all builders and contractors are aware of the complexities surrounding drainage. We, at ASL Limited, have put together a notice that you can display on site to make it clear that surface water drainage should not be connected to your private sewage system. You can download and print out that notice through this link.
The visual effects of allowing surface water to enter your sewage system
It's not until the above effects are seen that the damage is done and the system needs repair or even replacement. This may not show itself for months, but by then, the damage can be costly to repair. Have a look at our case study entitled 'How much does it cost to put right?' to see just how expensive these repairs could be.