What is a Cesspit?
​A cesspit (also known as a cesspool) is a sealed, fully enclosed holding tank that collects and stores sewage from your property when it cannot be connected to the main sewage system. Because of this reason, they have often considered a temporary solution for locations where discharging wastewater would be prohibited or not permitted.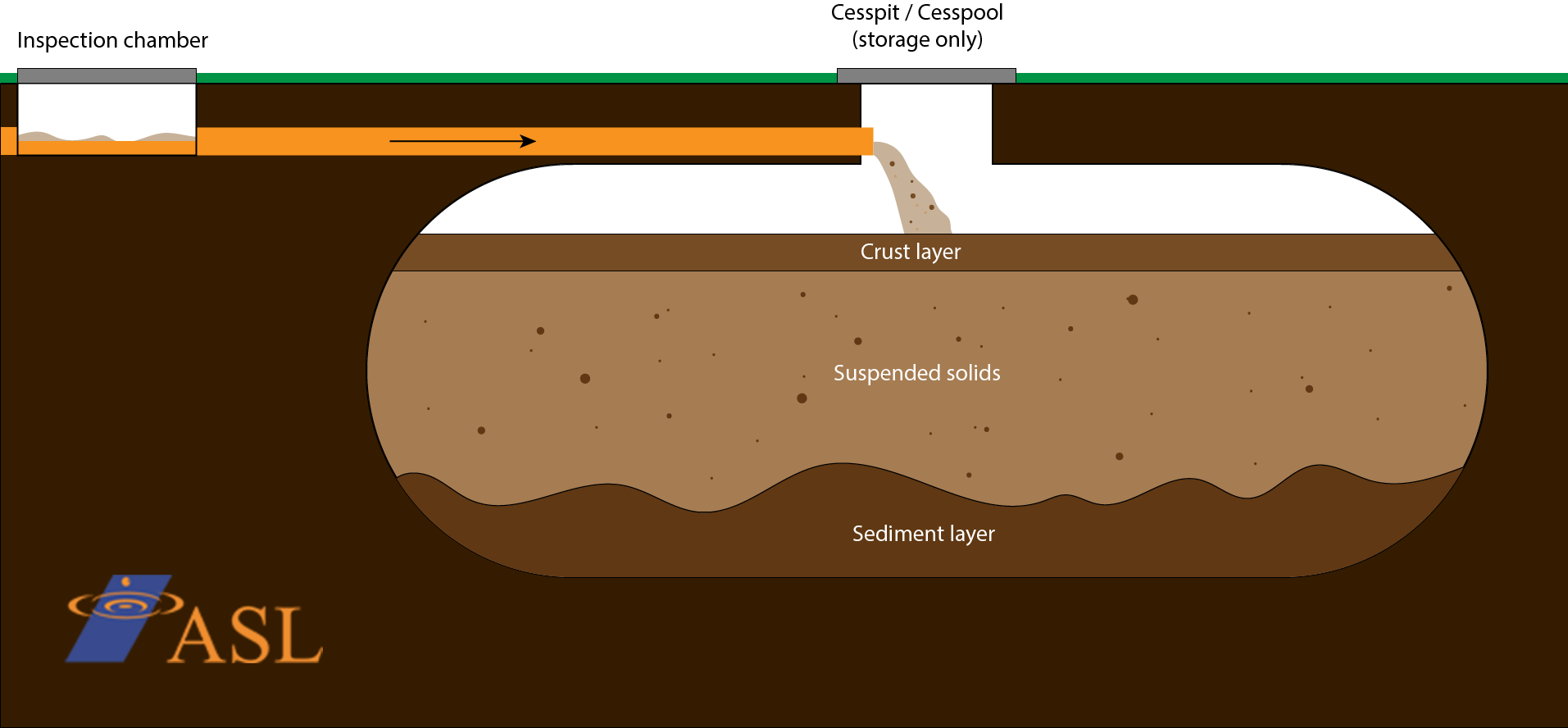 Tanks vary in terms of shape and size, so they can be installed on properties that vary in size. Older models are usually made from bricks, while newer models consist of a fibreglass tank with an inlet. They are buried underground not to take up any space, but they require one utility hole cover to allow for access. They will most often be placed on properties where the ground is unsuitable for waste to be treated by a soakaway or drain fields, such as sites close to water sources and drinking water supplies.
If you have a cesspit/cesspool, you do not have to pay sewage charges to any water or sewage company. However, a permit fee applies for owners in England and Wales (cesspits are illegal in Scotland) and the emptying and maintenance is your responsibility. A cesspit does not need an environmental exemption, or a permit from the environment agency, nor does it need to be registered. Although it does need a building notice. To serve a modern family, cesspits are only installed when nothing else is available or possible.
How does a cesspool work?
A cesspit/cesspool collects wastewater and sewage that flows into it from your property, but it does not treat it in any way. They also have no outlet to allow the waste they contain to drain off, meaning that they are merely holding raw sewage (containment only) and emptied using a vacuum tanker. Once the cesspit/cesspool is empty, the waste should be taken to be treated at the nearest proper facility.
How long a cesspit/cesspool takes to fill depends on the size of the tank, the size of your property and the number of occupants your property has. 
What needs to be done for cesspool maintenance?
Cesspits/cesspools require regular emptying, depending on the property's size and whether or not it is almost full. To help maintain your cesspool, you can ensure that you do not empty anything into it which cannot decompose, such as coffee grounds, cooking fats or disposable nappies. As well as others, these items will fill up the cesspool and end up blocking the system.
We would recommend that a cesspool is emptied at least twice a year, with the area surrounding the utility hole being kept clear of debris. This is to ensure the cesspit/cesspool can be accessed when someone needs to maintain or empty the system. You must check the 1936 Public Health Act for information if you feel your tank is becoming overly full, as it is an offence to let this happen under the Water Resources Act 1991. However, if you do not neglect your cesspool and get it emptied regularly, this should not be an issue. The older brick model cesspool tanks are more susceptible to leaking, but newer models must also be treated with care.
The emptying of cesspits/cesspools must be carried out by a professional, as it is also illegal to try to empty one if you are not a licensed waste disposal contractor. An alarm must also be fitted so that you know when it requires emptying. Due to the gases present, this alarm must be the only method of checking if your tank is nearly full. For your own safety, you must never lift the lid on your cesspool to check the levels.
ASL is licensed to carry out waste disposal, so if your cesspool needs emptying, get in touch with us today, and we will be glad to offer our services.
How are cesspits/cesspools different to septic tanks?
Both cesspools and septic tanks are private waste collection systems that are kept underground, commonly on rural properties that cannot be connected to a mains sewer system. However, a septic system differs from a cesspool in several ways. 
Unlike cesspools, septic tanks do not just hold wastewater, but also allow it to pass through and drain away into a soakaway via a second chamber that cesspools do not have. Solid waste is collected in the septic tank's second chamber, allowing it to settle to be removed when the tank is emptied. To maintain a septic tank, it must be pumped through at least once a year instead of a cesspool needing to be emptied at least twice a year. 
Septic tanks also provide some benefits that cesspools do not offer. For example, they allow for safe, hygienic and effective onsite wastewater treatment, which is achieved by allowing water to seep into the ground naturally. They also decrease the likelihood of raw sewage discharge coming from sewage treatment plants. 
If you would like more information about the services we provide for septic tanks, click through and see what we can offer.
What we recommend
Although property owners in England and Wales have a legal right to install a cesspool, we would not normally advise it as a first choice. Instead, it should only be considered a last resort, or when a 'consent to discharge' order is either refused or not possible. 
If you currently have a cesspool installed, ASL can visit your property to regularly empty your tank and make sure that it is kept in working order. We can also offer upgrades to a septic tank or treatment plant, for example.
Cesspools and your waste management
If you would like more advice about cesspool tanks, how they work or how to keep one on your property, contact us today. We are specialists in our industry, and we will be able to answer any questions you have and help you decide which kind of waste disposal system works best for you.
​