What is a drainage field?
Drainage fields are constructed entirely underground. They are a form of soakaway that disperses any foul wastewater discharged from your septic tank or private treatment plant. A drain field is a series of trenches containing perforated pipes and gravel or stone materials covered by a layer of soil.
A drainage field has two functions:
To allow infiltration of treated/partially treated waste into the ground at a controlled rate.
To allow further treatment of septic tank waste before it reaches the groundwater level.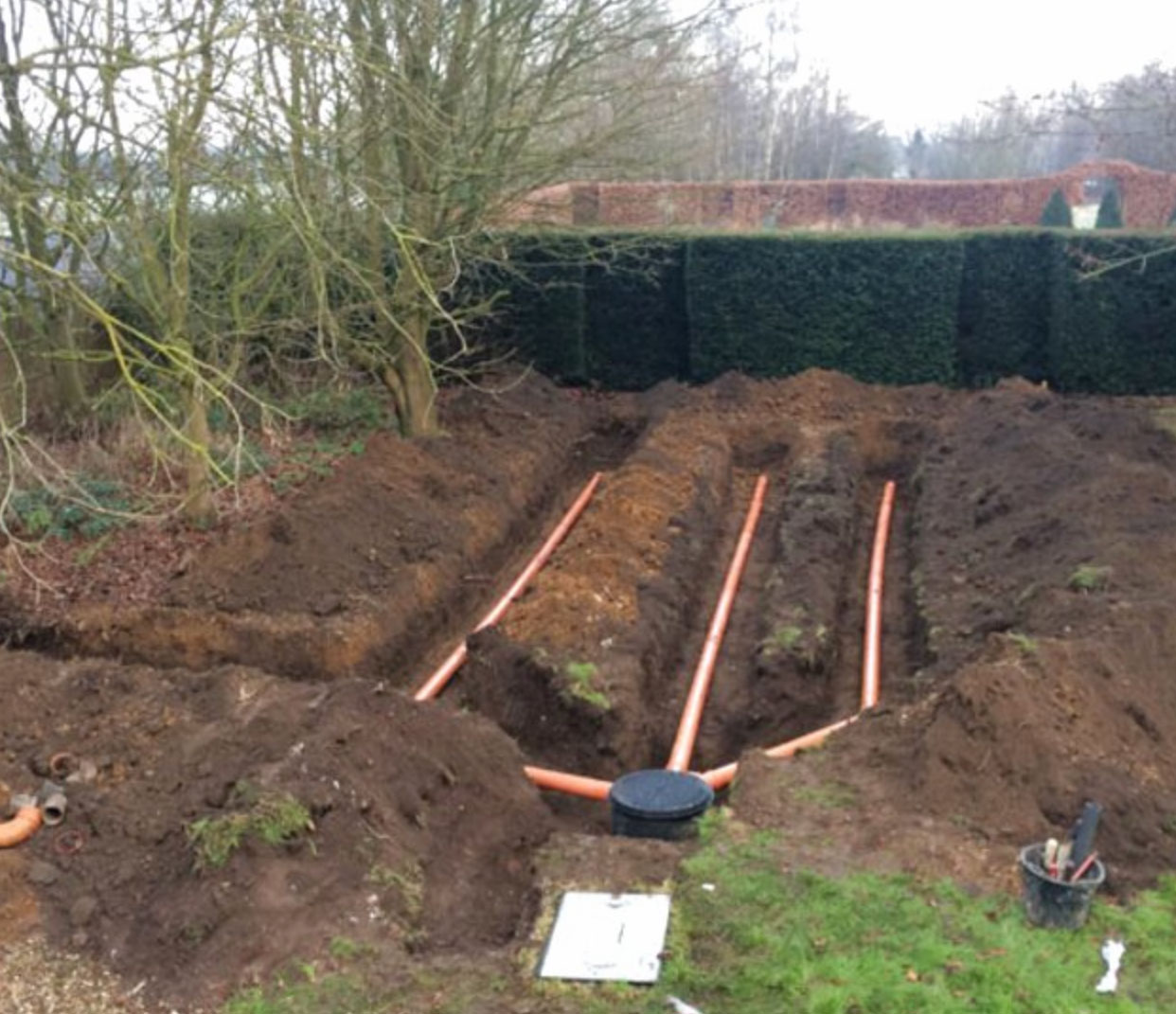 Septic tanks are only allowed to discharge wastewater to the ground via a drainage field, drainage mound and reed bed. Septic tanks that discharge wastewater to watercourses are illegal and in breach of environmental law (for more information, read the new General Binding rules that came into effect in January 2020).
Being in breach means that environmental law can leave operators liable to large fines for the pollution of surface water.
Drainage field design and construction.
Building regulations govern the construction of drainage fields, and only trained professionals, such as ASL, should carry out the installation. 
Drainage fields must be 15m from a building, a minimum of 10m from a watercourse and 50m from a water abstraction point. As well as this, to avoid over saturating the ground, your drainage field should be far enough away from any neighbouring drainage fields or soakaways. 
You will need to establish if your ground's porosity is adequate to receive the full amount of wastewater your septic tank or treatment plant can produce. To determine this we carry out a percolation test.
Drain field maintenance.
Generally, your drain field should not need high levels of maintenance. However, drainage fields can become clogged over time, which can stop the system from working efficiently. If you have an old drainage field that isn't working well, it may be time to carry out some well-needed maintenance. To maintain your drain field, the pipes should be cleaned, removed, or replaced. To keep your drainage field working, reduce potential problems by avoiding plants and trees close to the drainage. This minimises the risk of tree root regression and other associated problems.
What do we offer at asl drainage?
ASL Limited, we will provide you with the best system suitable for your requirements. Our drainage field services include the design, installation, maintenance, and repairs of your private system. Our drainage engineers are available for any advice you may need to support your system's effective working.
Call asl drainage today.
If you would like a soakaway or a drainage field added to your property, call ASL Limited. Our drain specialists are available to answer any questions you may have and offer the best advice for your property and personal requirements. We would be more than happy to discuss your needs with you.