When can't a blocked drain be cleared for a fixed price.
If you have a normally blocked drain, we will clear it for £69 plus VAT and check it with our camera. That fee applies to domestic and some commercial properties.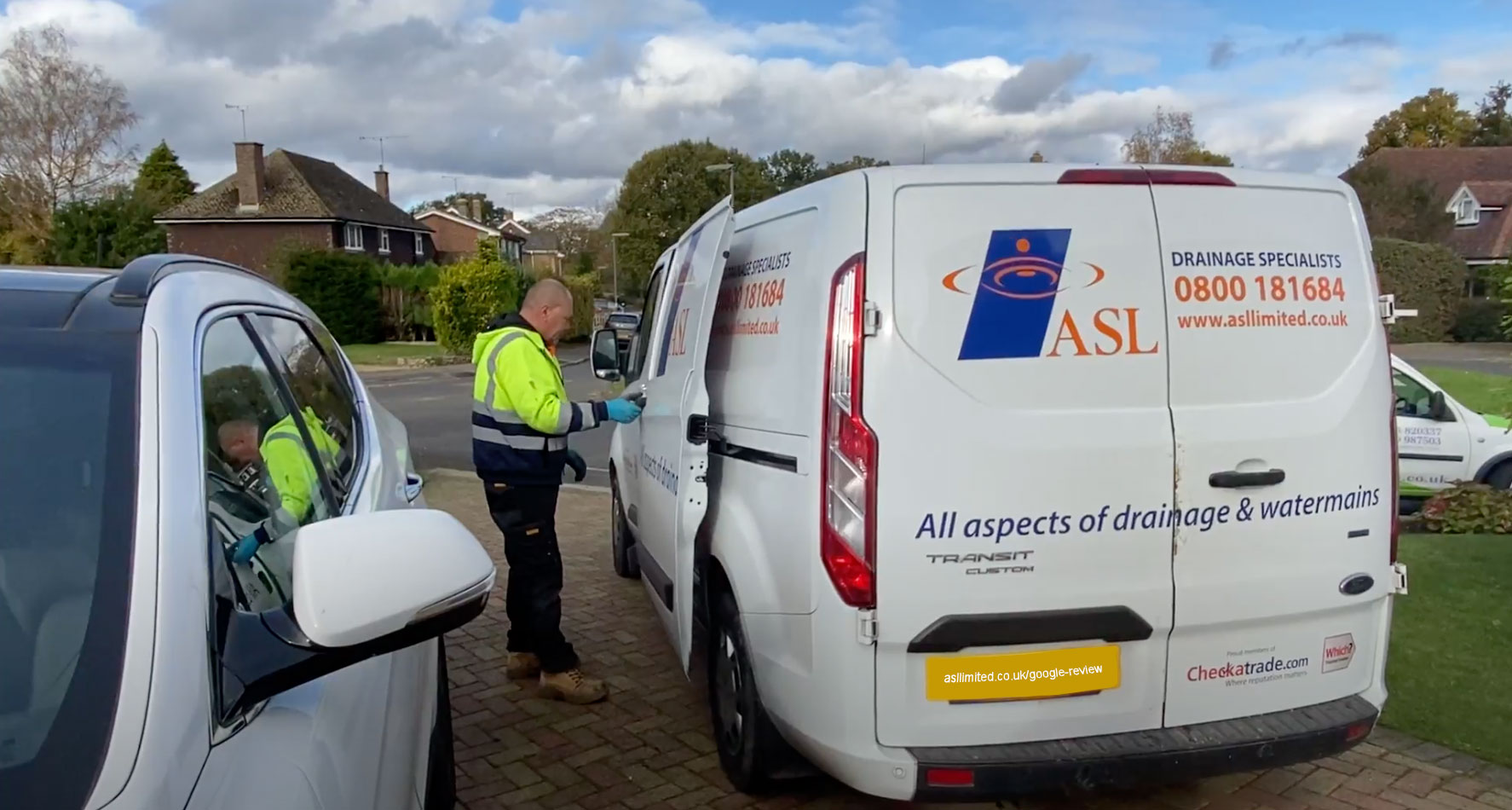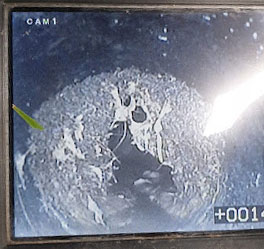 Some factors can negatively affect the success of clearing your blocked drain; in the unlikely event your drains have entirely collapsed, the clearance would only be a temporary fix. It can also be quite challenging to pinpoint what might have caused this issue.
We at ASL Limited have many years of experience dealing with domestic drain blockages, so we know the reasons why it might not be possible to clear your blocked drains on the odd occasion for a fixed price.
I have provided a list of reasons that would trigger the need for special tools, a larger machine, or a dig-up crew, etcetera.
Fibrous or thick roots cause your blocked drain.
This is not a' normally' blocked drain if the drain is infested with fibrous roots or large roots. This would need a root cutting machine; our blocked drain engineer would take measurements & details, write a report & arrange for the roots to be removed by a specialized team – after giving you a quote.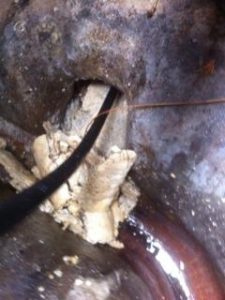 Solid white fat blocking your drain.
If the drain has been partially blocked for many months, has gone solid with white congealed fat & is hard like concrete; Our engineer will be disappointed he cannot unblock your drain but it's not a normal blocked drain; once again he will take details & measurements followed by arranging or giving a quote.
Blocked drains made of pitch fibre pipe.
Pitch fibre pipework is an obsolescent material, no longer used in the construction industry, as it was found to lack durability. Pitch fibre pipework starts to deteriorate by internal blistering and flaking. As more and more of the pipework flakes and blisters away, the pipe itself becomes progressively thinner and gradually weakens. Eventually, the pipework becomes so weak that it starts to deform to an elliptical cross-section (squash).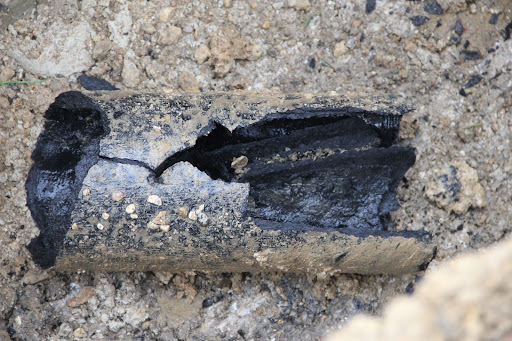 Our blocked drain engineer would carry out a camera survey and pass the information on or arrange for our lining specialists to attend "No dig drain repairs cost". We can insert a structural liner into the drain run to seal the defective pipework, restoring its structural integrity. Drain lining can cost as little as £90 per linear metre as a means of permanent repair, there will be a minimum charge.
Structural lining.
The structural lining of a damaged drain is a "no-dig" method of repair and sealing of the pipework. The resin-based fibre liner is inserted into the damaged drain after being impregnated with the correct mixture of chemicals and then inflated by either air or water via an inner tube. Once the liner has hardened, the inner tube is removed and the liner is left in place as a permanent repair. One of the added benefits of a liner is that it creates a straight-through section of run without any joins where roots can penetrate and force the pipework to become displaced.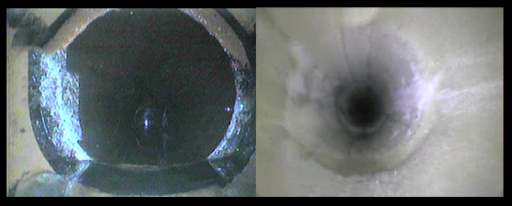 Pictures below show a damaged drain before and after repair by a structural liner.
CCTV drain survey
We would need to conduct a CCTV survey of the pipework to establish if we can successfully re-round the pipe back to its original shape and seal it with a structural liner. If the pipe cannot be re-rounded, then the drain will require excavation.
If the pipe can be re-rounded and sealed with the liner, each end will have to be sealed so the water doesn't find the ends of the liner and continue to enter.
Concrete blocking the drain
Concrete found to have been put in wet and gone hard is unlikely to be cleared with rodding or jetting. If the drain has been poorly maintained and scale has built up, the large amounts of scale adhering to the drain's walls will eventually cause a blockage. After taking the details and measuring up, our blocked drain operative will arrange a date for the de-scaling machine and give you a quote.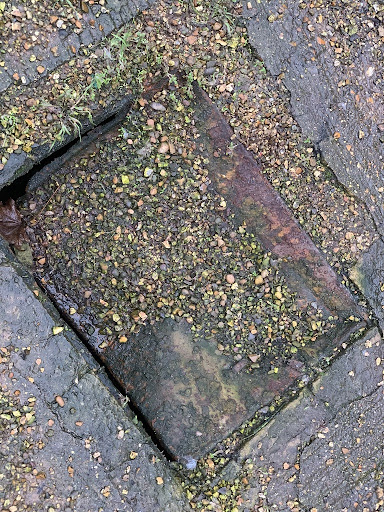 Inaccessible inspection chambers concealing the blocked drain.
Believe it or not, we do attend callouts for blocked drain clearance and spend a good portion of time trying to locate the inspection chamber to access the drain at all! If inspection chambers have been covered with the patio or covered too deep under the lawn, it makes clearing the blockage in the drain junction that much more difficult.
Even when we can find them, they are not always accessible. In the photo, this inspection chamber lid has been run over by a lorry (not ours, I might add). It was partially crushed or collapsed and was difficult, almost impossible to remove and replace.
So you see, there are substantial reasons why not every blocked drain callout is simple enough to be cleared in a reasonable time for a fixed fee or without additional works to put something right that is badly wrong.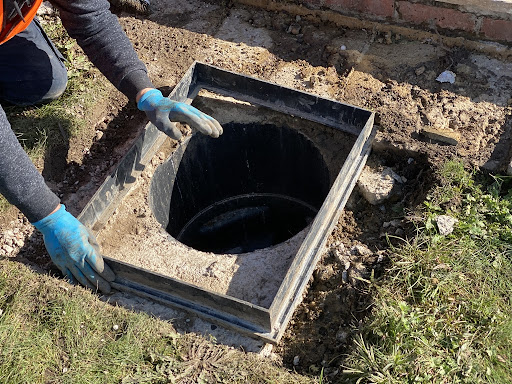 If you think you might have a stubborn blocked drain that keeps recurring, we will help establish the cause and give you a quote for the solution. 
Give us a call on 0800 181 684 and tell us what you suspect so we don't turn up expecting a simple blocked drain clearance job only to find it's not possible.