Why do my drains smell bad?
Bad smelling drains can be a sign of a number of things.
Wow this weather is amazing and it's wonderful to be able to spend time out in the garden – but, my goodness! – it can really highlight bad smells coming from our drains and that is not pleasant at all. The trouble is they could be giving off bad smells for a number of different reasons:
a simple blocked drain that needs clearing
a damaged or faulty drain needing repair
a lack of surface water drainage
a clogged up gulley drain
a full sewage tank that needs emptying
a manhole cover on your septic tank that is not sealed fully
a pump that has stopped working
a dead animal that needs jet washing out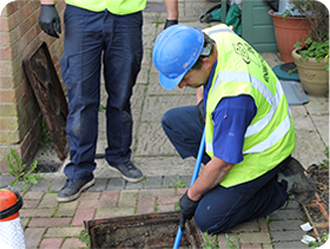 These are all possible causes of a smelly drain and they could indicate further issues. So if you are going to get to the bottom of it, there is really only one way to find out, and it's going to get smellier before it gets better! 
This is one of those moments when you really are better off asking ASL to check it out for you. Not only does it avoid you having to get smelly too, but we are experts in all aspects of drainage. If all you have is a blocked drain then we can unblock it, AND If it turns out that you have a bigger problem than a simple blocked drain then we can put that right too.
We cover the whole of Surrey and parts of the surrounding counties so take a look at our postcode checker to see if we can help you and then give us a call on 0800 181 684 – We will get you back to enjoying the sunshine in your own garden without feeling like you are glad of having a mask to hand!