Why upgrade to a treatment plant?
A sewage treatment plant (also known as a package treatment plant) treats sewage to a higher standard than a septic tank.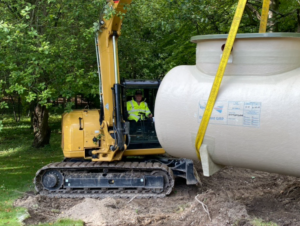 I meet and talk to many people with large country houses with lovely gardens and the most common reason over the last year has been these new binding rules (1st of January 2020). 
This, in my opinion, has nudged homeowners to get rid of, utilise or upgrade their old problematic septic tank.
"I often hear comments like: "we will have to do it when we sell our house anyway". "at least we have clean water" or "I would rather have clean water discharge in the garden for the environment and my own family".  

I recall one customer who had inherited a problematic septic tank with a little syphon type pump rather than a straightforward modern pump. I often had to assist him to keep the system going (and developed a great friendship) for approximately 7 years regularly recommending the upgrade, finally he phoned me up and said 'could you please come and upgrade my system Gerry!'  I asked the reason why? and his defeated reason was: "I'm selling the house". I had been telling him over the last 7 years but we were now putting the new treatment plant in for the new people moving in. He never had the benefit of the new modern system over the last 7 years!"

Gerry Rowe – Owner of ASL Limited
If you are buying a house with a private system ASL can carry out a 'house purchase survey' on the system, so you know what you are buying along with the house. If this highlights problems with the system, it is easier to negotiate the house price before the sale (possibly saving £10,000 to £15,000 as well as a lot of disruption) rather than afterwards, through solicitors. Call our friendly office to find out more.
The drainage pipes from the house. 
Before connecting the drains from around the house to the new treatment plant, we need to confirm if surface water is entering the foul drainage system directly or indirectly and eliminate this. See our FAQ: 'What is the difference between surface water and foul water?' for a full understanding of surface water drainage. 
The rate at which the sewage and sewage water flows to the treatment plant needs to be slowed to less than that commonly laid by builders which is slightly faster than required for a private system.
For FREE expert advice or an estimate get in touch on 0800 181 684
If you want to upgrade to a treatment plant, there are specified standards that your system needs to meet so you may now need to understand the binding rules that apply to you. 
If this is all new to you, I would suggest inviting a FREE estimate and professional advice. Call our friendly office at ASL and ask for what our Gerry calls a 'FREE assessment' to discuss the ins and outs. 
It's easy to get advice from a competent service engineer (like our Gerry) if you need help understanding. septic tank can go into a drainage field with the right type of soil, but cannot go directly to watercourses without further treatment. This is considered polluting and now not allowed under the General Binding Rules. Please don't worry though because ASL Limited can help you put it right.