Smelly Drains: Causes, Problems and Solutions
Why does my drain smell?
A common problem our team at ASL Limited receive calls regarding – blocked, smelly drains. While this may seem like a simple issue to fix, many people leave the problem unsolved, causing serious issues over time.
While a drain from the outside might look clean and seem to run smoothly, the problem usually lies deep and further down within the pipes. Leaving a blocked drain is dangerous and could end up costing you more money if it isn't solved, and of course your health there's lots of stories about poisonous gases that come from drains that are left too long.
The cause of smelly drains
A common issue with smelly drains is that they won't just affect the room the smell emanates from. Eventually, the odour may reach other areas of your property, resulting in a constant bad smell. Smelly drains can be caused by numerous things, which we explain below.
Blockages and partial blockages
Partial blockages are a common cause of smelly drains. One of the most common reasons they become blocked is due to non-decomposable products getting caught within the pipeline, blocking the drain's usual free-flowing function. 
Trapped food in pipes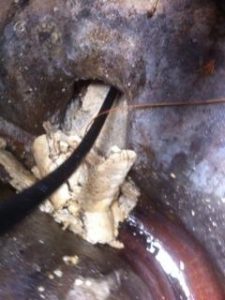 Arguably the most common reason for drain smells and blockages is trapped food and cooking oils. Shower drains, kitchen and bathroom sinks are all easily blocked, even if you think you're careful. Small bits of food, coffee, and oils can cause blockages. 
For minor blockages, you may be able to use a drain snake to unblock the u-bend of a sink, but for larger problems, you may require a blocked drains person.
Note on interceptor-drains: When the interceptor-drain is partially blocked, sewage lays on the bottom of the pipe (commonly 5 meters upstream) until eventually it becomes completely blocked, causing sewage to back up the pipe towards the house. Grease fat and oil separate in the pipe, leading to blockages that will eventually interfere with the venting system. Smells and gurgling sounds are often heard at this point. 
However, this issue can be an easy fix using qualified drain engineers ask for Phil or Ken at our head office to book an appointment to get it fixed. 
Pipe accessories and degradation
This depends on your drain pipes' material, such as pitch fibre, which can cause many problems. Clay and porcelain drains may also cause issues – mainly going out of alignment due to blockages left full for a long time, causing the undermining effect as it escapes at the joints.
If you believe this is a problem you're experiencing, our team will send a qualified engineer to handle such a situation. You should call our office for a solution, rather than attempting to unblock a blocked drain yourself; our engineer would identify the issue and provide a swift resolution, which may save you a small fortune soon.
How to prevent smelly drains
As we always say at ASL Limited, prevention is better than a cure. To prevent such smells and odours from emanating from your drains, there are a few simple steps you can take:
Prevent food from falling into your drains
Stop food and other items from being poured down the drain. As we mentioned previously, food caught inside the drain can cause smells as bad as rotten eggs or sewage, so try and use a plug. Plugs help catch any food debris or miscellaneous items that might try and find their way down your drain. We advise having your drains checked every 18 months or so, to ensure your drains remain unblocked and in good working order.
Keep fats, oils, and debris away from your drains.
Such liquids quickly form significant build-ups within your drain and if left untreated, can cause serious problems. Hair and soap are also typical issues that can cause smelly drains. It's important to keep an eye on your bathroom cleanliness, as hair gets washed down the sink and shower almost every day, requiring weekly clean-outs.  
Simple but effective – cleaning your drains is essential if you're looking to keep them in good condition and not incur unnecessary call-out costs. Knowing how to clean your drains can save you time and effort and save you money in the long term. Re-occurring smells or blocked drains every month means there is a problem, that should not be left unrepaired, as smaller issues may lead to undermining effects that can cause further damage and incur higher costs. 
Flush water through the drain
Flushing cold water down the drain may help loosen any initial debris. However, if you have to flush your drain regularly, this indicates a foreign object in the drain, or that the drain has fallen out of alignment. This will likely require a call-out from our blocked drains engineer from ASL for a small fee, and they will use their camera to have a quick look into your drains to identify the problem if there is one.
Sometimes using cleaning solutions may not prove useful, especially for severe blockages.
If smelly drains persist, call ASL Limited today.
If you cannot identify the cause of your blocked drain, please do not hesitate to call our office at ASL Limited on 0800 181 684.