What is a Septic Tank?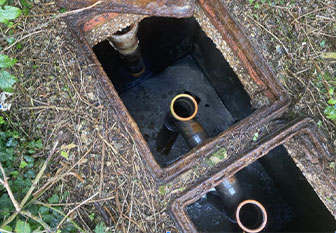 A septic tank is a private, underground sewage system with two parts, the tank and the discharge into a drainage field, for secondary treatment. The 'drainage field' can also be referred to as a leach field; land drains; or herringbone system; but all are the second part of the system that removes contaminants and impurities from the separated sewage water and disperses it into the ground.
Septic tanks are installed underground, and new installations will require a building notice for your property. This must be done following building regulations and the environmental binding rules.
The majority of septic tanks are made of concrete blocks or bricks that are durable, strong and suitable for wet exposure, such as engineering bricks. Modern tanks are commonly made of fibreglass or polythene. They normally have a minimum of two chambers, with an inlet and an outlet leading to the land drains or drainage field. The inlet pipe receives the effluent from your property and passes it into the first chamber (holding tank) where separate occurs, parting the solids from the liquids. The liquids then flow through to an outlet pipe which is connected to a land drain. The solids are held in the septic tank's first chamber until emptied.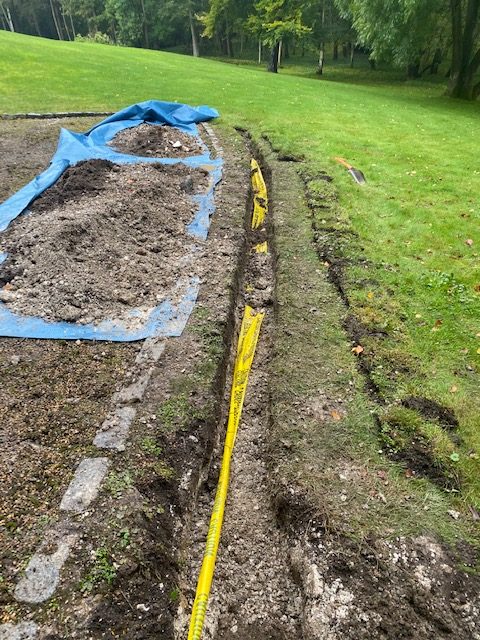 If you would like more information on maintenance, repair or emptying of your septic tank, then visit our septic tanks page or call our friendly office team on 0800 181 684 to see how we can help you.
How does a septic tank system 'clean' the wastewater?
Although the liquids that are separated from the solids are still untreated, they then go through secondary treatment in the drainage field/land drains. Drainage fields ideally work best in light aerated soil, enabling a friendly environment for the bacteria to gradually build up and eat the wastewater clean. A land drain typically consists of several trenches that are sited beneath a sizeable area, often a lawn.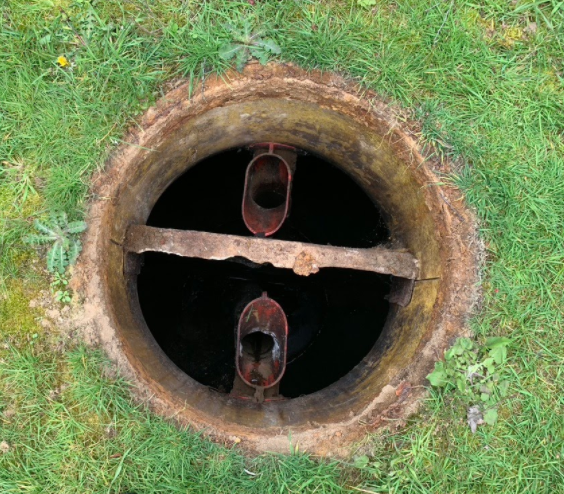 We can add a filter in the dip pipe before it going to the land drains for secondary treatment which contains a water filter purposely designed for a septic tank. Once the solid matter has sunk, and the fats have floated to the top (restricting them from going through the two chambers) the filter will catch smaller bits that have slipped through the system rather than go through to the land drains.
If you are considering installing a septic tank on your property for the first time, there may be other components that you are unfamiliar with, as well as drainage fields or land drains. Some of these are listed below.
What is a septic tank filter?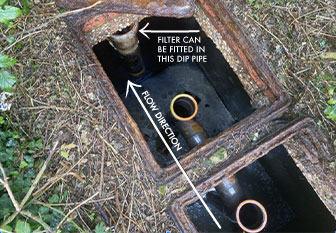 Septic tank filters prevent food particles and solid waste from escaping from the tank into the land drains, preventing them from clogging up the soil. The filter may require regular cleaning to clear fats, bits of food and grease that have been trapped there and could potentially block the system, rather than the land drain.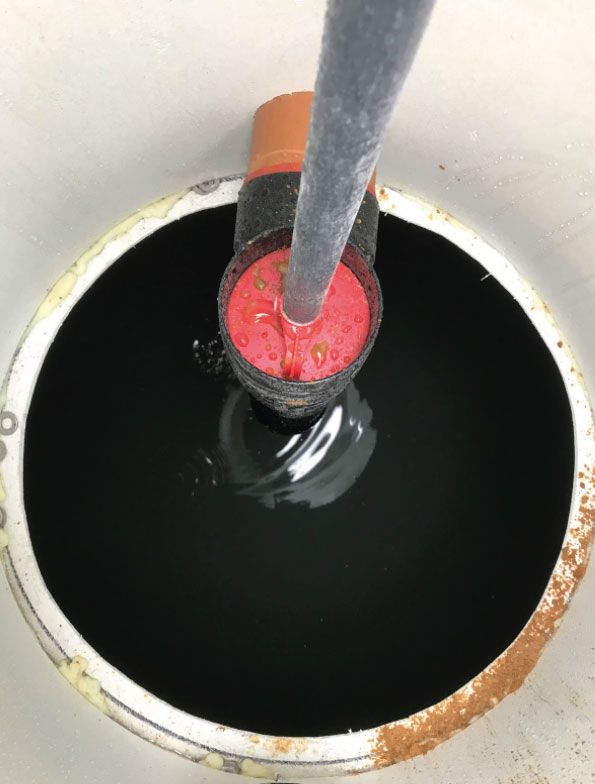 Having a filter that keeps blocking up highlights the need for internal or external grease separators to reduce the solid waste that might be allowed to flow from the kitchen and could encourage staff to prevent small bits of food, fat and oil from going into the sink which eventually leads to the sewer system. The filter is most effective with its own notification system that will alert you of any high-level alarm and flashing light blockages.
What is a septic tank riser?
A septic tank riser is a large, round cylinder (approx 600mm in diameter) made from either plastic, concrete or glass fibre which is fitted over the septic tank 'cleanout opening'.
They are long enough to extend above ground level to avoid surface water ingress, allowing it to be found easier for cleaning out. Systems fitted in the last 20 years or so may typically have been or can be fitted with a riser. They also have to be water-resistant or waterproof at the base.
A Surface Water Warning
It must be noted that if surface water enters your system in a surge, such as during heavy rainfall or a storm, it may stir up wastewater already present in the system. This will ruin any separation that has already taken place and allow more extensive buildups of effluent to pass through the system without being treated. If you suspect that too much surface water is being allowed into your sewage treatment plant, you may wish to have a CCTV drain survey conducted through us.
We can use the most up-to-date, flexible cameras to take detailed footage of your drains, locating the source of the issue and helping you to get it fixed afterwards. We may also suggest that roof water downpipes and surface water gullies are checked, to ensure that they are not flowing into the foul water drain on your property.
What is a septic tank baffle?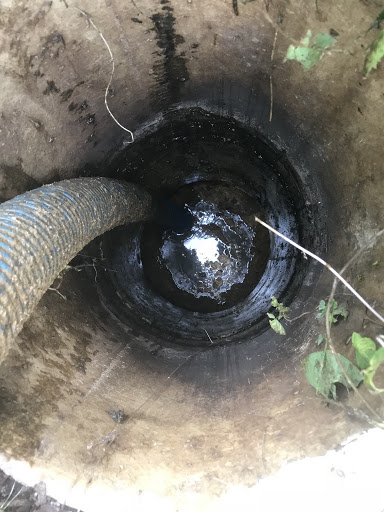 This part of the system works by keeping materials such as solids and fats in the first chamber when the wastewater levels rise, acting as a barrier to trap them and ensuring that only separated sewage water can pass.
An onion type internal baffle or cone (like this one pictured on the right) can move out of alignment, a common problem. This fails to separate the waste successfully, which will prevent the land drain's functionality, eventually causing it to cease to work altogether.  
Septic tank repair and maintenance
You wouldn't expect a professional drainage firm to empty your septic tank, and ignore sustained wear or damage that could leave wet waste leaking out onto your garden. You certainly won't get that treatment from us.
When we carry out waste removal from a private system, we will also pay attention to the chamber walls for signs of damage, or dip pipes that may have broken away. Identified early enough any wear and tear can be dealt with before it causes long term damage. Our tanker drivers will report any problems to you to arrange for our maintenance crew to carry out repair work, to ensure that your system does not break down, causing thousands of pounds of damage.
What are dip pipes?
Septic tanks should have a minimum of two chambers (or a single chamber divided by a concrete wall or plastic reinforced separation wall) with dip pipes. The effluent enters the initial tank, where initial separation occurs naturally when the fats rise to the surface, and the solids sink to the bottom. Providing the dip pipe in the first chamber is in place at the correct level; the mid-level wastewater will flow through to the second chamber. The solids and fats remain in the first chamber. The second chamber then feeds the naturally separated wastewater through a filter if one is in place, on to the land drain.
A broken dip pipe allows the fats and oils to go through to the next chamber unrestricted. Eventually fat, grease and effluent can find their way into the land drains, causing irretrievable damage. This will ultimately diminish the ability of the land drains until they cease to function altogether.
What is the difference between a septic tank and a cesspool/cesspit?
A septic tank feeds to a land drain, and a cesspool is a container only, both are normally installed underground and are usually found on rural properties, significantly houses with no access to the nearest main sewer. They do feature some similarities, but there are also some significant differences between the two. Full information about cesspools/cesspits can be found on our webpage via this link.
Do you need help with your septic tank?
If you have any further questions about what the purpose of a septic tank is; how to maintain the functionality of your septic tank; to save expensive outlays to fix unattended blockages; to keep it to standards expected by the Environment Agency; or to look after your local environment by preventing contamination from your private system; please get in touch with us today.